Soprano Heidi Stober springs to new heights as Norina in Don Pasquale at San Francisco Opera. With her opening night performance Stober marked a smashing entrance into bel canto opera and sparked what looks like a long-term association with composer Gaetano Donizetti and friends. Who around here knew she could sing like that?
Heidi made her first Company appearances in the fall of 2010 as Sophie in Werther and as Susanna in Le Nozze di Figaro. In 2012, she was spectacular as Pamina - the girl you have to walk through fire for - in Jun Kaneko's all-digital production of The Magic Flute. She was America's Sweetheart as Magnolia Hawks in Show Boat and totally beguiling in pants as Verdi's gender-neutral Oscar. Last season in Sweeney Todd her feisty Johanna proved composer Stephen Sondheim's compatibility with Classical singers belting out snappy English in a gigantic opera house. As Donizetti's comic heroine, Heidi's solid technique and glittering range is bolstered by her personal brand of charm and striking beauty. We were half-way through our conversation when she pointed out her heavy-duty black ankle boot. "It happened during the second week of rehearsal," she said. "I was in stilettos."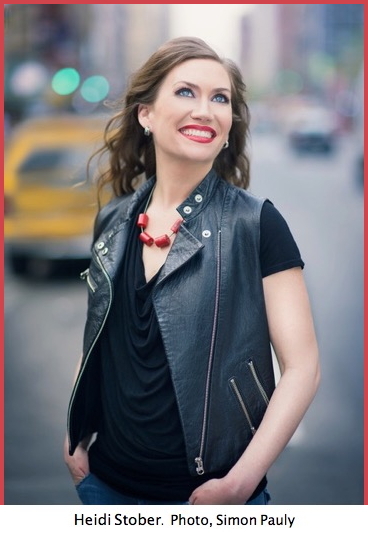 "It was at the beginning of Act III when I'm coming out of the doorway - which is now elevated. It was an unfortunate mixture of a couple of different things. With the super-high stilettos and that big puffy skirt, I couldn't see my feet or the ground. When I jumped, I hit the crown moulding and it all just crumpled underneath. I was heartbroken afterwards because I didn't know the exact nature of the injury or what the recovery time would be. My first rehearsal back was the final dress. As you saw, the direction is all very active - getting up and down off of chairs, running around and spinning. My doctor is letting me wear an elaborate ankle brace during the performances, but anytime I'm offstage I have to wear this ankle boot. For instance, in the first scene when I'm wearing a slip, I'm supposed to be barefoot. They found these little house-shoe things so I could keep my foot stable and not re-aggravate anything." (Check out the ankle brace.)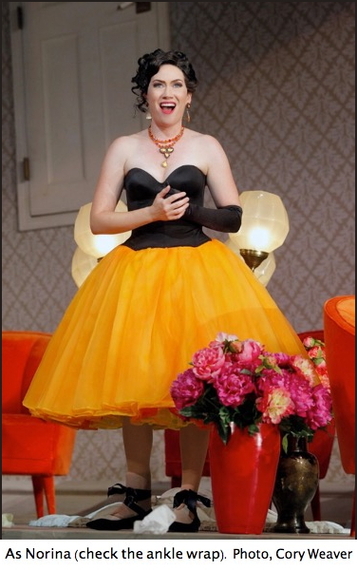 "I've felt so supported at San Francisco Opera and have been given so many different opportunities - an entire spectrum from Handel to Broadway with Verdi and Mozart in-between. And now, Norina. On the first day of rehearsal, people on the music staff - who I've known for years - came up to me and said they had no idea I could sing like this. Conductor Giuseppe Finzi said, 'The bel canto style is really great for you.' That's interesting because the only other chance I've had to sing Norina was in the young artist program at Houston Grand Opera. The singers there are not officially covers, but called Role Studies. It's a tricky AGMA situation. The young artists covering roles here at San Francisco Opera get cover rehearsals and a cover run - even if it's not onstage, but in a rehearsal room with a rehearsal set. It's all very nice. But that's not the way it works in Houston. As Role Studies, we sat-in at every rehearsal and had coachings with the music staff. This was ten years ago. At the second performance during the run, I was out to dinner with my roommate when I received a call - 'Where are you and how fast can you get to the theater?' I didn't understand. I had not heard anything about the soprano not feeling well and, of course, they would have given me a heads-up. I started shaking! We raced to the opera house. They had to hold the curtain thirty minutes. I'd not had a costume fitting or a wig fitting - I'm smaller than the soprano singing the role - and I hadn't had a coaching rehearsal in weeks! So, while they were going through the costume stock figuring what they could put me in - throwing them on and off - two coaches came into my dressing room and went through the scenes with me. That was my first Norina! I didn't have time to think about what was really happening. Adrenalin is an amazing thing."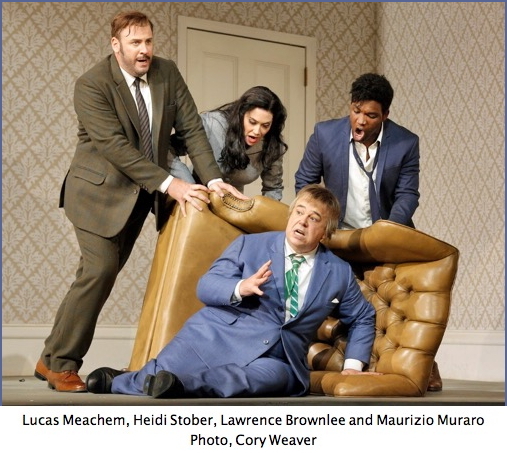 The vocal category or fach assigned to the role of Norina is 'soubrette'. The term generally indicates a lighter voice with a pinging quality. Depending on the singer, a not-so-high note can sound stratospheric. Zerlina in Don Giovanni fits that description as does Sophie in Der Rosenkavalier. Yet the long list of noted sopranos who are associated with the role of Norina and have recorded the complete work or at least her two arias - have never confined themselves to the soubrette repertoire. Beverly Sills recorded a definitive Don Pasquale in 1978 - eleven years after the RCA Victor/NYCOpera collaboration on Handel's Cleopatra. Between 2006 and 2011, Anna Netrebko sang eighteen performances of it at the Met. In between she appeared as Mimi (La Bohème) and Juliette. Diana Soviero, who appeared in SFOpera's last production of Don Pasquale in 1984, included in her Company credits Marguerite, Violetta, and Maddalena (Andrea Chénier). So, what's on Heidi's Dream List for the next five years?
"I would love to do Juliette. I was role-studying it at Houston. At that point, if I'd needed to go on I could have gotten through it and held my own. But now the role fits like a glove. I would love to do more Handel and Strauss. One of those Strauss roles, written for a mezzo, is Komponist (the composer) in Ariadne. I want to do more Norinas, but it's interesting that Don Pasquale isn't produced that often in the major houses. I was a pianist before becoming a singer, Debussy was my favorite composer. So, I would love to do Melisande, more French ladies - Manon being a bit down the road."
Heidi will sing her first Marguerite at Deutsche Oper Berlin during February and March 2017. "How about Thaïs? I've been pushing it here for eleven years now!"
"That might be after I do Marguerite and Juliette. Then, perhaps, Thaïs. I'm at a point in my career where I'm starting to shift repertoire. It's something I've been very careful and judicious about - what those next steps should be. I have a strong relationship with Deutsche Oper Berlin and do a lot of work there. I've been asked to move into much stronger repertoire and I've kept gracefully declining. It's like going from A to Z with nothing in between. Even though I want to sing those roles, it doesn't mean I should be singing them yet. I've moved into some bigger Handel ladies. I used to do Morgana in Alcina. Last season I sang the title role in Dresden. Again, I want to have the right weight in my voice for it and at the right time. What's smart as a singer is longevity - taking care of your instrument and not pushing it too fast too hard. What is the size of the repertoire? What kind of orchestration does it demand?"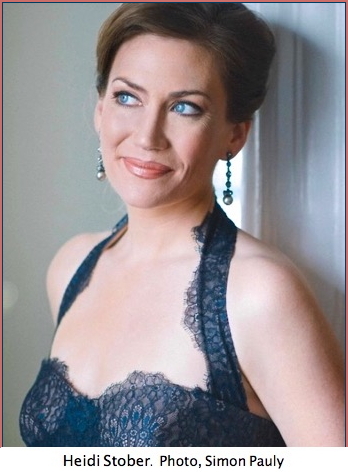 The growing richness in her voice and the sheer physicality of singing Norina has got to be self-revealing in many ways and on many levels. Did the experience of it all surprise her?
Calling all HuffPost superfans!
Sign up for membership to become a founding member and help shape HuffPost's next chapter