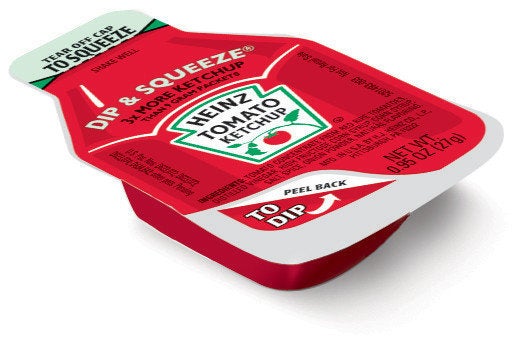 Say goodbye to the unattractive teeth-ripping. The old Heinz ketchup packets will soon be a thing of the past.
After three years of observing what consumers struggled with most when it came to the old packets (eating in the car), Heinz has finally readied the new packets for public release. They were first announced a year ago.
The new packet, called the "Dip and Squeeze," gives users the option of squirting the condiment through the top or dipping french fries into the center by peeling back the flap.
In a press release, Vice President of Heinz Brands Noel Geoffroy said that this is something all consumers will benefit from.
"Consumer demand for this product has been tremendous, as there is a universal need for convenient, portable packaging," said Noel Geoffroy, Vice President – Heinz Brands. "We are thrilled to help consumers make it easier and more fun to dip or squeeze Heinz Ketchup no matter where they are."
The Wall Street Journal, however, pointed out a potential problem. Since each new packet holds three times as much as the old ones, and consumers are still in the habit of taking multiple packets, there could be cost consequences. Manager of brand strategy and design Brian Wray told the publication that this difference will even out over time.
"Early tests at Chick-fil-A show the potential cost problems: consumers took more ketchup with the new packets, according to Chick-fil-A surveys of about 50 restaurants over several months. But the survey also indicated that customers strongly preferred the new packets.

Some consumers appeared to be hoarding the new packets, says Brian Wray, manager of brand strategy and design at the Atlanta-based fast-food chain. He expects use will plateau as the novelty wears off and people learn how much they need."
White car seats all over the world can breathe a sigh of relief.