Seeds of Passion!
How many different ways can we utilize the metaphor of seeds?
Seeds of peace -- www.seedsofpeace.org
Seeds of Africa -- www.seedsforafrica.org/
Seeds of change -- www.seedsofchange.com
Seeds of deception -- www.seedsofdeception.com
Seeds of hope -- www.seedsofhope.com
Seeds of India -- www.seedsindia.org
Seeds of success -- www.nps.gov/plants/sos

While most of these sites are connected to agriculture, the notion of planting a seed is synonymous with cultivating (another agricultural term) a change in the world -- a political system; a food system; an outlook or belief.

These peak weeks for produce growing in the Northeast have brought magnificent fruits and vegetables into our lives and onto our plates. It is the time of year when we hear the words "heirloom Vegetables," most typically in connection to tomatoes, but also with beans, carrots, and apples, to name a few.

Heirloom vegetables and their seeds have become a rallying cry for the preservation of food diversity, representing a backlash against the industrialization of our food system. It is in opposition to genetically-modified seeds and crops and the monoculture of modern agriculture. It is an emotional response that reintroduces old-fashioned flavors and slow food into our lives. The images are luscious, sexy produce and they are talked about almost mythically and romantically.

What is an heirloom vegetable? Here is a summary from www.backyardgardener.com:
First of all, almost all heirlooms are open-pollinated varieties. Most of the seeds sold today are hybrids and seeds from these plants will usually take on the characteristics of just one of their genetic parents. Heirlooms will grow "true to type" from their seeds. This means seed-savers... can enjoy the identical variety year after year.

You should be able to trace heirloom varieties back fifty years or longer. This year's marker is an arbitrary gauge. Yet many of the heirloom vegetables available can be traced back even farther. Pre World War II seed catalogs are filled with today's "heirlooms." Commercial seed companies dropped most of these for the more durable hybrid counterparts.

The final determining characteristic of heirloom vegetables is their histories. Many of these varieties were collected and saved by families and ethnic groups dating back to their European or South American counterparts. Seeds were gathered and saved, for the following season's crop.

So imagine how interesting it was to get a call from Amy Todd Middleton, friend and client (Senior VP Worldwide Marketing for Sotheby's) describing a brainstorm idea she had had with Brent Ridge, farmer/cheese maker/writer/urban refugee, over the weekend. An "heirloom vegetable in the fall"... to bridge the gap between city-people and their food; to give them a sense of appreciation of all the hard work farmers do; to demonstrate to the farming community that the city dwellers have the farmers interest at heart; to highlight the unique tastes and flavors of heirloom vegetables; to focus attention on the biodiversity (or lack) of our local crops; and finally, to create a vehicle to financially support farmers and healthy eating. Talk about big dreams! (But Amy is a big thinker, to say the least.)

And by the way, did I mention it would be held at Sotheby's, a world famous venue known for great art and treasured heirloom auctions and a long-time supporter of charity auctions? The beneficiaries of this auction will be the New Farmers Program of GrowNYC and The Sylvia Center, an organization with which I am intimately involved, which inspires young children to eat well through hands-on experiences with food on the farm and in the city.

And so, the unprecedented event is scheduled for Sept. 23. And as much as the mere mention of an heirloom vegetable stirs the soul, the prospect of competitive bids -- at the Sotheby's podium on E. 72nd St. -- is truly revolutionary!

And what kind of veggies will be bid on?
Jumbo peanuts and Lady Godiva Squash; Isis Candy Cherry Tomatoes and Christmas Lima Beans; Yugoslavian Finger Fruit Squash and Winningstadt Cabbage; Green Zebra Tomatoes and Pink Banana Pumpkins, Hidatsa Red Beans and Cardoons, Turkish Organic Eggplants and Vert Grimpant Melons (a partial listing). It is like a roster of movie stars making their NYC debut all at once on a Broadway stage.

But as the planning has progressed, the plot has thickened. The event, originally conceived of as a one-night stand, now dovetails with Eat Drink Local Week, sponsored by Edible Manhattan/Brooklyn, whose chefs and restaurateurs are anxiously awaiting the opportunity to bid on some of these rare masterpieces. Another unique aspect is a series of pre-auction "Gallery Talks" organized by Karen Karp (Karp Resources) featuring Scott Exo, executive director, Food Alliance; Mitchell Davis, vice president, James Beard Foundation; and others.

The evening will conclude with a post-auction dinner for top ticket holders, where there will be an exclusive four-course dinner for benefactors, designed by a line-up of celebrity chefs, including Jeff Gimmel of Swoon Kitchenbar in Hudson, New York; Jean-Georges Vongerichten with the culinary team of ABC Kitchen; Roberto Alicea, executive chef of Andaz 5th Avenue; and Myriam Eberhardt, pastry chef of DBGB Kitchen and Bar.

And a farmer's market will be in operation on 72nd Street and York Avenue that morning, inviting the local community to come and shop for their vegetables. Greenmarket will highlight heirloom vegetables all week in markets across the city, leading up to the auction date. We are ALL heirs to the heirlooms, and unlike extravagant jewelry or fine art, these fresh vegetables will be accessible to all our NYC neighbors.

This weekend featured the New Amsterdam Market at the Seaport. I won't go off on a tangent, waxing poetic about the mind-boggling bounty, the luscious colors, the innovative artistry... but I will say the Tomato Tasting (a fundraiser for Food Systems Network NYC) featured heirlooms and was the taste highlight of the day! It only serves to whet our appétit for what is to come in September, a month from today. Get your paddles ready.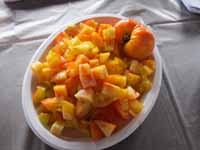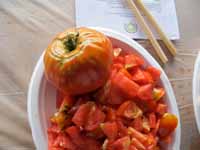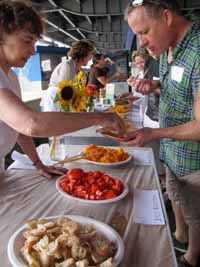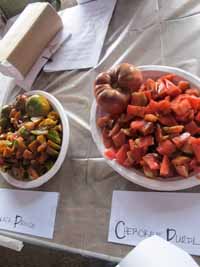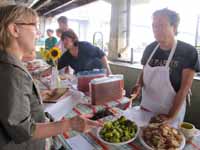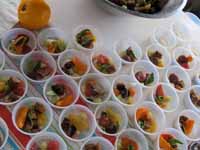 Related