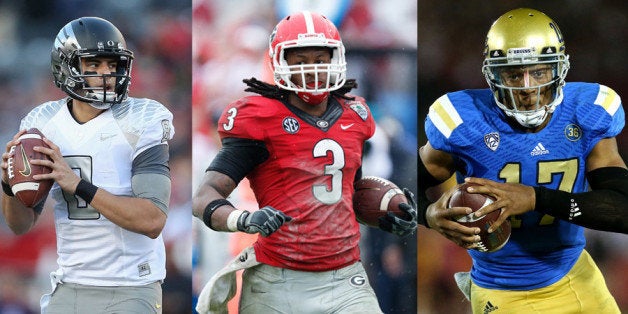 Last year Florida State's Jameis Winston became the second consecutive freshman to win the Heisman Trophy, after no freshman had ever won it before. He returns this fall for what is all but assured to be his final year of college before heading to the NFL. Winston's 40 passing touchdowns while leading the Seminoles to a national championship were impressive, but in his quest to become just the second Heisman repeat winner (after Ohio State's Archie Griffin in 1974-75), he faces a roster of elite talent around the country.
Here are the five biggest threats to Winston's attempt to repeat. (It might have been six, but Ohio State senior Braxton Miller, an electrifying Heisman hopeful, will miss the season with a shoulder injury.)
Marcus Mariota, QB, Junior, Oregon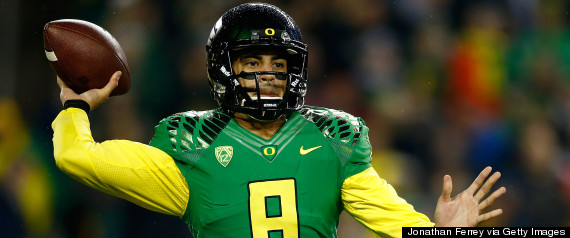 Mariota was not heavily recruited coming from Hawaii, but the 6-foot-4 lightning bolt is a sensational playmaker who can throw and run. As a redshirt sophomore last year, he accounted for 40 touchdowns and just four interceptions while averaging over 7 yards per carry. He did, however, see a 5 percent dip in his completion percentage; that should creep back up toward the 70 percent mark this year. His partially torn knee ligament -- the MCL -- from last season appears fully healed. The University of Oregon is also a title contender, and we know that grabbing the Heisman often depends on a winning team.
Brett Hundley, QB, Junior, UCLA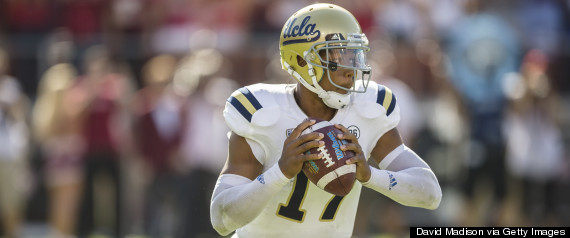 The Pac-12 Conference returns 10 starters at quarterback, with Mariota and Hundley as the headliners. Hundley is a monster at 6-foot-3 and 227 lbs., with a cannon for an arm and great vision as a runner. The highly ranked Bruins actually return four starters to their offensive line. Plus, consider this: From early November to the end of last season, according to ESPN The Magazine, Hundley's 93.3 total quarterback rating led the entire NCAA Division I-A.
Todd Gurley, RB, Junior, Georgia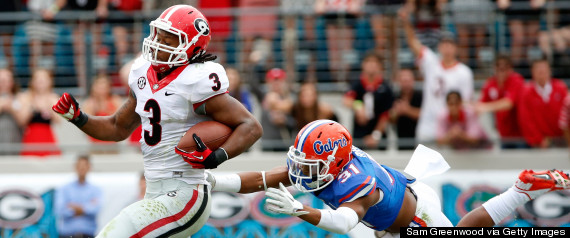 Gurley likely would have been a Heisman finalist as a sophomore had it not been for injury. This year, he is healthy and ready to put up huge numbers for SEC East frontrunner University of Georgia. Gurley, who played linebacker at the beginning of his high school career, may be the best running back in the nation based on his versatility and power. He is a true north-south runner who possesses the rare combination of size (6-foot-1, 226 lbs.) and speed. Perhaps just as impressively, he is only the second-ever Bulldog to rush for 1,000 yards as a freshman -- the first being Heisman winner Herschel Walker, who accomplished the feat in 1980.
Melvin Gordon, RB, Junior, Wisconsin The 6-foot-2, 216 lb. Gordon is hard not to watch because he can break out a big run seemingly at will. His 7.8-yard rushing average as a sophomore led college football. (Actually, he has led all Division I-A players in yards per carry each of the previous two seasons.) He runs behind an elite offensive line, per usual for the University of Wisconsin, a team that could be special in 2014. Thanks to the emergence of talented backup Corey Clement, Gordon, a potential first-round draft choice, won't get overworked. His early-season statement game comes Aug. 30 against Louisiana State University in Houston -- the entire nation will be watching. Gordon might be more talented than Montee Ball, the former Badgers superstar and a rising weapon for Peyton Manning and the Denver Broncos.
Bryce Petty, QB, Senior, Baylor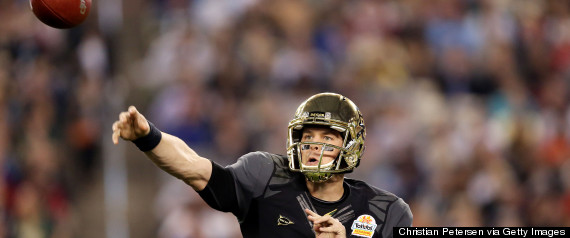 Baylor has quietly become a Big-12 power, and its most recent surge has a lot to do with Petty. The 23-year-old quarterback, who had once committed to Tennessee, waited his turn to star for the Bears. He isn't the most physically gifted, but he has full command of coach Art Briles' super dangerous offense, throwing for 4,200 yards while accounting for 46 touchdowns last season. Petty is supported by great talent in receivers, most notably Antwan Goodley, plus Baylor plays a cupcake schedule. Petty will likely best his numbers as a junior and the Bears will hover around the top 10 all year long. In other words, he's not the sexy pick, but he has a real chance to join Robert Griffin III as Baylor's second Heisman winner in four years.
Email me at jordan.schultz@huffingtonpost.com or ask me questions about anything sports-related at @Schultz_Report and follow me on Instagram @Schultz_Report. Also, be sure to catch my NBC Sports Radio show, Kup and Schultz, which airs Sunday mornings from 9 to 12 ET, right here.