CANASTOTA, N.Y. -- Investigators into the theft of six championship belts from the International Boxing Hall of Fame said last week they believe the heist -- the biggest theft of boxing memorabilia ever -- was committed by one or more highly skilled professionals.
"Based on the speed [and] based on the manner in how this occurred, it's definitely a professional," Canastota Police Chief James Zophy told The Huffington Post.
Zophy said the theft was well-planned and well-executed.
"It was done very, very meticulously and it was done very quickly and that's not typically what we see," the police chief said.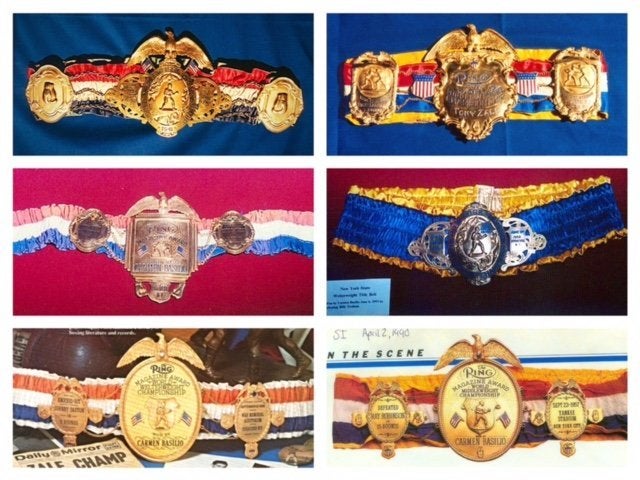 Craig Hamilton, a New York man who is considered the foremost boxing memorabilia dealer in the United States, said it's the largest theft of boxing memorabilia in sports history.
"There's no question about it," Hamilton told HuffPost. "There is nothing that compares."
According to Zophy, the thief or thieves entered the building by breaking an unbarred window in the early morning hours of Nov. 5. Once inside, they went directly to the display cases containing the championship belts.
The daring heist was over in less than two minutes -- the time it took police to respond to the burglar alarm. The thief or thieves took four championship belts belonging to professional boxer Carmen Basilio, who was the world champion in both the welterweight and middleweight divisions, and two belonging to two-time world middleweight champion Tony Zale.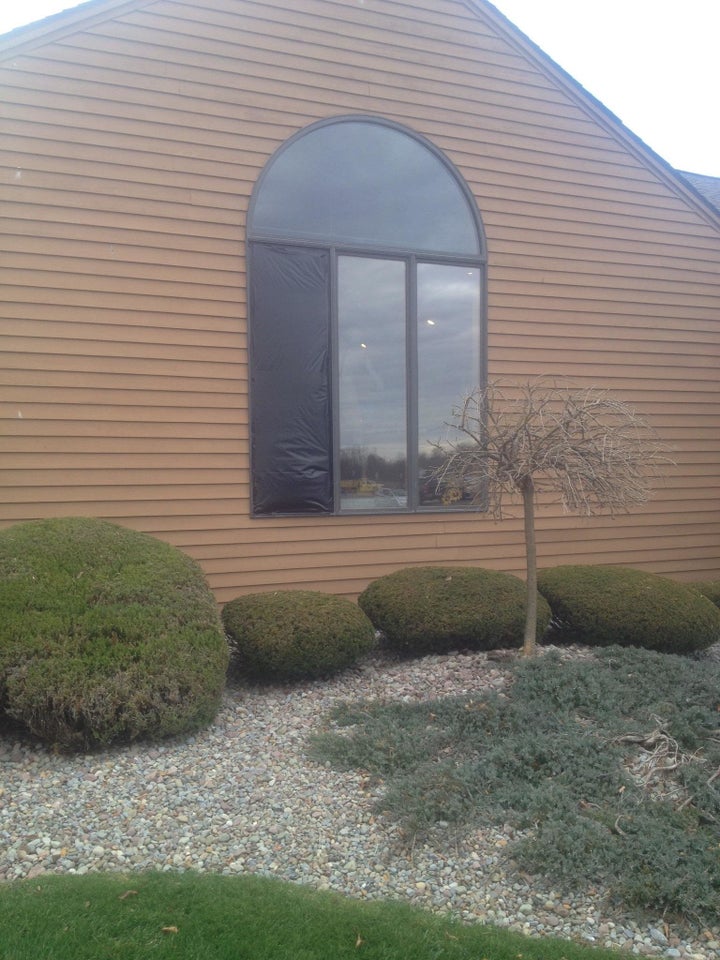 "It was specific to these two people," Zophy said of the stolen items. "They're very important. They're very priceless, but somebody specifically went after these items when there were probably other items more nationally known ... and they walked by them and they went for these items specifically."
Basilio, whose belts were on loan to the International Boxing Hall of Fame, was inducted as part of the inaugural class of 1990. Zale joined him the following year, and in 1998 his family loaned two of his championship belts to the hall of fame. The three showcases that housed the belts were the most prominent and the most vulnerable.
The museum's executive director, Edward Brophy, said that although the room was locked and protected by an electronic alarm system, the museum did not have other, more sophisticated anti-burglary measures in place, such as surveillance cameras or an on-site security guard.
Brophy said that officials had thought security was adequate at the museum, which is located alongside the New York State Thruway and is one of the area's major tourist attractions.
"We never thought anything like that could happen to a hall of fame in our village," Brophy told HuffPost.
The theft of the belts dealt a major blow to the boxers' families, who view them not only as priceless, one-of-a-kind items, but also as part of their legacies.
"I know every fighter and their family hold those belts close to their hearts," Tony Zale's grandniece and actress Haley Zale told HuffPost. "This isn't the first theft of a boxing belt, but it is the biggest theft of boxing belts in a collection ever and it's despicable."
Zale, who has been coming to the hall of fame for years, said the heist has shattered her heart.
"[I have] a lot of memories here," she said. "For me, it was kind of like visiting his grave ... Every time I would come up here I would just say a little hello to Uncle Tony. It was a chance to reconnect with him and a chance to reconnect with my roots, [and] since the break-in occurred it's completely flipped around my life, as well as my mother's and father's."
Zale and her family have since removed from the museum the Presidential Citizens Medal that President George H.W. Bush presented to Tony Zale in 1990 -- an item that was inexplicably left untouched during the break-in.
"We removed it because we were concerned about the safety of this building," she said. "There were no security cameras for the first 25 or more years of this hall of fame, and there's priceless artifacts in here and those items need to be secure."
Zophy acknowledges there were no security cameras inside or outside the hall of fame -- an issue that has since been resolved. However, he said he does not believe the investigation would be progressing differently if there had been security cameras.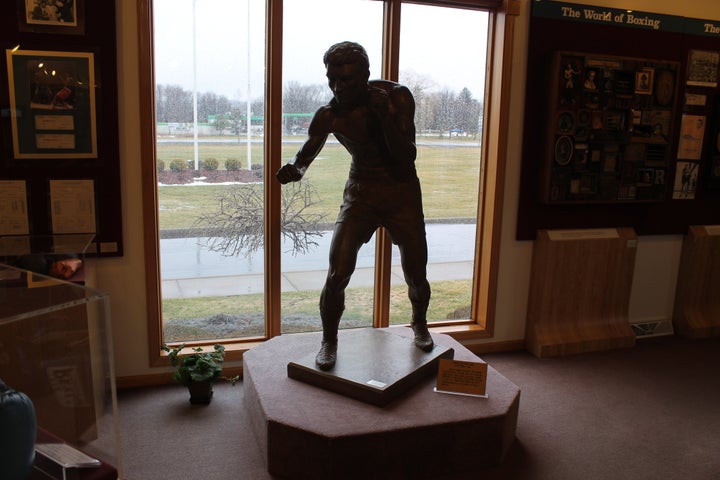 "This was probably a black eye to all of us to include the hall of fame and not because nobody was doing their job," he said.
"How many museums have you ever been to that didn't have video surveillance?" said Hamilton, the memorabilia dealer. "In this day and age you can go to Costco and buy video cameras for like $100. It's ridiculous. This is bad. It really is. It's a story of the sadness of the families' irreplaceable items, and it looks like there is a hell of a lot of incompetence going on."
While there is no immediate estimate for the value of the stolen belts, Hamilton said a conservative estimate would be approximately $50,000 to $75,000 apiece.
"Collectively, I think it's safe to say the belts would be worth at least $300,000," Hamilton told HuffPost. "I don't know of anything in the hall of fame that would have been worth more than those belts."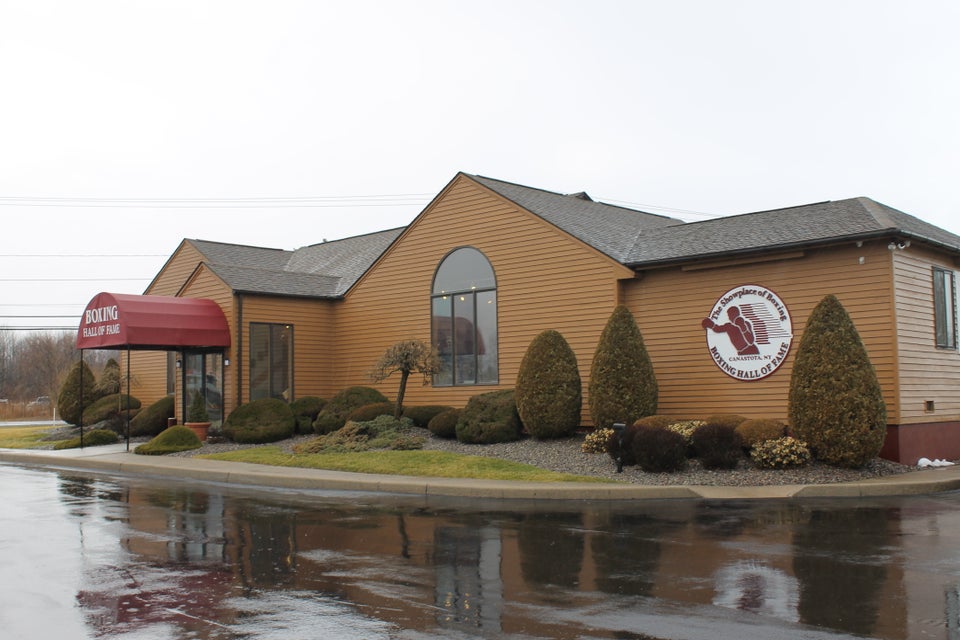 Boxing Hall Of Fame Heist
However, because the belts are so unique, they're worthless to a legitimate collector.
"I don't know where these could possibly be sold for a substantial amount of money," Hamilton said. "Unless they're going to some oddball collector who has a fantasy about having them in his basement and nobody else would know, and that would be a very strange person. Part of the joy for these collectors is the bragging rights or the investment, but you can't invest in stolen stuff."
Former heavyweight champion Mike Tyson, who said his own championship belts were briefly stolen in 2000, was saddened when he learned of the theft.
"The belts signify much more than just winning the title," Tyson told HuffPost. "They signify something special to the fighter -- the things people do not see -- the blood, sweat and tears that the fighter had to go through to get to the opportunity to fight for the crown."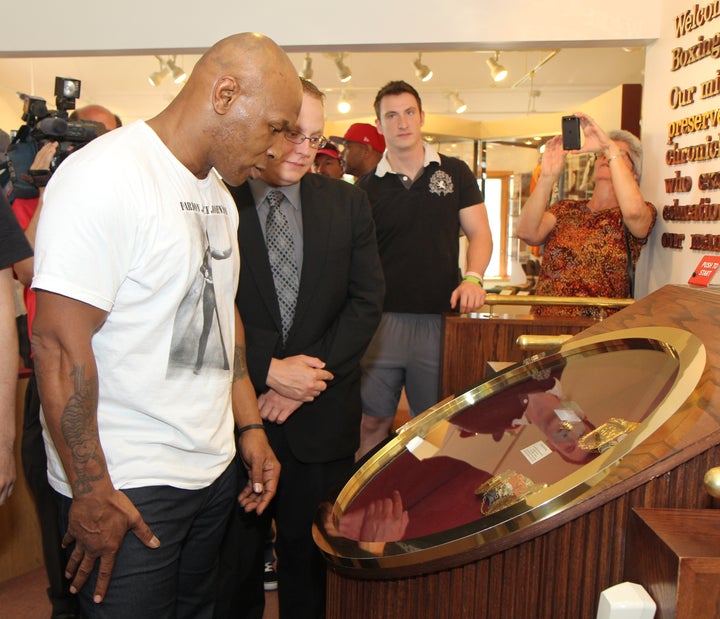 Tyson, who was for the most part raised and trained by legendary boxing manager Cus D'Amato, said he remembers being enamored with Basilio and Zale back when he himself was training to become a world champion.
"Both Zale and Basilio were gladiators in the ring," Tyson said. "I never saw them take a backward step and I will never forget the super fights they had: Zale's battles with Rocky Graziano and Basilio's wars with the legendary Sugar Ray Robinson."
Brophy decided in 1990 to build the International Boxing Hall of Fame in Canastota to honor Basilio, a Canastota native, and others around the world who have dedicated their lives to the sport.
"The love of the sport by the village of Canastota has always been strong," Brophy said. "It means so much to the hearts of the community."
The community's love of boxing is what has Brophy and police looking for clues beyond the small village.
A working theory by police is that an organized group could be responsible for the heist and that they may be planning to smuggle the belts out of the country for sale to international collectors.
"Through the course of our investigation we have learned that there are other museum burglaries here in the state of New York and in New Jersey, [and] it sounds like there is a potential crime syndicate that's involved," Zophy said.
Because of a possible connection, the FBI and Canastota police are working together on the investigation.
"We are looking into it and are pursuing all possibilities, but we can't say anything specifically about an ongoing case," a spokesperson for the FBI's Albany office told HuffPost.
While the FBI is tight-lipped about the case, Zophy did say that evidence found at the scene suggests the thief or thieves were wearing leather gloves. A source close to the investigation, who spoke on condition of anonymity because they were not authorized to talk about the case, told HuffPost that at least one individual was cut on a shard of glass in the building and left blood evidence behind.
Zophy would not confirm blood evidence was found, but he did say investigators pulled DNA from an area inside the museum.
"We believe it is connected to our suspect and we have sent that to the state police crime lab," he said. "When the DNA comes back that should hopefully give us a lead that we can follow up on. … I know some of the other agencies have DNA, so we could potentially link our DNA with the same person that committed the other crimes."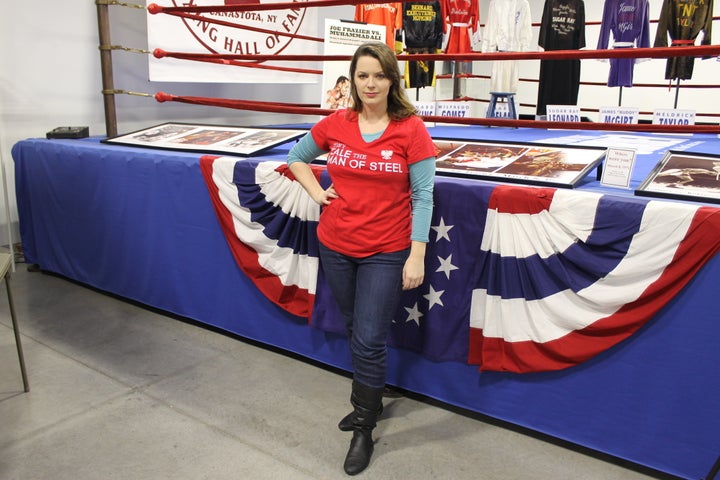 The museum's executive director has not given up hope of recovering the stolen belts.
"We have hope that the belts do get recovered and brought back to the hall of fame so the fans can continue to enjoy the memories of these great fighters," Brophy said.
Tony Zale's grandniece said she hopes international awareness of the thefts will generate new leads in the case.
"It's finally starting to build some momentum three and a half months later, and that's our aim right now," Haley Zale said.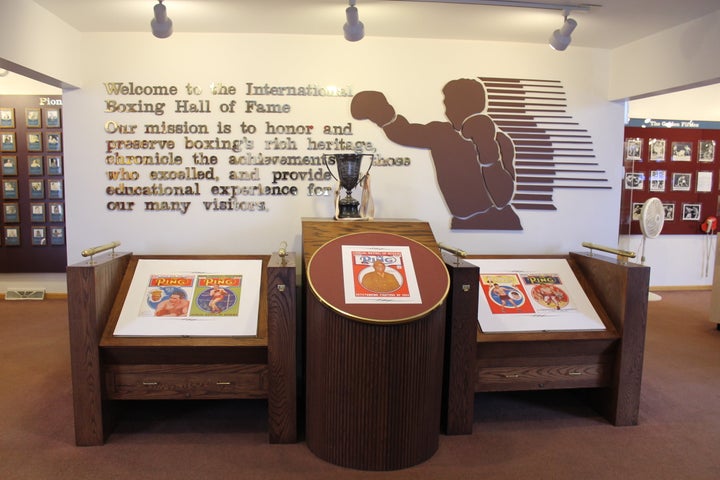 For now, boxing magazine covers mark the spots where the belts were once proudly on display.
"I'm certain that my Uncle Tony would be absolutely disappointed and very upset that somebody stole his belts for profit or pride or whatever reason," Zale said. "He would be furious. Nothing is ever going to replace what he earned and what Carmen Basilio earned."
Anyone with information on this case is asked to contact the Canastota Police Department at 315-697-2240 or the FBI Albany Field Office at 518-465-7551. A $20,000 reward is being offered for information in the case, as well as autographed items by Mike Tyson.
Before You Go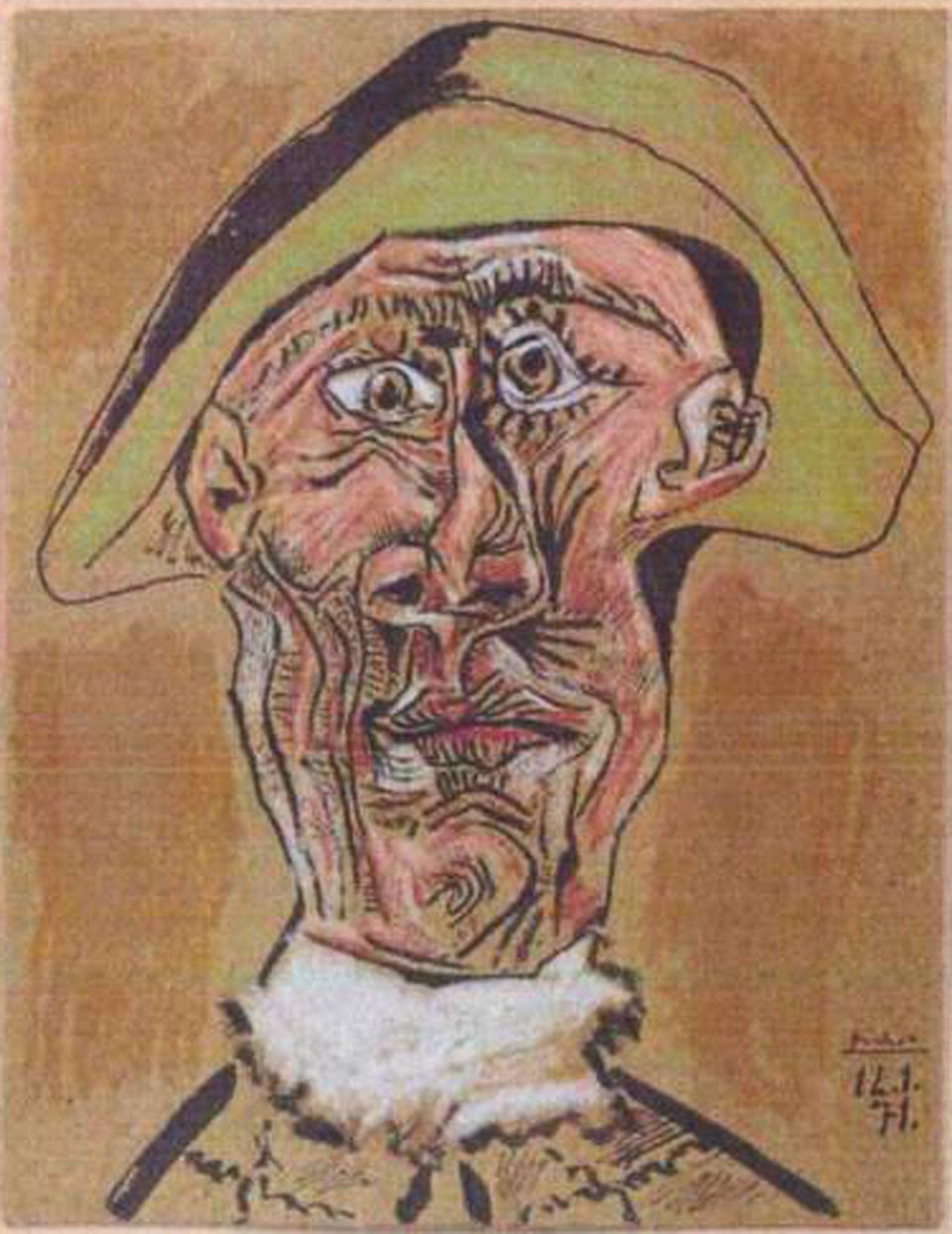 Famous Art Heists In Recent History
Popular in the Community