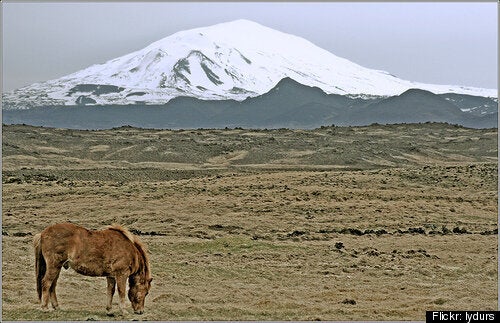 The Hekla volcano has had more than 20 major eruptions since the 9th century, and Hekla has had eruptions in 1980, 1991 and 2000.
But rumors of a Hekla volcano eruption today are false.
Twitter was filled with Hekla eruption rumors after an MSNBC Twitter feed @BreakingNews tweeted, "Large plume indicates second Icelandic volcano, Hekla, has begun erupting - watch live http://bit.ly/9iNfKE."
That tweet was retweeted more than 600 times, though the feed later corrected itself.
The BNO News Wire Service also reported the eruption, stating, "REYKJAVIK (BNO NEWS) -- The Hekla volcano in southern Iceland has erupted."
BNO News Editor @RodrigoBNO later followed up, "Iceland office confirms no 2nd eruption. A cam was pointed at the Eyjafjallakokul but labled as Ekla."
The Reuters News Service @Reuters followed up with a tweet of its own addressing the rumors: "Reuters has not issued an alert on a second volcano eruption #ashtag."