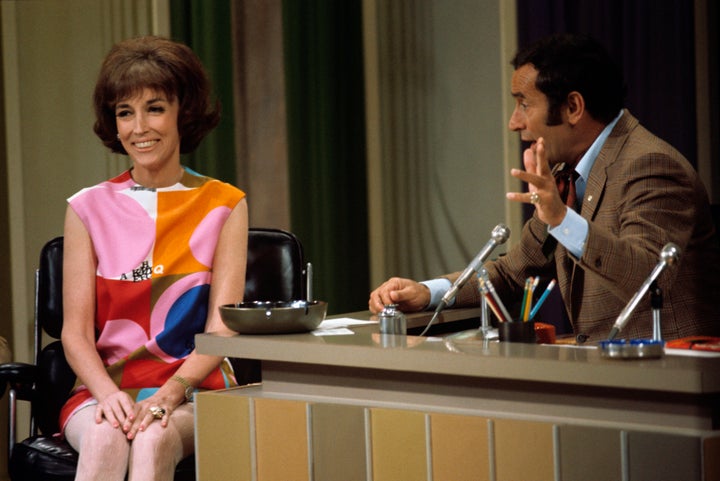 "We've really lost an icon," Marie Claire editor-in-chief Joanna Coles told The Huffington Post.
Sharing her thoughts in an email, Jill Herzig, the editor-in-chief of Redbook who worked as an editorial assistant at Cosmo under Gurley Brown early in her career, spoke first to her former boss' impact on women's magazines.
"Helen defined an era in which magazines were direct extensions of an editor-in-chief's life," said Herzig. "Everything about [her] -- her passions and eccentricities, her quirky verbal tics, her friendships, her insecurities, her wild fashion sense, her personal narrative -- shaped Cosmo. Her fascinating mind made for a fascinating magazine."
Kate White, the current editor-in-chief of Cosmo, also praised Gurley Brown's professional prowess.
"She was an amazing inspiration as an editor," White said. "She had such a clear vision and stuck with the vision. You couldn't help be dazzled by what she'd done -- she'd made the company so much money. She really was the basis for so much."
But Gurley Brown's influence extended far beyond the staff of Cosmo. One of her most fervent convictions, that women could and should support themselves, had a tremendous impact on women who were coming of age in the 60s and 70s, said Coles.
"I grew up reading her Cosmo," she said. "I was in the UK, but I had it sent over. It really educated me and my generation, the boomers, and the generation after. I loved her notion that it was really powerful to be able to look fabulous and have a great sex life, and to do these things through our own economic power."
Cindi Leive, editor-in-chief of Glamour, praised Gurley Brown for making women's sexual pleasure a topic of frank discussion in the pages of Cosmo and beyond.
"Today, when sex is so, well, ubiquitous, we forget how frankly shocking it must have been five decades ago for a woman to talk about not just sexuality, but female sexuality -- which most of America liked to politely pretend didn't exist," Leive said. "Helen Gurley Brown ushered that simple fact (duh: women like sex!) into women's magazines but much more importantly into the whole culture."
"Helen may well have been the first lipstick feminist," Robbie Myers, editor-in-chief of Elle, said in an email. "Her attitudes towards a woman's right to meaningful work, to make her own money, and to pursue sex as a means to her own pleasure -- she was quite radical in her way, as she brought these attitudes to such a wide-reaching, general audience."
The editors also noted Gurley Brown's contributions to causes she cared about. Coles called Gurley Brown's $30 million gift to Stanford and Columbia universities earlier this year "astonishing." Gurley Brown, she said, was "not only funny and clever and glamourous, but extremely generous with her time and also her cash."
Leive, meanwhile, remembered Gurley Brown's support for women's reproductive rights.
"I remember going to a luncheon in her private dining room about ten years ago for Kate Michelman, the former head of NARAL," she said. "Helen was so passionate and persuasive on the topic of women's reproductive rights that I think she practically had everyone in the room chanting along. I loved that here was this woman who could and should have been spending her retirement eating bonbons on a yacht off the south of France, and instead she was pouring her energy into supporting other women."
The editors shared personal memories as well. White recalled that Gurley Brown always asked about her children. Myers remembered that at age 80, she left dinner early to work out.
Thinking back on her time as an assistant at Cosmo, Herzig said, "One of my duties was to calling in new books for her to read when she traveled. I expected -- and deserved -- no thanks for this favor. But Helen always brought me a lovely small gift from wherever she'd been and left it on my chair with a handwritten thank you note. The best one came back with her from Malcolm Forbes' 70th birthday party in Morocco: a pair of pink suede sequined slippers with an exotically upturned toe. They sat on the mantel of my first apartment and, of course, I still have them."
Most of all, the editors seemed to appreciate Gurley Brown's willingness to be thoroughly herself -- "I think she taught everyone who worked for her to let their freak flag fly a little bit," said Herzig -- and the fact that her vivacity never faded.
In her later years, Gurley Brown, who turned 90 in February, remained a fixture at the Hearst tower in New York City. "It was very clear that she wanted to continue working," said Coles. "We used to see her all the time. My assistant said he'd just seen her in the elevator last Friday, and she'd been flirting with him."
Related
Popular in the Community