Helen Mirren was the coolest thing on the red carpet on the opening night of the Cannes Film Festival in France.
On Tuesday, the star of 2006′s "The Queen" turned heads with a striking hair transformation, arriving at the event with a wispy, ocean blue coif that perfectly matched her Del Core dress.
Mirren's gown fell off her shoulders into a deep V with long sleeves, a corseted bodice and long train. Diamonds, soft makeup and a pale blue manicure tied the look together.
As cameras flashed, she showed off one last accessory: a handheld fan with the text "#WorthIt," a reference to her partnership with L'Oréal Paris. Altogether, the ensemble created an edgy yet elegant look that was perfect for the film festival.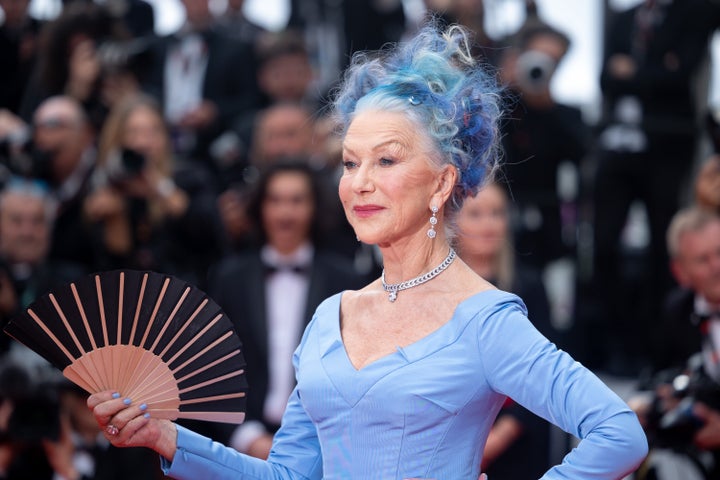 Mirren hasn't shied away from showing off her tresses in the past. In March, she wore her long gray locks down at the Los Angeles premiere of "Shazam! Fury of the Gods."
Days before the California event, the 77-year-old star dismissed an all-too-common notion in society — that "you're not supposed to have longer hair after a certain age."
"During COVID, I started growing my hair, and I hadn't actually had long hair since I was in my 20s," she said during an appearance on the British morning show "Lorraine."
"It grew and grew and grew, and I couldn't be bothered to cut it, basically. And then I thought: You know what? It's pretty cool. I think I'll stick with it for a little while," Mirren added. "It will come off eventually, but I'm kind of enjoying it. It's quite radical."
Popular in the Community