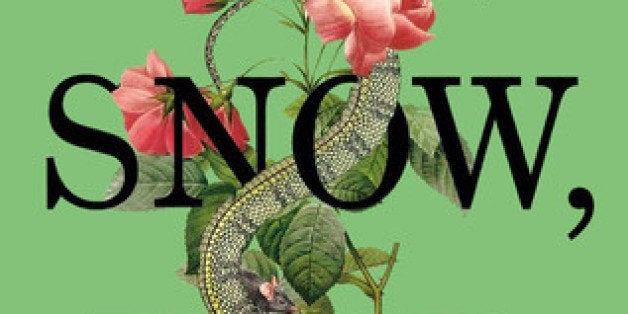 The Book We're Talking About is a weekly review combining plot description and analysis with fun tidbits about the book.
What we think
It would not be accurate to call Boy, Snow, Bird a modern reimagining of "Snow White," the Grimm Brothers' warning against vanity. The broad strokes are all there: Irrational dislike prompts a stepmother to banish her pleasant stepdaughter to a faraway land. But Helen Oyeyemi's fifth novel is at once more complex and more precise than the original story.
Oyeyemi weaves fairy tales, but not the didactic sort. You'll find no neatly packed moral message in The Opposite House, her 2007 novel inspired by Cuban fables, nor Mr. Fox, her 2009 book that takes its name from a Joseph Jacobs story.
Nor does Boy, Snow, Bird star a wicked woman competing for beauty superlatives (although she does have a peculiar fixation with mirrors and sometimes diets to stay fit). Instead, Boy is a girl who flees her abusive father, the rat catcher, named so because catching rats is his actual career, and by happenstance finds herself in a boarding house in Flax Hill, a Massachusetts town where tactual skills are valued. She falls in with a man named Arturo, a historian-turned-jeweler whose late, beautiful wife died shortly after giving birth to their dainty, fair-skinned daughter, aptly named Snow. The couple gets married and has a daughter of their own: Bird, whose dark skin reveals Arturo and his family to be African Americans passing as white.
Boy's love for her daughter manifests itself as bitterness towards eight-year-old Snow, whose outward appearance belies her heritage, and ensures seamless acceptance by society. Although she's long feared being perceived as frigid, laughing off magazine quiz assertions that she's "colder than Niagara," Boy ships her stepdaughter off to live with relatives in the South, and ignores her letters for years.
Boy is easy to empathize with, mostly because the bulk of the book is told from her point of view, in Oyeyemi's startlingly distinctive yet always undulating voice. Stark proclamations about her own character ("I've always been pretty sure I could kill someone if I had to... I wouldn't kill for hatred's sake; I'd only do it to solve a problem") are quickly balanced with her whimsical observations ("As for Flax Hill itself, I was on shaky terms with it for the first few months. Neither of us was sure whether or not I genuinely intended to stick around. And so the town misbehaved a little, collapsing when I went to sleep.") Even the rat catcher is revealed to be complicated rather than wholly wicked.
Just as Boy dismisses Snow for being too precious, Oyeyemi avoids writing a story that could have easily been sweet yet insubstantial. Her language, though often ornate, especially in the brief chapters narrated by preteen Bird, always moves the story forward. The book's title and character names are cutesy, but they're also woven neatly into the fabric of the story. The story is whimsical and readable, but it also delves into the still-extant issue of how we perceive race.
While "Snow White" and other classic fables are an essential part of our storytelling history, they tend to merely outline a moral or belief. Oyeyemi fills in the lines with colorful depictions of very human characters, and, in spite the occasional, cheesy hiccup ("Snow was not the fairest of them all") pens a fresh, memorable tale.
What other reviewers think
Los Angeles Times: "...one doesn't wish to complain about a writer having too much of an imagination; there are far worse curses, or perhaps they are blessings, to be borne. At heart, and apart from the sometimes overgrown paths down which Oyeyemi leads the reader, Boy, Snow, Bird is an attempt to repair the fractured love triangle among its eponymous characters."
The New York Times: "The greatest joy of reading Oyeyemi will always be style: jagged and capricious at moments, lush and rippled at others, always singular, like the voice-over of a fever dream."
The Washington Post: "Admittedly, its thematic murkiness will strike some readers as frustrating. But while staying rooted in a largely modern, realistic setting, Oyeyemi captures that unresolvable strangeness in the original fairy tales that later editors — from Grimm to Disney — sanded away."
Who wrote it?
Boy, Snow, Bird is Helen Oyeyemi's fifth novel. Her previous work earned her a spot on Granta's Best Of Young British Novelists list, a Shirley Jackson Award and a Somerset Maugham Award.
Who will read it?
Those interested in fiction writers with distinctive, experimental voices. Also, those interested in fairy tales and modern retellings of classic fables.
Opening lines:
"Nobody ever warned me about mirrors, so for many years I was fond of them, and believed them to be trustworthy."
Notable passage:
"Bird was born in the spring. I say 'was born' because the pain was so tremendous that I just let it come. It was like quicksand. The only way to make it out alive was to stop struggling against it, to submit. I'm told I was in labor for thirteen hours, but I really wouldn't know. There was the quicksand, then there was Bird in my arms, safe and well, and dark."
REAL LIFE. REAL NEWS. REAL VOICES.
Help us tell more of the stories that matter from voices that too often remain unheard.