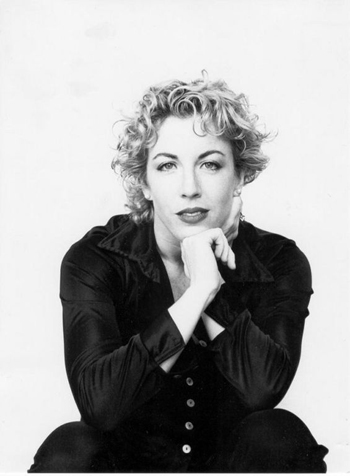 Atlanta Ballet's New Resident Choreographer, Helen Pickett
Helen Pickett started dancing at the age of eight after her mother called in and won tickets to see Nutcracker in a contest on the radio. Now, she will be taking on the title of resident choreographer at Atlanta Ballet--a three-year commitment that includes new works and an annual workshop. In-between, her life has been quite a journey.
Helen performed with William Forsythe's Ballett Frankfurt for more than a decade and she has choreographed for companies such as Boston Ballet, Ballet X, Ballet West, Dance Theatre of Harlem and Smuin Ballet. These are just a few of the accomplishments she has garnered over the course of her career thus far.
4dancers.org asked Helen some questions via e-mail to learn more about her background and what her thoughts are in terms of signing on with Atlanta Ballet...
What is your background in dance?
At 14 started training with San Francisco Ballet School. At 19, I met William Forsythe while he was creating New Sleep for SFB. I flew to Frankfurt to see the company and take class. I started Ballett Frankfurt the next season. I moved to NYC in 1999 to start acting with the theater company, Wooster Group, director, Elizabeth LeCompte. Also in 1999, I started teaching at The Ailey School, under the direction of Denise Jefferson.

How did your dance career wind up evolving into choreography?
In 2005 I received a call from Mikko Nissinen, director at Boston Ballet, asking me if I would like to choreograph for the company. I said yes. The wind up was urgent. Meaning I knew I must say yes now. Prior to this call, I had choreographed solos for students at The Ailey School, Purchase College and Julliard. I need to be in a dance studio.
Did your time with William Forsythe have an impact on your choreographic style? Why or why not?
Bill sees/saw/will always see possibility in life. Tapping into one's curiosity creates possibility. Forsythe and many others, inside and outside of dance, have influenced my lifestyle. The sum of our lives impacts all decisions we come to.
How would you describe your style and process?
Being in process is an implicit state. Therefore, process is constant. Style evolves as life progresses. I search for connection, why/how/when we connect.
What type of music do you like to use and how do you go about selecting it?

I have a bank of music and I add to it constantly. I try not to go for a specific sound. I usually hear/see music and process starts. I also connect to how it makes me feel. And if I must work with music that is chosen for me and I do not connect, I listen until I find a connection. I find a way in - have to. The challenge carves different grooves. I love a good challenge.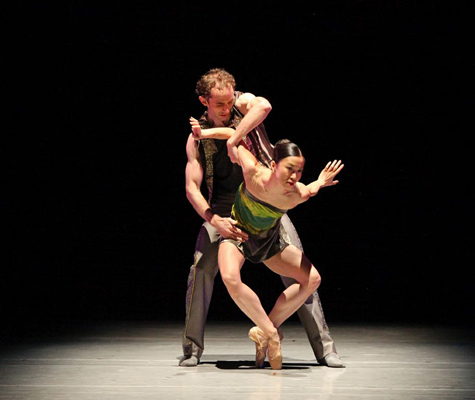 Atlanta Ballet Performing Pickett's Prayer of Touch, Photo by Charlie McCullers
You will be offering a one-week "Choreographic Essentials" workshop each year at Atlanta Ballet. Who will be attending and what will it be like?

I intend to offer the workshop to college age dancers, 18-25.
In this workshop, two choreographers mentor student's choreography. I did not want to create another workshop where dancers learn choreography and perform. The workshop empowers students to make choices and show their work. If we, as educators, instill a curiosity that encompasses a love for detail in students we might help set up the next generation that strives for excellence.
The dancers are asked to write an essay on their ideas for the week. They also must include an outline of the piece they wish to create. I offer four choices of music, and they must also explain their musical decision in the essay. On the first day dancers learn two to four short phrases from the choreographers as a jumping off place. They cannot use the phrases in their entirety. They must deconstruct the original phrases, by employing, for example, Forsythe Improvisation Modalities. The students weave their new material into their existing ideas to form a piece that will be shown on the 6th day.
*1 ½ hour ballet class (Atlanta Ballet Teacher), All together
*2 hour Forsythe Improvisation Technologies class, All together (I teach this.)
*1 ½ hours with Choreographer A (Here group splits into 2 groups. Each group gets to work with both choreographers every day.)
*1 ½ hours with choreographer B
Rehearsal and Showing of student choreography
What are you most excited about when it comes to working as resident choreographer for Atlanta Ballet?
How can I not be excited about working with the Atlanta Ballet? John McFall and Arturo Jacobus head this extraordinary organization. Their passion infuses the whole company. I must say thank you to both of them for this opportunity. I am thrilled.
I previously set Petal and then created Prayer of Touch, so I know these dancers are wonderful. In the studio I feel an urgency that is intoxicating. And what a luxury to create work on such a focused group of people!
It is also a great privilege to work with a group of people that you know and like very much. WE becomes the operative word. Connection deepens. Possibilities abound.
REAL LIFE. REAL NEWS. REAL VOICES.
Help us tell more of the stories that matter from voices that too often remain unheard.