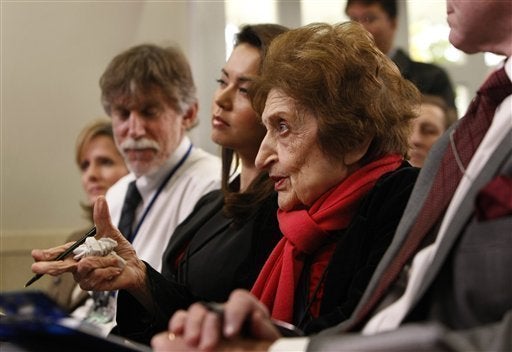 Under fire for controversial remarks she made (and apologized for) about the status of Jews in Israel, longtime White House scribe Helen Thomas was dropped on Sunday by her speaking agency.
"It is with a heavy heart that Nine Speakers, Inc. announces its resignation as the agent for Helen Thomas, Dean of the White House Press Corps," read a statement from Diane Nine, president of the agency. "Ms. Thomas has had an esteemed career as a journalist, and she has been a trailblazer for women, helping others in her profession, and beyond. However, in light of recent events, Nine Speakers is no longer able to represent Ms. Thomas, nor can we condone her comments on the Middle East. Nine Speakers will continue to enthusiastically represent all of our other current and future clients."
"We no longer represent Helen for books or lectures or anything else," Nine added in an email to the Huffington Post.
Thomas caused a stir late this week when a video was released of her declaring that Jews should "get the hell out of Palestine" and go back to Germany and Poland. She has since apologized for the remarks, saying they did not properly reflect her position on the conflict of the Middle East. But the criticism has been scorching ever since. Late Friday night, former White House spokesman Ari Fleischer called for Thomas' firing from Hearst news service, where she serves as a columnist.
Former Clinton adviser and consummate political "centrist" Lanny Davis released a statement on Sunday that was even more condemning, calling Thomas, among other things, an "anti-Semitic bigot."
"[H]er statement that Jews in Israel should leave Israel and go back to Poland or Germany is an ancient and well-known anti-Semitic stereotype of the Alien Jew not belonging in the 'land of Israel' -- one that began 2,600 years ago with the first tragic and violent diaspora of the Jews at the hands of the Romans," Davis' statement read, in part. "If she had asked all blacks to go back to Africa, what would the White House Correspondents Association's position be as to whether she deserved White House press room credentials -- much less a privileged honorary seat?"
Hearst has so far declined to weigh in on Thomas' status as a columnist with its news service. But the growing sentiment within the larger media world is that she should, at the very least, have her privileged status at the White House revoked. Davis himself argued for the suspension of "all privileges in the White House press room" in addition to her nationally-syndicated column. Meanwhile, on Sunday, Time Magazine's Joe Klein penned a post for the website arguing that Thomas should no longer be able to sit in the front row at daily press briefings -- albeit because she was a editorialist as much as for her incendiary remarks.
Thomas, who is of Lebanese descent, had been fairly upfront on her position of the Israel-Palestine crisis prior to the most recent comments surfacing. But the videotape released on Friday has placed her viewpoints in a much sharper and critical light and raised uncomfortable questions and coverage about her position within the White House press corps.

Popular in the Community