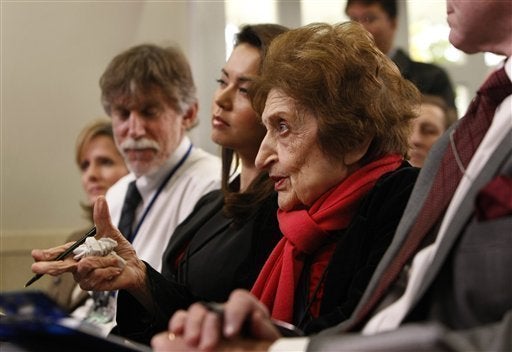 For the fourth time this week, the White House press briefing was dominated by questions over the president's stance -- seemingly souring -- on the idea of a "truth commission" to investigate the use of torture during the Bush years.
Only this time, instead of demanding to know whether Obama was contradicting himself or bowing to pressures from the "right" or the "left," there was at least some inquiry into the efficacy of a commission itself. The sharpest line of questioning came from the veteran of the bunch, Helen Thomas, who demanded to know whether the president learned from history and labeled the White House's "look-forward-not-back" line Bush-esque.
From the transcript comes this exchange:

HELEN THOMAS: What's the President's decision today on a truth commission and doesn't he believe the history? Doesn't he believe you learn a lesson from history? Don't look back! I mean, what if we didn't look back to anything. What is this? ... That's a mantra left by the Bush Administration: never look back they don't want to repeat...

ROBERT GIBBS: Well let's not conflate the president's position on a commission with his understanding of Webster's definition of history. I think that might be, for somebody who enjoys history as much as he does, that might be a dangerous concept to enter into.

THOMAS: Why does he say don't look back?

GIBBS: Well because, Helen, there are important things that face this country right now, each and every day.

THOMAS: Doesn't he think he can learn from history?

GIBBS: We don't doubt that we can learn from history. But there's an economic crisis, there is a crisis in unemployment, there is a financial stability crisis, there is a home foreclosure crisis. There are any number of things that the president enumerated just the other day-

THOMAS: Nobody is asking him to focus on that, they are asking Congress to.

GIBBS: Well, but seemingly the White House's briefing of the time is taking up by what is the dominion of Congress....

THOMAS: Does he think that nobody should pay a price for the horror that we have gotten into?

GIBBS: The president, first and foremost and most importantly, has changed the policy of this country by which anybody who works for this government can act. History, I think, will be left to historians and we will leave it up to them. But I think it is important to understand that the most important step that was taken in all of this debate was to end once and for all the use of enhanced interrogation techniques by any member of this government
Calling all HuffPost superfans!
Sign up for membership to become a founding member and help shape HuffPost's next chapter