Helena Bonham Carter in 55 Steps:
Women and Mental Illness in the Movies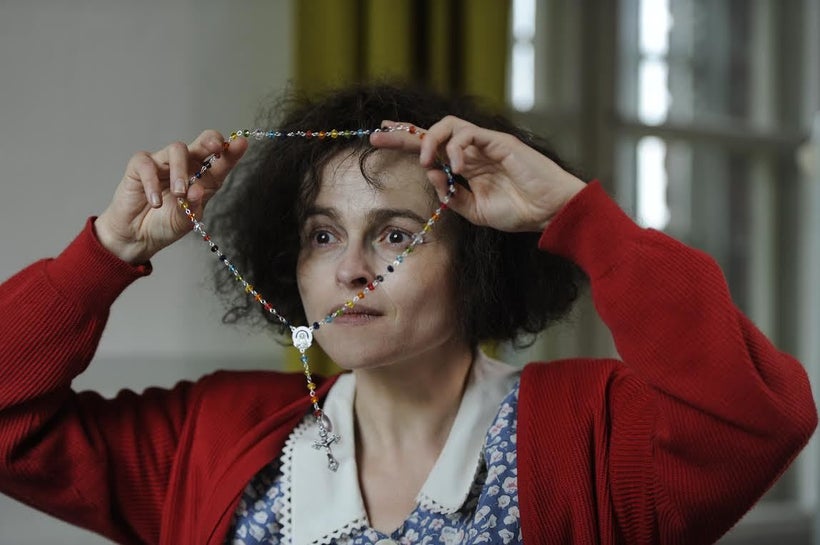 Helena Bonham Carter - Photo Credit: Bernd Spauke
There is no vanity in her performance. Completely absent are the once refined and incandescent good looks exhibited in her early Merchant-Ivory films as well as the eccentric allure of her numerous later Tim Burton vehicles. Instead, in 55 Steps, Helena Bonham Carter presents a totally new take on a woman living with mental illness. This is no criminal psychopath, blistering obsessive, or naïve Candide, but a real woman who knows she has been hobbled by doctors administering inappropriate antipsychotic medication. This is a true story, set in 1985-1990, about a mentally handicapped woman in her 40's, who with the dogged persistence of her lawyers (played to perfection by Hilary Swank and Jeffrey Tambor), takes on the California court system to win justice for hundreds of thousands of competent mental patients, who have suffered, as Swank's character states, "chemical rape."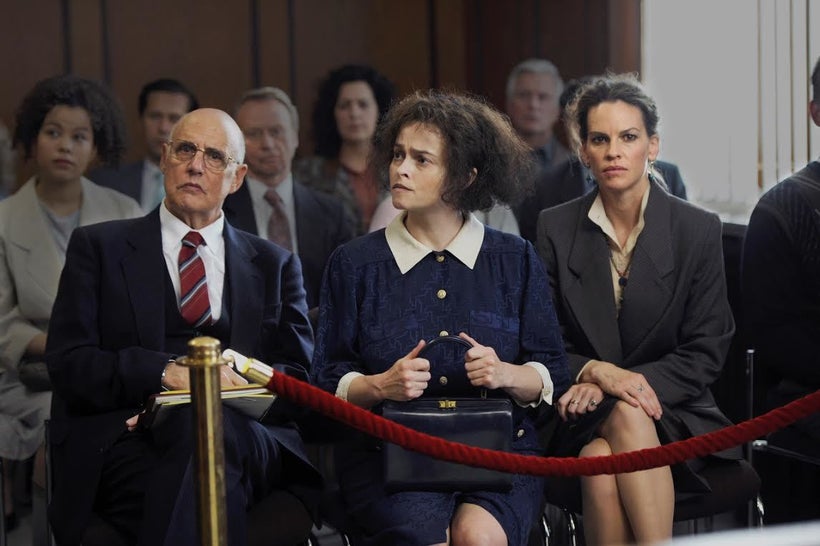 Jeffrey Tambor, Helena Bonham Carter, Hilary Swank - Photo Credit: Berd Spauke
Actresses who portray characters with mental illnesses are often catnip come awards season. We can go back to Olivia de Havilland, luminous in her Oscar-nominated asylum turn in The Snake Pit, and her friend Bette Davis, also Oscar-nominated for What Ever Happened to Baby Jane?, and their fellow Golden Age of Hollywood nominee Gloria Swanson for Sunset Boulevard. Joanne Woodward won her golden statuette for playing the split personalities of the title character in The Three Faces of Eve. Jessica Lange appeared as another gifted actress, Frances Farmer, who lost her mind and her career to schizophrenia, whereas Lange won an Academy Award nomination for playing Frances. Three of our most stunning contemporary stars have garnered Oscars in recent years for depicting some form of insanity: Angelina Jolie won hers for the sociopathic support offered in Girl, Interrupted, Charlize Theron was the monster in Monster, and Natalie Portman's perfect face featured two Oscar-winning expressions, anguish and repose, while being overtaken by madness in Black Swan.
Some of the best scenes of female mental suffering have emerged from Europe; including Isabelle Adjani's Oscar- nominated performance as the artist Camille Claudel, who was confined to a mental institution for 30 years. Juliette Binoche also brought Claudel's ordeal to life in Camille Claudel 1915. Bibi Anderson and Liv Ullmann starred in Persona, with Anderson winning the National Society of Film Critics Award. And certainly, Eiko Matsuda, in the Japanese art film In the Realm of the Senses, offered a unique take on madness.
There seem to be four distinct genres of mentally ill women as displayed in the movies. There are the obsessives; most notably Oscar-nominated Glenn Close in Fatal Attraction and Oscar winner Kathy Bates in Misery. Others whose pathology take the form of obsession, who have tantalized the screen with their stellar performances, have included Jennifer Jason Leigh in Single White Female and Kate Winslet and Melanie Lynskey in Heavenly Creatures. Rebecca De Mornay in The Hand That Rocks the Cradle and Jessica Walter in Play Misty For Me are other standouts in this category.
Then there are the inmates at the asylum, some wrongly incarcerated, some cured in the more humane institutions, and some made to suffer and suffer and suffer, including the above mentioned de Havilland, Adjani, Binoche and Lange, but also Elizabeth Taylor in arguably her best performance, her Oscar nominated lead in Suddenly, Last Summer, and Keira Knightley in A Dangerous Method. Other standouts include Halle Berry in the thriller Gothika and Gena Rowlands, Academy Award nominated as A Woman Under the Influence. And Angelina Jolie shared the screen in Girl, Interrupted with other fascinating mental patients played by Winona Ryder, Brittany Murphy, and Elisabeth Moss.
Then there are women who suffer from a "kinda cute" mental illness, like Genevieve Bujold in King of Hearts and Janet Margolin, with her addiction to rhyming, in David and Lisa, and Mary Stuart Masterson in Benny and Joon, and Genevieve Lemon in Sweetie. And poor delusional Vivien Leigh is carted away to her involuntary commitment by doctors offering "the kindness of strangers" in her Oscar-winning performance as Blanche Dubois in A Streetcar Named Desire.
And finally there are the more vicious exemplars of Antisocial Personality Disease, psychopaths created by Theron in Monster, Bette Davis in Baby Jane, Sharon Stone in Basic Instinct and the indelible Shirley Stoler in the cult film The Honeymoon Killers.
But Bonham Carter is something we haven't seen before. She's not a malevolent sociopath or an obsessive. Nor is she a sweetly delusional mentally ill woman. Eleanor Riese, as played by Bonham-Carter, can sometimes be sweet, but she's also, as clearly stated by her lawyer Colette Hughes (Swank), "gravely obnoxious". Bonham-Carter doesn't play it for cute. And certainly not for pretty. This woman has struggled with schizophrenia and mild mental handicaps, and the antipsychotic drugs administered against her will have damaged her bladder and placed her in a state of chronic pain. She demands her rights as a patient, the rights to be treated as a sentient being capable of making decisions about her treatment.
We see her injected against her clearly stated wishes and placed in an isolated room with no access to a toilet. Her records show that she's been drugged for being "sarcastic." We observe her shattered and shuddering, but we also watch her fuzzy headed moonfaced delight as she plays her favorite music, shops at thrift stores, and indulges her passion for 7-Up and Breyer's vanilla ice cream. This woman with impaired mental health, who hasn't learned to refrain from flopping her beskirted legs akimbo, has the utmost compassion for the needs of others. She's demanding, annoying, and sometimes imperious, but she's also deeply human and passionate about empowering other patients.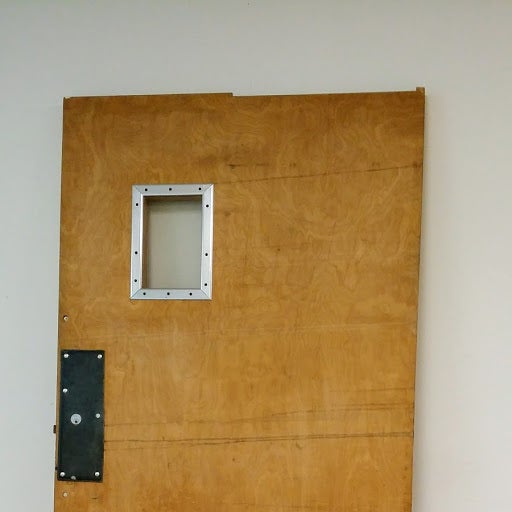 Isolation Room Door: Permission of Colette Hughes
The underlying subject of this film is a patient's right to be treated with respect and dignity, and it is a thought-provoking one, as told through its mentally ill heroine.
Eleanor Riese's still very active attorneys, Colette Hughes and Mort Cohen, will be present at the Gala premiere of 55 Steps at the Toronto International Film Festival on Friday, September 15.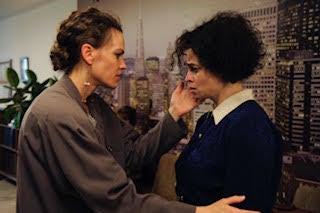 Hilary Swank and Helena Bonham Carter - Photo Credit: Bernd Spauke
Written by Mark Bruce Rosin
Produced by Anita Elsani, Lesley Neary, Sara Risher, and Laura Shearing
REAL LIFE. REAL NEWS. REAL VOICES.
Help us tell more of the stories that matter from voices that too often remain unheard.
This post was published on the now-closed HuffPost Contributor platform. Contributors control their own work and posted freely to our site. If you need to flag this entry as abusive,
send us an email
.