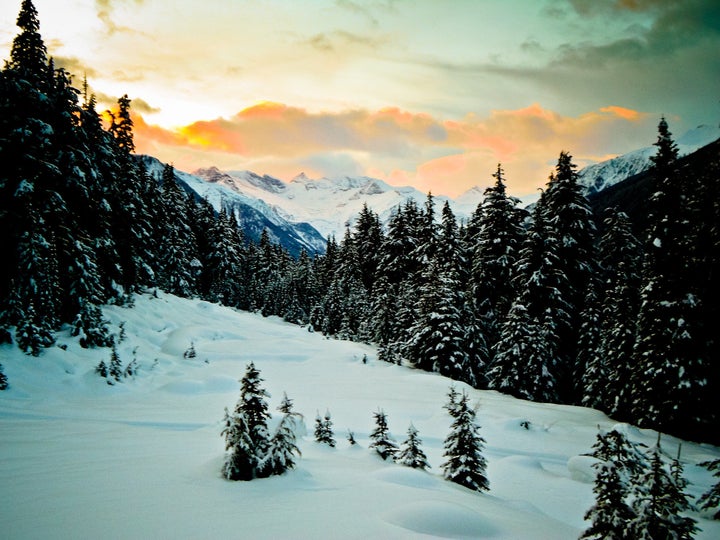 "Never been glade skiing in the wilderness before? Just don't look at the trees and you'll do fine," instructs the man who will hold my life in his hands for the next seven days.
Perched on a windswept ridgeline, I digest his advice while the Bell 212 helicopter that just deposited us on the roof of British Columbia's Cariboo Mountains swoops away between peaks that rise like whitecaps on an ocean of clouds. I point my unwieldy, fat skis toward the fall line of a wide-open, untouched slope smothered by a thick blanket of champagne powder. Further down lies an obstacle course of snow and rime-encrusted fir trees bent into whimsical shapes.
Then I'm awkwardly carving drunken S-shapes in the silken snow, tumbling into waist-deep, feather-light powder. I Cautiously weave through the silent forest, forcing myself to avoid eye contact with those darn trees. The whoosh of my boards, yelps of newfound joy from my companions and our guide's yodel direct me down toward our pickup location. These are the only sounds that break the spacious silence.
No wonder they call the first heli-skiing run "the point of no return." (*SEE PHOTOS BELOW*)
Where Heaven and Earth Meet
Helicopter assisted skiing and snowboarding in Western Canadian mountain ranges like the Cariboos, Selkirks and Bugaboos is hard to beat if you're looking for massive amounts of varied terrain and unmatched snow conditions. Still, powder pups like me have not generally made it so far off the grid.
Until recently, heli-skiing was generally considered an extreme sport only accessible to well heeled, elite skiers. Like most mountain mortals I watched those Warren Miller movies with a mixture of awe and envy, thinking: "There go I but for the grace of good sense."
Then I heard about a heli-skiing course offered by Canadian Mountain Holidays (CMH), I jumped at the chance to get outside my comfort zones, taking the "Powder 101" clinic to learn about powder wilderness skiing. Learning to "write my name on the face of the Gods" suddenly seemed achievable for a lifelong groomer grinder like me.
"If you're comfortable on intermediate runs at most resorts, willing to tackle the occasional black diamond run, and have a real sense of adventure, you're ready for Powder 101," the CMH representative assured me when I made inquires back in December.
Fast forward a month and here I am, living every skier's wildest downhill dream, riding in helicopters, cruising on clouds down epic, untouched glaciers where a single "run" would hold entire ski areas in other parts of the world and carving first tracks though pristine backcountry filled with dense evergreen forests half buried in the fluffiest white stuff on Earth.
All this adventure happened under the watchful gaze of CMH guide J.F. Lacombe, an exuberant and patient French Canadian who has been leading groups into these mountains with CMH for nearly twenty years.
"This week I'm going to show you all how to safely ski with a partner in the mountains and forests and recognize some of the hazards inherent in wilderness skiing," Lacombe explains to my group of Powder 101ers during mandatory avalanche training on our first morning at CMH's Cariboo Lodge.
Safety, of course, is of paramount concern in heli-skiing, where fatalities do occasionally occur. No matter how well trained and prepared we are, equipped with avalanche beacons, shovels and probes, the very real risk remains that we might inadvertently trigger one of these deadly tsunamis of snow, ice, rocks and debris that every winter snuff out lives in the wilderness. Or plunge into tree wells - dangerous areas of deep, loose snow surrounding the buried trunks of trees that can literally swallow up a wayward skier or snowboarder, possibly causing serious injury or death.
"My biggest concern from a safety perspective prior to coming was the risk of avalanches, the idea of flying in the helicopter, and as we got into the training, the tree wells, " admits Powder 101er Brian Nilstoft, a pharmaceutical industry executive from Delaware here on a long awaited family adventure with his brother Eric and retired father, Klas, a ski racer in his youth who now lives in Aspen, Colorado.
"There was a lot of trepidation and anxiety. Two weeks out I called my dad and said I'm really nervous. He said he was nervous too", Nilstoft adds.
Initial concerns quickly turn to childlike delight as our novice group (ranging in age from 35-79, roughly a third of whom are female) gradually gets its backcountry groove on. With Lacombe's expert guidance I quickly learn to relax my burning quads and find the rhythm of floating on deep powder, leaving what resemble jet streams of snow in my wake.
Executing small vertical movements instead of wide carving arcs, turning both skis into a single platform while bouncing up and down slightly to pressure the snow, maintaining level shoulders facing the fall line to better negotiate the tight turns required while skiing trees, and resisting the urge to sit back when the going gets steep - it all starts to make muscle memory sense after a couple of days.
Speed, I soon discover, is also my friend on powder, unlike on groomed runs, where rapid acceleration often ends in a crash. The faster I go, the better I'm able to maintain my balance and float on top of the powder, which acts as a natural break if I exceed my velocity comfort zone and risk overtaking Lacombe. I'm amazed that I have to worry about overtaking anybody, but I've settle into myself and into the elemental beauty of this landscape. I'm a dot on a great white map, part of an adventurous ellipsis, reveling in the possibilities.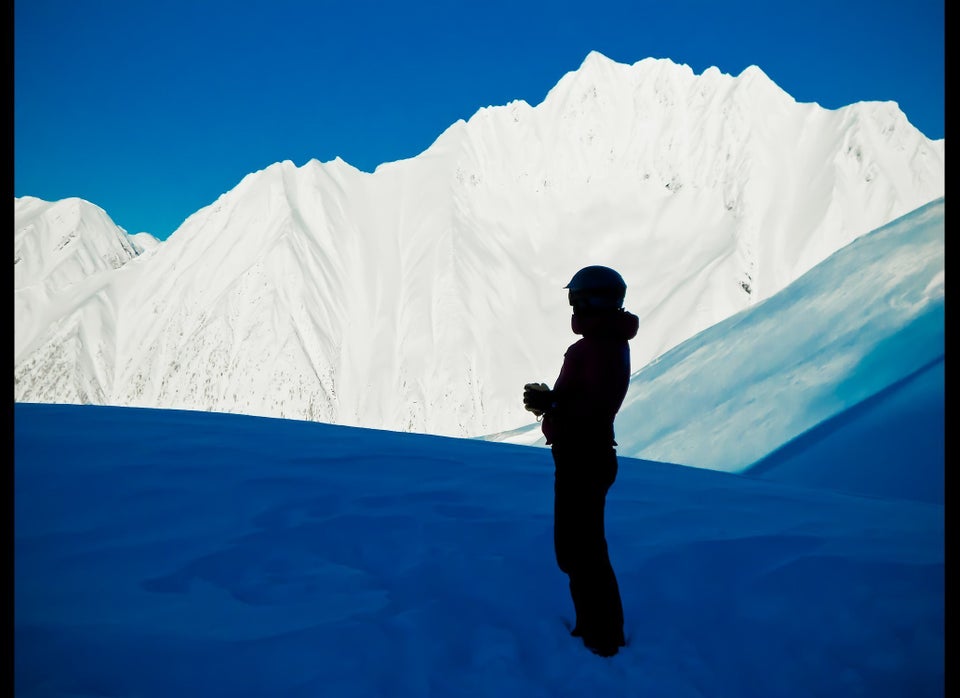 Canadian Mountain Holidays offers eleven heli-ski areas throughout British Columbia. Each location offers access to both wide open glacier skiing and tree (glade) skiing. All lodges provide comfortable rooms with fully stocked private baths, gourmet cuisine and spa facilities.
CMH's Cariboo Lodge is located in British Columbia's Cariboo Range, which offers a wide range of both extensive alpine runs and phenomenal tree skiing. Consistently high levels of snowfall in the North Thompson Valley ensure that the Cariboos enjoy prime heli-skiing conditions until very late in the season.
Powder 101: The Intro is CMH's new course designed for skiers ready to make the transition to powder skiing. Each intro group consists of up to 10 skiers. These trips are designed to introduce strong intermediate skiers to deep snow skiing and move them past the initial hurdles of skiing in wilderness terrain. This program is not for beginner skiers. You should be a newcomer to deep snow skiing and at least a strong intermediate skier. Powder 101 is also for those skiers that would like to ski with 2 guides.
7-day Powder 101 trips are available starting from $6,100 per person, which includes all meals and transport to and from Calgary.
Heli-skiing season in Western Canada normally runs from December until the end of April, and occasionally into May.
CMH trips begin and end in Calgary, from where guests are transported by bus and helicopter to the company's remote wilderness lodges. Many overseas guests also continue on to Vancouver after their heli-ski adventure and ski Whistler Blackcomb before flying home.
Outfitting yourself in the right all-weather gear is also essential to getting the most out of your heli-skiing holiday. Two industry leading Vancouver-based technical clothing manufacturers, Arc'teryx and Westcomb, provide premium quality, stylish, highly functional all-mountain apparel lines guaranteed to make your days carving fresh wilderness tracks as comfortable as possible, regardless of the conditions.
You also may want to pack a handy hands free video camera such as the super easy to use ContourROAM to document your alpine adventures, Then post the proof online for all of your jealous friends and family back home to see.