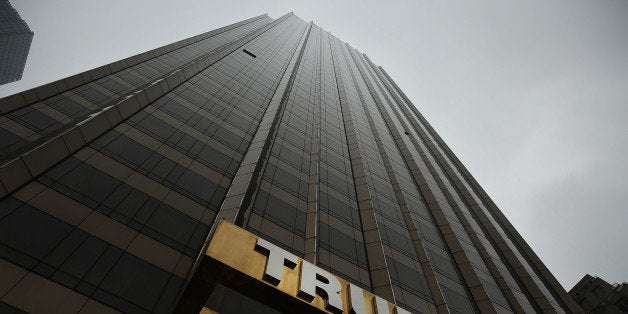 While the Republican National Committee is attempting to keep the address of tonight's Trump fundraiser in New York top secret, reliable sources suggest it will take place somewhere in Dante's Fourth Circle of Hell.
Here in this fiery inferno, presided over by greed, is where the man who has built a fortune on shady deals and a presidential campaign based in bigotry will meet and hobnob with the billionaire who named his company after the guard dog to Hades and rakes in millions selling misery and death.
I'm talking, of course, about Stephen A. Feinberg, the secretive financier and founder of Cerberus Capital Management. Feinberg has not publicly endorsed Trump. Feinberg rarely publicly does anything. The exception is when he very publicly announced that Cerberus would sell Freedom Group, his massive portfolio of gun companies.
That move came with much uncharacteristic fanfare just a few weeks after 20 children and six adults were gunned down in Newtown, Conn. by a killer armed with one of Freedom Group's products -- a Bushmaster XM15-E2S rifle.
More than three years later, Freedom Group -- now renamed Remington Outdoors, remains a major part of Cerberus' portfolio. After the announcement that he would sell, Feinberg apparently changed his mind. It seems that guns were too lucrative to let a mere accessory to mass murder problem get in the way. That's pretty much business as usual for the gun makers, as we show in our latest documentary from Brave New Films, Making a Killing: Guns, Greed, and the NRA. The gun industry pays its sales and marketing team, the NRA, to work hard keeping Americans terrified, angry and buying guns.
Now Feinberg is going to give some of that money to help elect Donald Trump president.
Feinberg is listed as a host on the invitation, thereby putting him publicly on the hook for $250,000 to the Trump for President campaign. As far as he is concerned, it's a sound investment. He gives money to a man who is going to allow him to sell more guns, and make more money. Politics as usual.
Although with Trump, the investment might be even better than usual. After all, with Trump at the helm of the country, spewing hate on an international stage, who knows how high the death toll could go. He could inspire more bigotry -- which leads to more killing, which leads to more gun sales. No wonder Feinberg is so rich. For those who profit from death, a Trump presidency is a great investment.
Calling all HuffPost superfans!
Sign up for membership to become a founding member and help shape HuffPost's next chapter