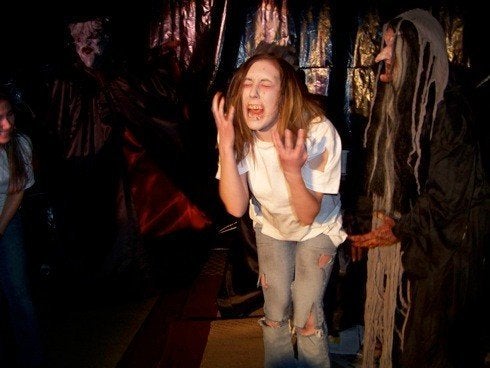 KEENAN ROBERTS didn't invent the idea of scaring Christian youth into salvation, but he has done more than anyone else to turn it into an industry. For $299—and with the Denver-based pastor's approval—you can build your own "Hell House," complete with theatrical scenes of teen suicides and gay marriages gone wrong.
Staged by Evangelical churches predominantly in the South and Midwest, Hell Houses share some of the tropes of classic haunted houses and are most active in the run-up to Halloween, when Americans are most primed for scaremongering. But if haunted house directors generally aim to entertain, Roberts has very a different goal.
"The number one priority is reaching people with the message that sin destroys and Jesus saves," he explained to Huffington by phone from his church.
The method is effective, according to Roberts. By the time guests reach the final, "heaven" scene (a room draped in silvery cloth) Roberts says around 1 in 4 of the more than 75,000 who have traipsed through his church's production over the last 16 years have either decided to join the christian faith or renewed their commitment to it.
Since 1996, Roberts, pastor of the New Destiny Christian Center in Colorado, has sold more than one thousand Hell House kits to youth pastors and churches. It's unclear who put on the first-ever Hell House, but Jerry Falwell is generally credited with first popularizing the idea in the 70s, and a documentary made in 2000 brought them further recognition. Roberts's own Hell House serves as the template for the hundreds of others around the country that are built to the specifications outlined in his kits, which include a DVD of his production, a 300 page instruction manual and a spooky soundtrack.
Roberts's house typically consists of seven rooms. In each, a different "sin" is played out to its horrid conclusion. Roberts plays a demon. Dressed in a long black robe, with a bumpy grey mask and large black horns, he guides guests from room to room—from a lesbian suicide to a drunk-driving induced car crash to a rave where a church girl takes ecstasy and dies, (the manual suggests the demon tour guide declare here, "just another day at the office!"). The themes vary a bit from year to year, but abortion and damned gay people are constants.
Not surprisingly, since its inception Roberts's kits have attracted criticism, and not just from gay rights groups and Planned Parenthood. A number of religious groups, including the National Council of Churches, have criticized Hell Houses for their harsh approach. Roberts hasn't flinched.
"Jesus was so controversial that they killed him," he said. "You can't have an impact without a collision."
Roberts will not provide the media with samples of the kits, which also include guidance for handling media (crucial for both getting out the church's message and responding to criticism). But over the years, excerpts have leaked online. For the abortion scene, Roberts recommends buying "a meat product that closely resembles pieces of a baby" to put in a glass bowl and suggests the actors portraying the medical staff act "cold, uncaring, abrupt and completely insensitive."
Roberts knows of only a handful of times that secular groups have managed to purchase a Hell House kit. In 2004, a director in Hollywood posed as a pastor in order to procure a kit, and ended up putting on a farce, starring Sarah Silverman and David Cross, among others. "It was an abomination," Roberts said. "People have been trying to do damage to Hell House for years, and I always say this: God's going to have the last word."
Roberts first put on a low-budget version of a "hell house" in his late 20s, but it wasn't until 1995, after he'd moved to Colorado, that he made scaring kids for the Lord a regular part of his mission. He sent out press releases to media outlets all over Denver. ("And they came like crazy," Roberts said.)
After nearly 40 churches had reached out to him for guidance, he began to develop his how-to kits. By now, Roberts has sold kits to 26 foreign countries including Australia, and all 50 states.
While Roberts presents himself as a fighter on the front lines of the culture war, he's only once written an overtly political scene. It featured Bill Clinton, Monica Lewinsky, glow in the dark writing ("Lies" "Lust" "Adultery") and of course, demons. This year, citing logistical reasons, Roberts said he isn't putting on a production. If things were different, he said he'd likely add a scene about President Obama's support for same-sex marriage.
The next step, he says, is Hollywood. "We were real close to a movie once," he said, "but too many people were scared of it."
Before You Go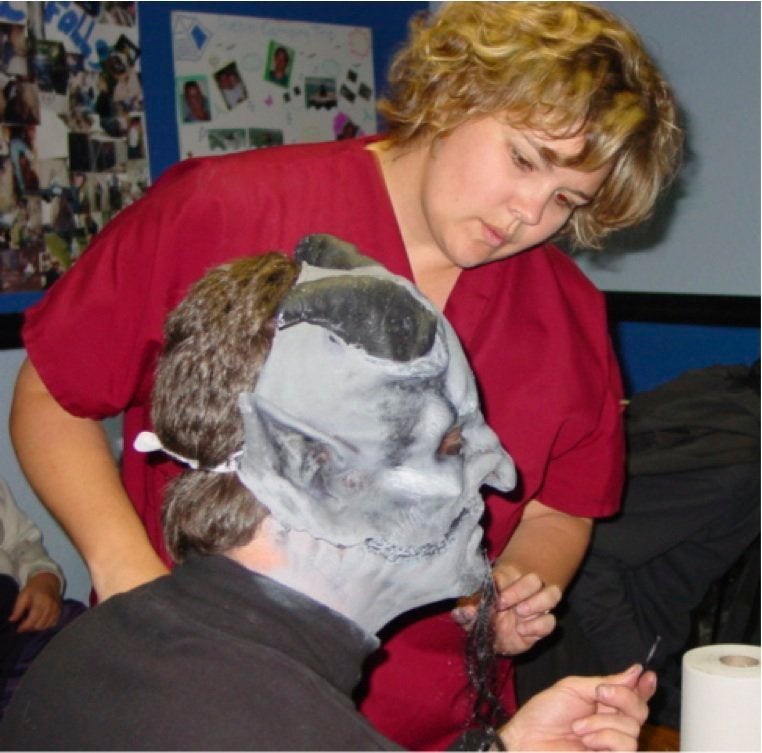 Hell House
Popular in the Community