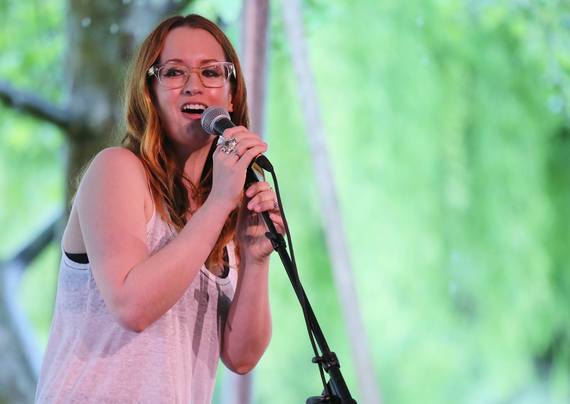 Ingrid Michaelson's new single Hell No is scheduled to be released April 29th but I was lucky enough to catch a first look when she performed this new single recently in Napa Valley at Live in the Vineyard on the Menage a Trois Winery stage. Hell No is a song about breaking up--written in collaboration with song writers Luke Laird and Barry Dean, two great country voices, this single has that soulful story-like quality of a country song. Michaelson credits her recent time spent in Nashville as a strong influence of this new sound.
Unlike so many break up songs inspired by a particularly brutal heartbreak, Michaelson tells me in a post performance interview that the song is actually inspired by the idea of a strong person letting someone go.
"We all have been through being wronged," Michaelson tells me, "so we created a powerful break up song. This song is not about one specific relationship but about lots of different relationships and how they culled together into one unified force of anger."
Hell No definitely delivers the message of taking back your power and controlling your own destiny. Love it.
Michaelson also has a new album due out this summer that does capture some of her personal experience--culminating some of her big life changes that occurred over the past year or two. The album is all about her experiences of rebirth, moving forward, letting go and moving on to a new chapter, reflecting the many shifts in her personal life.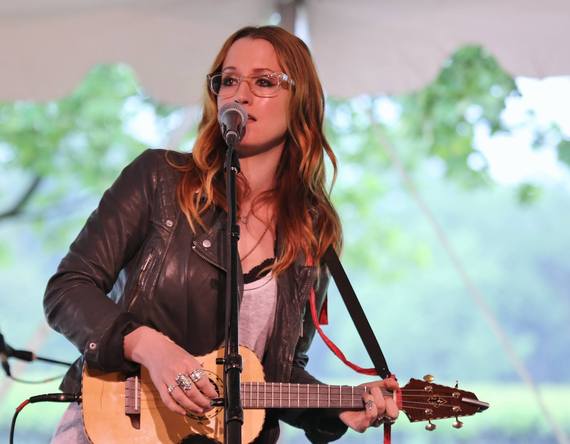 But one aspect of her personal life has not changed and that's her soft spot for helping others -Michaelson and has been involved in philanthropic efforts for years. A big one was her association with the Stand Up for Cancer charity. A cause she donates ongoing proceeds from her Be Ok song.
Michaelson's most recent philanthropic project is inspired by her late mother, who passed away 1.5 years ago. Her mother had been at the helm of the Staten Island Museum of Arts and Sciences, so when the museum recently made plans to move into a new museum facility in the historical Snug Harbor Cultural Center on Staten Island, Michaelson stepped up and participated in raising funds for the museum and its new space.
"My mother was a real champion for the arts on Staten Island and so I am committed to keeping with that legacy and keeping her values alive."
You can catch Michaelson in Napa Valley this summer, performing at the Robert Mondavi Winery on July 23rd as part of their 50th anniversary celebration summer music series.
And one last piece of scoop: if you're in NYC this month, you may spot Michaelson filming a movie, too!
Calling all HuffPost superfans!
Sign up for membership to become a founding member and help shape HuffPost's next chapter