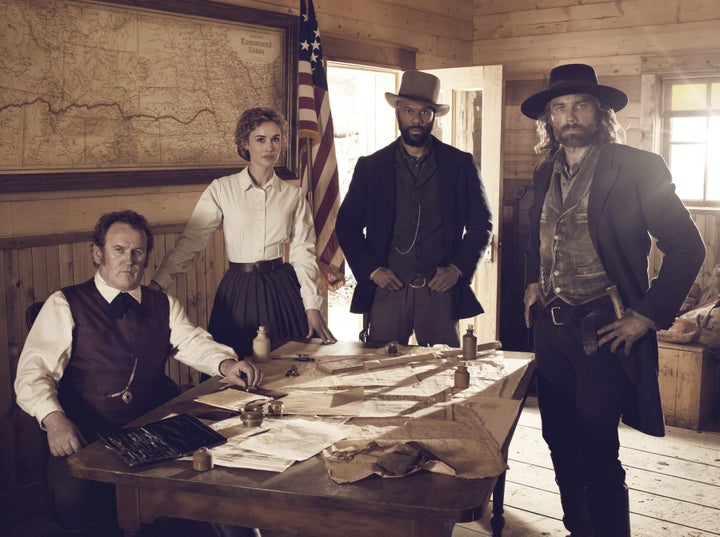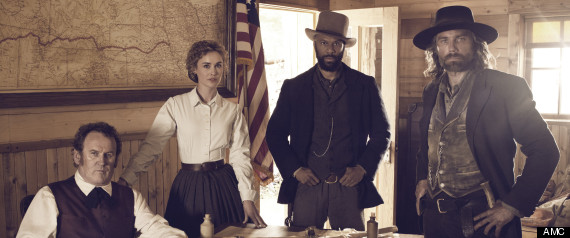 "Game of Thrones" has been off the air for a few months, but a few shows arriving in coming weeks should satisfy TV's scantily clad hooker quota.
In fact, with the return of AMC's "Hell on Wheels" and the debuts of "Copper" and "The Crimson Petal and the White" -- a trio of hardscrabble dramas set in the 19th Century -- the next few weeks are starting to look like Tribute to Old-Timey Prostitutes Month. In other words, attractive women in random states of undress -- also a feature of the returning Starz series "Boss" -- should be especially easy to find (not that they were in danger of going out of style, of course).
Let's take the shows -- most of which are discussed in one of this week's Talking TV podcasts -- one by one in order of their arrivals, shall we?
"Hell on Wheels," 9 p.m. ET Sunday, AMC The second season of this Western finds it marginally better paced and the characters moderated a bit from the broad archetypes seen in Season 1, but I still find little to compel me in the story of a robber baron and an ex-soldier teaming up to get a transcontinental railroad built.
The best part of this show by far is Christopher Heyerdahl, who plays an enigmatic but entirely magnetic character called the Swede; there's a scene of him and Tom Noonan, who plays a wayward preacher, that, in its loopy looseness and strange poignance, reminded me of certain moments in "Deadwood."
But rest of the supporting characters aren't nearly as interesting and much of the rest of the drama feels dry, predictable and sluggish. I rarely become absorbed by the world of "Wheels" and the characters' dilemmas remain stubbornly uninvolving. It's a mystery to me how something about the building of railroad can so often fail to take advantage of the literal engine at its core.
"Boss," 9 p.m. ET Aug 17, Starz
As was the case in the first season of this show, Kelsey Grammer provides a charismatic focus when his character, Chicago mayor Tom Kane, is on screen; but the rest of the show isn't nearly up to the standard he sets in the acting department.
There are fitful moments that work, but the show also manages to shoot itself in the foot regularly. In the first episode, there's a Hey, Boobs! moment even more gratuitous than the ones in "Magic City"; it's vaguely arty and pretentious; it's full of characters who either secretly dislike each other or openly dislike each other and all in all, make for a sour atmosphere.
Those elements would be potentially forgivable if the show had anything approaching reasonably decent pace and depth, but the random stabs at ambition on "Boss" don't disguise the fact that it appears to have nothing to say and few original ideas when it comes to the story of the implacable Kane's physical and mental degeneration. The addition of drearily symbolic hallucinations and the subtraction of Martin Donovan's advisor character don't bode well for the show's second season, all things considered.
"Copper," 10 p.m. ET Aug. 19, BBC America
This is BBC America's first original scripted series, Barry Levinson is an executive producer and its head writer is Tom Fontana ("Oz," "Homicide"), so my expectations were robust when it came to "Copper," in which Tom Weston-Jones plays a New York detective working the rough Five Points district in 1864.
As it is, the decent but unspectacular "Copper" comes off as "Deadwood Cop," minus the Milch: It's more or less a police procedural with added corsets and waistcoats. In the first two episodes, the drama doesn't do much with the character-building opportunities offered by cable, and that's very strange, given that British dramas (especially the top tier of U.K. cop dramas) are usually so meaty in that regard. Weston-Jones' character has a troubled past, but his personal quest feels a little shopworn, and the police cases aren't that complex or unpredictable.
Also, as is the case with "Hell on Wheels," "Copper" makes one appreciate the attention to detail on "Game of Thrones," which allows the viewer to fully submerge himself or herself in the show's world. These shows don't have "Game's" coin or the HBO show's exceptional world-building abilities; I can lose myself in Westeros, but while watching "Copper" and "Wheels." I rarely forgot that I was looking at period-specific sets (watching actors recite occasionally stilted dialogue didn't help matters).
Of the four dramas mentioned here, this is the one I'm most likely to give additional chances, but that leap of faith is based more on the show's pedigree than on the workmanlike episodes I saw.
"The Crimson Petal and the White," 8 p.m. Sept. 10 and 11, Encore This two-part adaptation of the Michael Faber best-seller about the struggles of a Victorian prostitute has a top-shelf cast -- Chris O'Dowd, Gillian Anderson, Romola Garai -- but it is a highly stylized and atmospheric piece of work. Frankly, it's avant-garde to the point of feeling overwrought and pretentious. Still, it might be worth the time of avid fans of the book, assuming more than five of them actually have the Encore channel.
Calling all HuffPost superfans!
Sign up for membership to become a founding member and help shape HuffPost's next chapter