Kidney Brothers: Coal Tattoo (Hearpen)
Having grown up and loved from afar, forced to do so after I moved to NYC, there are few bands still playing live -- four decades later -- worthy of my unbridled accolades and devotion but so it is with the heady agro-blues of 15-60-75 AKA The Numbers Band. If you dig music and happen to hail from Northeast Ohio, you know what I'm talking about. Having followed their entire career, I can proudly boast that I'm one of their biggest fans. Yet, it's no leap of faith or youthful nostalgia.
If you've seen them live, regardless of the decade, then you know the passion and verve that the brothers Kidney -- singer/guitarist Bob and harpist/sax/keyboardist/vocalist Jack -- share with their audience, regardless of the size, every single time they take the stage. Along with horn player Terry Hynde (Pretender Chrissie's brother) they have shared their blues in some band configuration (duo, trio, quartet, quintet, sextet) since the early '70s. I spent many a beer- and sweat-soaked Friday evening during high school and college venturing east from my home base of Akron to bask in the majesty of their dance-fueled blues at their home base at JB's and/or The Outpost in Kent, Ohio.
Bob has seen a modicum of acclaim outside of his band, too, both as a part-time member and contributing songwriter of former Northeast Ohio drummer Anton Fier's NY-based outfit The Golden Palominos and guest appearances and tours with David Thomas (of Pere Ubu). Even Chrissie Hynde's Pretenders recorded his track "Rosalee" a few years ago on Break Up the Concrete. But enough of my waxing nostalgic...
What of this new record and why such a lag in the release date?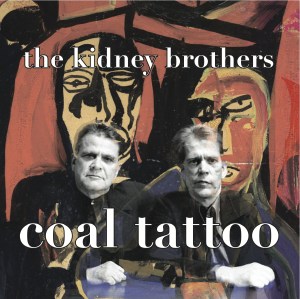 According to Bob Kidney, he and his brother Jack received fantastic reviews as featured performers at David Thomas's Disastodrome festival at the South Bank Centre in London in 1998. "Grown men wept. Women embraced David in thanks for bringing them." So claims David's Hearpen website.
Actually Nick Hobbs was so stoked about that performance that he and David decided to produce a CD with The Kidney brothers. Moreover, they did two tours of Holland in the early '90s. They were also included in the Disastodrome production in Los Angeles in 2003, and they still play frequently as a duet or trio with their bass player locally.
Upon my initial listen, I pined for the rest of the band, but soon fell under the spell of their Sonny Terry / Brownie McGhee vibe. Be forewarned, unlike the aforementioned old-school blues duo, this is not an acoustic affair. Brother Bob digs in mostly on his electric Gibson and filets the space around Brother Jack's harp or sax or keyboard lines or percussion, snaking and weaving in and out of Bob's vocal delivery.
Plenty of cool covers and originals fill this album offering a little something for everyone. From the more traditional blues tunes such as Bo Diddley's "Who Do You Love" and "You Don't Love Me" to live set staples including "Jimmy Bell" and "Thief," there is an authentic vibe that is never calculated or rote. A fan favorite for years, "Jimmy Bell" is remade into a slow haunting film noir jazzbo piece that is absolutely riveting.
One of my favorite tracks is the chugging Dylan cover "Outlaw Blues" (from Bringing It All Back Home) with Jack's Little Walter harmonica squalls calling out for attention. He is one of the finest harmonica players to ever pick up the instrument. No lie. His tone, bends, and breath control are jaw dropping. When he solos, both heaven and hell vibrate at a higher level of enlightenment and we mortals on earth are all a little better off because of it.
The Kidney original "Wild River", first heard on the aforementioned Golden Palominos' A Dead Horse album (1989), gets stripped down to its raw and visceral essence -- Bob on mournful vocals and acoustic and Jack on harmonica. Elsewhere "Heavy Rain" gets right in the face of scuzzy, distorted blues that would ultimately spawn the sound of another NE Ohio band, The Black Keys. (Hey, Black Keys, it's about time you guys collaborated!)
Elder statesmen now, the Kidney brothers deserve so much more. I would encourage you to engage in their musical odyssey today. Dig deep, explore their catalog. To do so is good for your body and soul. And as with a band from the Bay Area that I have followed for many decades, I shall continue to wave my freak fan flag for them far and wide. - Dusty Wright
Coal Tattoo is available digitally on David Thomas' label Hearpen.
Calling all HuffPost superfans!
Sign up for membership to become a founding member and help shape HuffPost's next chapter