I am pleased to announce that our Foundation will launch our Hellenic Fund to support children in Greece -- whether economically distressed, orphaned, or refugee -- at a reception on November 4 at an elegant Greek restaurant on the Upper East Side of Manhattan. We can no longer watch children wash up on the shore and not respond.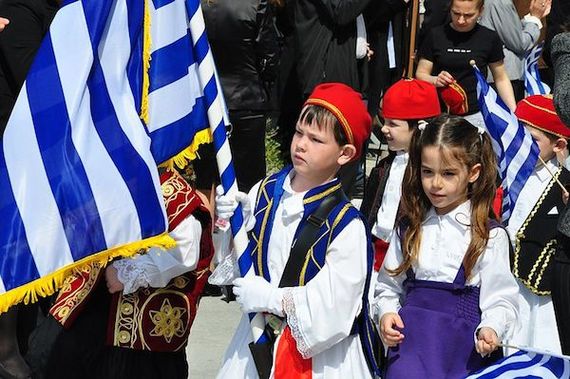 Children across Greece, such as these beautiful kids celebrating Independence Day
in the small village Ouranoupoli, Chalkidiki, are being hurt by the economy
as their families struggle. Photo: WikiCommons/Dimkoa.
When I visited Greece last spring, I was deeply moved by the economic conditions I witnessed impacting the children of Greece. I also had a foreboding of waves of refugees to the Greek isles -- many children -- escaping the violence and destruction of countries such as Syria and Afghanistan.
I thought to myself: If my family were to be sandwiched between ISIS and Assad, I would flee with them too...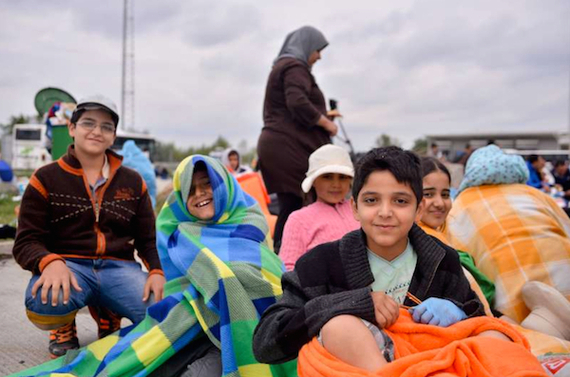 Seated, from left to right, Faiz, 13, Nour Aldin, 9, Hind, 10, Abderrahmane,
10, and Shahid, 9, arrived in Austria after traveling for 25 days through
Turkey, Greece, fYR Macedonia, Serbia and Hungary. They fled with their
family from Damascus, Syria. Photo: UNHCR/M. Schöppl.
Upon my return to New York, I began to meet with leaders of the Greek-American business community and found a kindred spirit in the owner of The Orpheus Luxury Collection, a high-end travel and destination management firm operating in North America and Europe.
Working closely with Georgia Nomikos and Eleni Tsagianni of the Collection, our team will bring the social media and connectivity of our Foundation to leverage as much goodness as possible to assist economically distressed, orphaned, or refugee children in Greece. With the nation teetering on the cliff, and children arriving to its shores by the thousands, any help at all can change lives.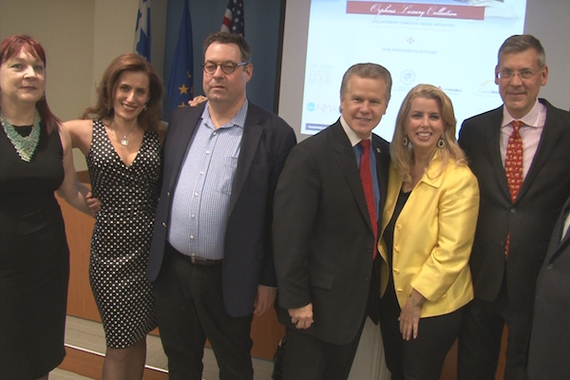 The Orpheus Luxury Collection's Eleni Tsagianni, Georgia Nomikos, pose
with James Taranto, Tomaczek Bednarek, Rita Cosby, and the author at
their Philanthropy Through Travel Initiative last spring in New York.
Photo courtesy of The Orpheus Luxury Collection.
Georgia, the president of the Collection, really impressed me last spring when she showcased several prominent N.Y.C. charities, including our Orphans International Worldwide (OIWW) during their Philanthropy Through Travel Initiative held at the Greek National Travel Office here in the city.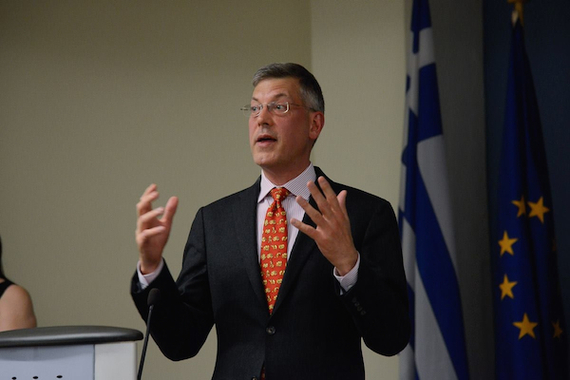 The author speaking during The Orpheus Luxury Collection's
Philanthropy Through Travel Initiative in NYC last spring.
Photo courtesy of The Orpheus Luxury Collection/Bill Massey.
The Orpheus Luxury Collection is so proud to present the Nov. 4 benefit for the J. Luce Foundation launch of its Hellenic Fund. This is a desperately needed fund for the children of Greece - at a time worse than any other since World War II.

And, yes, I am passionate about helping! Who says you can't pair luxury travel with goodwill and humanity? In the words of the great Socrates, we are discussing no small matter, but how we ought to live.
The kick-off reception, to be held beginning at 6pm on Wednesday, Nov. 4, at the renowned Yefsi Estiatorio on the Upper East Side, is the first Orpheus Symposium in Support of selected charities. Yefsi Estiatorio, under chef Christos Christou and often named as the best Greek restaurant in Manhattan, is located at 1481 York Avenue, between 78th and 79th Streets.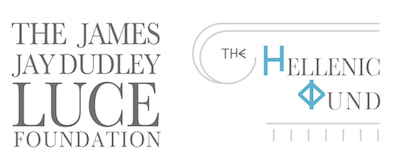 The Orpheus Luxury Collection's Eleni Tsagianni, Marketing and Sales Director, told us about the Greek celebrity chef's efforts for the launch party Nov. 4:
Chef Christos Christou is incredibly talented and very much in tune with the ancient Hellenic ideals and tastes. He has catered to the president of Greece -- Mr. Alexis Tsipras -- and frequently serves U.N. dignitaries, and heads of state.
The Orpheus Luxury Collection is hosting and underwriting this series as part of their Philanthropy Through Travel Initiative. As part of the Orpheus Symposiums in Support campaign, all proceeds of the evening will benefit the launching of the J. Luce Foundation Hellenic Fund.
What has drawn me to collaborating with The Orpheus Luxury Collection and its president Georgia Nomikos is her passion not only for children, but for the ideals of Hellas. Greeks have shared ideals and ethical values built on a foundation of fundamental human virtues often shared by the Hellenes since ancient times.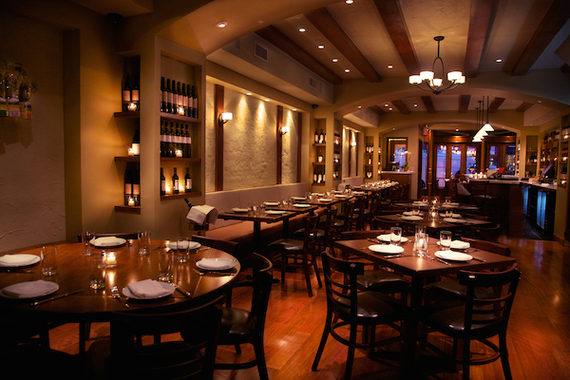 Join the J. Luce Foundation at Yefsi Estiatorio on Nov. 4 for our kick-off reception
for The Hellas Fund - the first of the Orpheus Symposiums. Photo: Yefsi Estiatorio.
These include reciprocity, the virtue of xenia -- "hospitality" -- food, drink, clothing, shelter. This is a sacred obligation overseen by Zeus imparting a sense of social obligation to help the less fortunate.
As I reported on this site a few days ago (link), the numbers are staggering. In addition to the 1.5 million native children living in Greece, the U.N. High Commissioner for Refugees (site) states there are more than 4 million Syrians who have fled their country since the country's civil war began in 2011, almost half of whom are children. UNICEF states that 2 million Syrian children are living as refugees in neighboring countries or on the run in search of safety (site).
I will be back in Greece soon, meeting with government and local officials, to coordinate our efforts to help these children, born in or escaping to Greece. We will lead a group of our Foundation's young global leaders to witness the situation on the ground - and be a part of creating our response to this human tragedy.
The Facebook invitation for the launch event may be found here. Contributions may be made here. Checks may be sent to the J. Luce Foundation, "Hellenic Fund," 540 Main Street #418, New York, N.Y. 10044.
Join us in the spirit of Hellas -- doing what we can to help the most innocent of all in Hellas -- its children.
Popular in the Community