Long before Mapquest, Yahoo, and Google Maps offered instant gratification for drivers trying to figure out the best way to get from one place to another, planning for a road trip often required some serious attention to a map. Men who were willing to follow directions would frequently contact their local automobile association's travel department, where their membership dues entitled them to trip planning services.
Whether my family was planning a trip to one of the National Science Foundation summer institutes my father had qualified for (try sharing the back seat of a 1949 Plymouth with your older sister and a French horn all the way from Brooklyn to Boulder, Colorado!) or merely traveling to visit relatives in Alexandria, Virginia, the arrival of a Conoco trip planner was a sure sign that we were actually going somewhere outside of New York City.
Ever since automobile travel became a mainstay of American culture, the road trip has come to symbolize an important event.
For some, it may simply involve a daily commute.
For others, it becomes a rite of passage.
For some, it may signify the moment when a teenager leaves home to go to college.
For others it might be little more than a casual weekend getaway.
Whether one travels by car, hitches rides with truck drivers, or takes one's own sweet time crossing the country on a lawnmower, the open road offers travelers a chance to think, meet new people, and get out of a rut. Among the more popular "road trip" movies are:
Borat
Sideways
Rain Man
Easy Rider
Transamerica
The Straight Story
Thelma and Louise
Little Miss Sunshine
Pee Wee's Big Adventure
Planes, Trains, and Automobiles
Harold & Kumar Go To White Castle
Of course, not every road trip movie is set in the United States. Some cover a remarkable amount of territory; others may be inspired by a deep, dark secret.
Anyone whose parents still treat him like a child (or who has difficulty communicating with his parents) will lose no time falling head over heels in love with Bomber, a brilliant film written and directed by Paul Cotter. The cast is tiny, the anger huge, and the surprises shocking. Yet this tightly written and beautifully performed film is an astonishing achievement in bringing emotional honesty to the screen.
Bomber starts as Ross is awakened by his alarm watch. Much to the chagrin of his girlfriend Leslie (who has some severe issues with codependency ), Ross has promised to see his parents off on a trip his father has planned from England to some small town in Germany. At 83, Alistair is a stubborn old coot. Ross's mother, Valerie, is the archetypal long-suffering wife.
As soon as his parents have gotten into their car and Ross has said goodbye, his father shifts into the wrong gear and drives the car right back into the garage. As a result, Ross (who is an unemployed artist) gets guilt-tripped into driving his parents to their destination for what should be a short, easy trip.
Then again, it's a road trip with his parents. Alistair is using a map that is at least 25 years old and refuses to spend the extra money to drive on toll roads. Instead, he is quite content to use Europe's smaller, slower "B" roads. Even though Ross's parents have carefully discussed the parameters of their trip, Valerie is needling for a stop at a rhododendron park mentioned in her guidebook and would also like to drive to Warsaw to buy a pair of shoes.
As you might have guessed, Alistair and Valerie have precious little talent for communicating with each other. It takes no time at all for their annoying habits and constant nagging (not to mention Leslie's frequent phone calls) to work every one of Ross's hypersensitive nerves.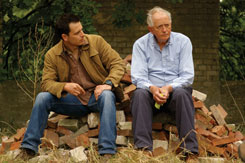 Ross (Shane Taylor) and his father (Benjamin Whitrow)

If Ross's father would at least explain the reason for this trip -- which he now feels must be undertaken before he dies -- it might help to defuse the tension. But all Alistair has to guide him is an aerial photo of a small town that he took as a young pilot in the Royal Air Force who accidentally dropped his bombs on the wrong target. The fact that neither Alistair, Valerie, and Ross know little, if any German, does not help them explain their mission to the locals.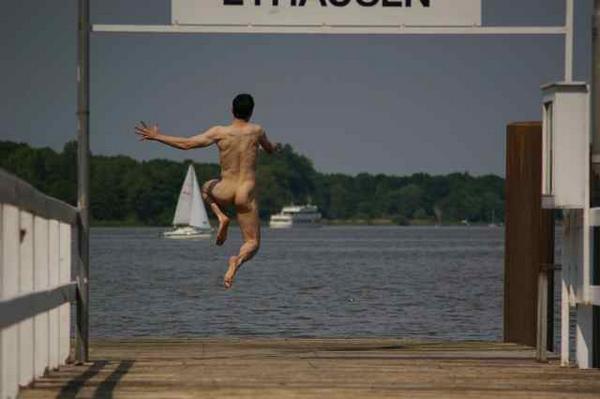 Ross (Shane Taylor) vents his frustrations

As tensions mount, and Leslie dumps Ross over the phone (claiming that she deserves better), Valerie starts to wonder if perhaps she, too, deserves better from her relationship with Alistair. Ross's attempts to get his parents to communicate with each other are equally amusing and poignant. The outcome is at once gratifying and horrific.
Bomber is a marvelously satisfying film which (through the eyes of their furious and extremely frustrated son) examines the inability of a long-married couple to be honest with each other. I can't recommend it strongly enough. Here's the trailer:
On May 25, 1927, German race car driver Clärenore Stinnes set out to drive around the world in an Adler Standard which, at that time, was a fairly typical car for Europeans. Following the death of her father (a German steel baron), Stinnes wanted to join her brothers in running the family business.
Her brothers would have no part of it. So Clarenore set out to become the first woman to drive around the world.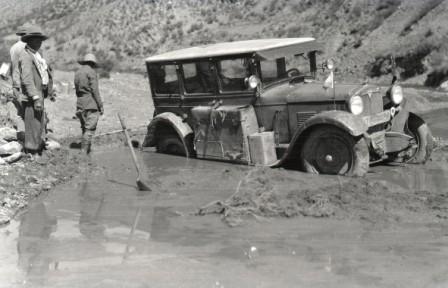 The Adler Standard mired in mud

Stinnes left Frankfurt with two mechanics and a Swedish cameraman named Carl-Axel Söderström (who had recently worked with Greta Garbo). Traveling 48,000 kilometers during the course of two years, they ventured through the Siberian winter, got stuck in mud, sat in a freezing car at night listening to wolves, crossed the Gobi Desert, and even tried to drive across the Andes.
At the time, some of the places in her path had no roads. Many remote areas had never even seen an automobile, much less a crazy German woman driving across frozen Lake Baikal. Some countries were in the midst of civil war. Other parts of her itinerary went through lawless areas dominated by roving thieves and tribal warlords.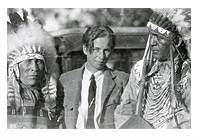 Clärenore Stinnes posing with some American Indian chiefs.

While other young women were merrily dancing the Charleston, Stinnes was negotiating with Chinese diplomats, posing with American Indians, sharing medicine with nomads, and facing down murderous Mongolians. When asked how she got from China to South America, Stinnes calmly told reporters "We went to Japan and then turned left."
Stinnes was a woman of remarkable ambition, the kind of trip planner who counted out the number of hard boiled eggs each person needed but had access to unlimited funds in a crisis. Her stubborn determination and uncompromising loyalty underline a story that is almost more fantastic than Jules Verne's 1873 novel, Around The World in 80 Days.
Upon returning home to Germany in 1929, Stinnes produced a 1931 documentary about her travels entitled Im Auto durch zwei Welten (which included the new technology of sound for moving pictures). Erica von Moeller's film stars Sandra Hüller as Stinnes and Bjarne Henriksen as the faithful cameraman who eventually became her husband.
What makes Miss Stinnes so special is its quasi-documentary feel (accomplished by mixing old footage from the 1931 film with recreations of various parts of the journey by modern actors). After spending an hour with the actress impersonating Stinnes, when the audience sees and hears the real Stinnes speak before the camera, it comes as quite a shock.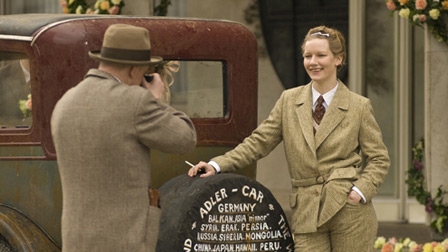 Sandra Hüller as Clärenore Stinnes

The following video clip from 1931's Fraulein Stinnes fahrt um die Welt gives audiences some idea of the hurdles that Stinnes and her cameraman were forced to overcome:
The current film is one of the most bizarre road trip movies you will ever see. Its mixture of black-and-white archival footage with color scenes that have been recreated for Miss Stinnes make this grandly quixotic travelogue one of the most strangely stubborn and yet intensely satisfying adventures ever to hit the silver screen. Enjoy the trailer:
Calling all HuffPost superfans!
Sign up for membership to become a founding member and help shape HuffPost's next chapter