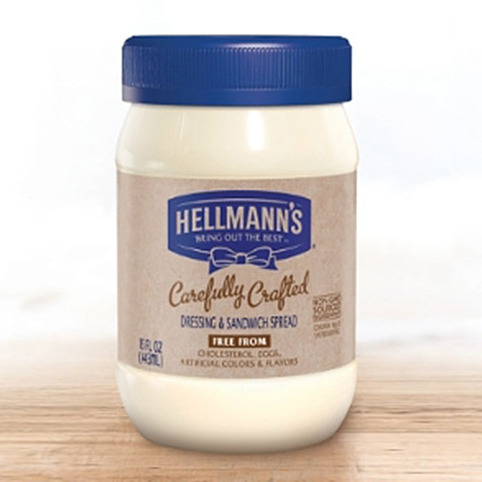 The condiment aisle's newest vegan mayo will be made by none other than ... the company that just spent months trying to sue a mayo-maker for being vegan. Apparently, Hellmann's backup plan, after losing a yearlong fight to rid shelves of Just Mayo's popular eggless spread, was to create an egg-free rival called "Carefully Crafted Dressing & Sandwich Spread." The timing is apparently completely coincidental -- Hellmann's insists customers have been lobbying for a vegan option "for years." It comes out later this month, along with another Hellmann's first: an organic mayo that also uses cage-free eggs.
Hellmann's later withdrew its lawsuit, partly because it infuriated the public, but also because Just Mayo began working directly with the FDA to reach a compromise -- which both parties ultimately did, allowing Just Mayo to keep its name in exchange for making the egg-free part of the label more explicit. Still, neither of these factors changed Hellmann's position that a mayonnaise without eggs is no mayonnaise at all (or, to quote the company's phrasing from the lawsuit, isn't "exactly, precisely, only and simply mayonnaise"), and that obviously put Hellmann's in a bit of a bind when naming its Just Mayo competitor.
So consumers got Carefully Crafted Dressing & Sandwich Spread, which is simultaneously vague-sounding and a mouthful. The consequence is that this unwieldy 11-syllable name -- the corner Hellmann's had originally hoped to back Just Mayo into -- will probably cause no shortage of condiment-aisle shoppers to reach for it (because, hey, it's white) and then go, "Whoops, this doesn't say mayo anywhere ... "