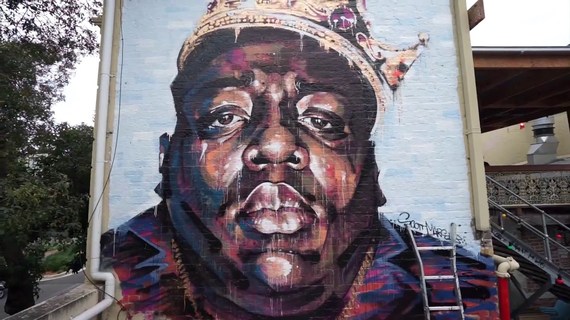 "Brooklyn, New York City, where they paint murals of Biggie ... "
-Talib Kweli Definition
While few would argue hip-hop emerged from the South Bronx when Clive Campbell and his older sister Cindy decided to host a party in the recreation room of their apartment building located at 1520 Sedgwick Avenue on August 11, 1973, Brooklyn is hip-hop's most decorated, most celebrated borough. Home of the Notorious B.I.G., Jay Z, Big Daddy Kane, Special Ed, Fat Boys, Masta Ace, AZ, OC, MCA from the Beastie Boys, Black Moon and the whole Boot Camp Clik, Jeru tha Damaja, Mos Def, Talib Kweli, Gang Starr, Foxy Brown, MC Lyte, Fabolous, Jean Grae, MOP, Joell Ortiz, Poison Pen, Skyzoo, Joey Bad@$$, and a host of others; Brooklyn has cast a long shadow that has sprawled across the globe, pushing hip-hop culture forward in unimaginable ways. Certainly hip-hop's rise from obscurity is a tale of New York. As noted by Ben Westhoff writing for The Guardian:
New York City contains some half-dozen rap ecosystems. Each individually can rival most any other US city for hip-hop supremacy. Rappers from Queens, the home of Run-DMC, A Tribe Called Quest, Nas and 50 Cent, have always had a little more style, a little more flair, while Harlem emcees (Diddy, Big L, Dipset, A$AP Rocky) can be flossy but don't mess around. The Bronx, of course, has the originals DJ Kool Herc, Afrika Bambaataa, Grandmaster Flash, and KRS-One, while just outside the city Long Island boasts great rap innovators like Public Enemy, Eric B and Rakim, De La Soul and EPMD. Staten Island, of course, has the Wu-Tang Clan ...
Although hip-hop has undergone radical transformation during this movement from street to international marketplace, it has at the same time retained a critical capacity to convey a signifying blackness of representational force and emotive meaning... [H]ip-hop today has assumed an increasingly significant role in shaping contemporary forms of black diasporic consciousness and subjectivity.

Undoubtedly, the term "hip-hop" itself has become inextricably linked to urban youth culture in America, but hip-hop's explosive growth over the past four decades defies limiting it simply to the confines of the urban American experience. With its undying popularity, few would contest hip-hop's place as the definitive cultural expression for the post-baby boomer generations. Its ubiquitous presence makes it unavoidable.
While hip-hop may seem to be everywhere, Brooklyn is one of places where you will see the vestiges of the culture on full display. Despite its rampant gentrification, hip-hop, in its purest form, still lives in Brooklyn. A walk through its streets on a warm summer day will reveal as much: whether one stumbles across one of the iconic aerosol painted murals of Christopher George Latore Wallace on the brick walls of a bodega, or stroll past the dilapidated highrise apartment buildings immortalized in songs like O.D.B.'s Brooklyn Zoo, or meander past a candle-lit shrine for Brownsville legend Sean Price, or happen past native Brooklyn residents encircled on a street corner cypher; Brooklyn is replete with symbols of hip-hop's indelible mark on New York's beloved borough. Wes and Ebonie Jackson believed this culture, and its corresponding sound, deserved documentation and celebration; so they did something about it.
"The whole festival sorta started from a trip in New Orleans ... where I make this offhanded comment to Ebonie that we should do this ... " Mr. Jackson recalls. The "this" to which he referred was a hip-hop festival in Brooklyn.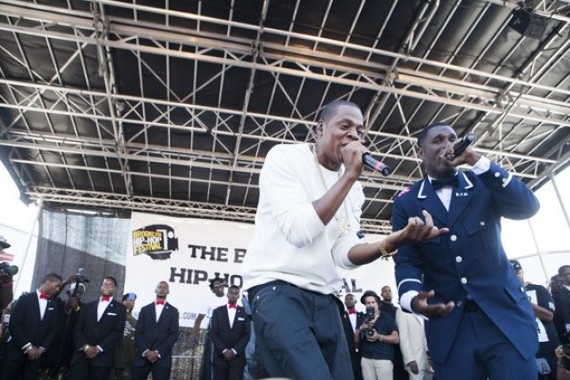 "I never thought we'd be doing this this long," Mrs. Jackson said in discussing how she and her husband have spearheaded the Brooklyn Hip-Hop Festival for twelve years. "That comment [Wes] made to me was in January, and five months later, we had the first festival," Mrs. Jackson continued. Mrs. Jackson is a seasoned educator and higher education administrator, currently serving as the Director Of The York College Women's Center at York College. Mr. Jackson is a successful entrepreneur who, among a number of other successful ventures, founded promotion companies instrumental in launching the careers of Mos Def, Talib Kweli, Rawkus Records, et al.
For the Jacksons, the Brooklyn Hip-Hop Festival began as a labor of love. They worked feverishly to assemble the initial festival in 2005, investing their personal finances, calling in favors from their vast network, forgoing sleep many nights, and the like. Mrs. Jackson even recalls nursing their son Miles backstage at the first festival in-between her efforts to "keep the show going." The Jacksons were determined to make it a success. Mr. Jackson estimates 800 people gathered in a parking lot in Brooklyn to convey their fondness for beloved borough, and the cultural phenomenon that defined it. The festival has continued to blossom over the years.
The Jacksons have assembled a small team that helps them curate, develop, and grow the festival: Juels Pierrot who serves as Director of Marketing and Communications, Trenice Foster who serves as the Social Media Coordinator, Gisella Batista who serves as the Public Relations Coordinator, Andreas Zettlmeissl who serves as the Production Manager, Anna Walton who serves as Production Assistant, and Averi Smith who serves as the Sponsor Coordinator. Together, they have grown the Brooklyn Hip-Hop Festival into a four-day event series that showcases the multi-faceted aspects of hip-hop culture, with Brooklyn's unique flair.
In the twelve years since 800 people piled into a cramped parking lot in Brooklyn, the Brooklyn Hip-Hop Festival has grown into one of the most respected festivals in the nation. Its main stage routinely features marquee performances from luminaries of the culture: Jay-Z, Kanye West, Kendrick Lamar, J.Cole, Lupe Fiasco, Pusha T, The Roots, Leaders of the New School, Slick Rick, Big Daddy Kane, A Tribe Called Quest, EPMD, De La Soul, et al. In short, the Brooklyn Hip-Hop festival puts forth pure, unadulterated hip-hop each year. The caliber of the performances the festival sponsors annually is sufficient to draw all those who appreciate hip-hop at its essence; yet the Brooklyn Hip-Hop Festival does more. It features four days of events and programming that examines the broader impact of hip-hop as a cultural force.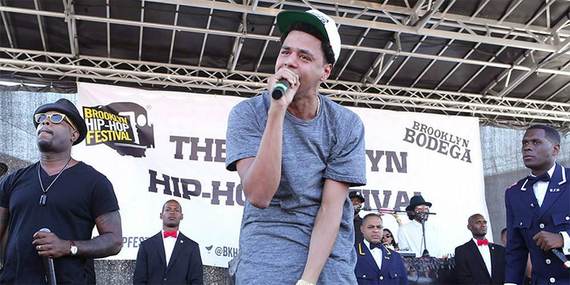 On Wednesday, July 13th, the Brooklyn Hip-Hop Festival will sponsor a Hip-Hop Institute , held at Medgar Evers College (located at 1650 Bedford Avenue Brooklyn, NY). The Hip-Hop Institute will kick off the 2016 Brooklyn Hip-Hop Festival, and it features a keynote address from internationally recognized organizer, activist, and educator Deray McKesson. The Hip-Hop Institute will also offering lectures and panel discussions covering a host of topics from entrepreneurship to criminal justice, and will otherwise explore hip-hop as a microcosm of the larger struggle of African Americans to form an identity in American society. On Thursday July 14th, the Brooklyn Hip-Hop Festival will host a film festival , held at Medgar Evers College, which will chronicle hip-hop culture through motion pictures. The following day, the Brooklyn Hip-Hop Festival will feature a cultural exhibition at St. Ann's Warehouse. This cultural exhibition will celebrate the multiple aspects of hip-hop culture, and simultaneously demonstrate the artistic merit and aesthetic components of hip-hop cultural transmissions, which ultimately affirm hip-hop's place among other celebrated art forms (e.g. ballet, baroque music, etc.). The 2016 Brooklyn Hip-Hop Festival culminates with grand finale concert at the Brooklyn Bridge Park featuring Torae, Rapsody, Talib Kweli, Fabolous, and a headlining performance by Nas and the Soul Rebels. In short, the Brooklyn Hip-Hop Festival is one of the premiere events of the summer. You should be there, and you could ensure you are by getting your ticket(s) here.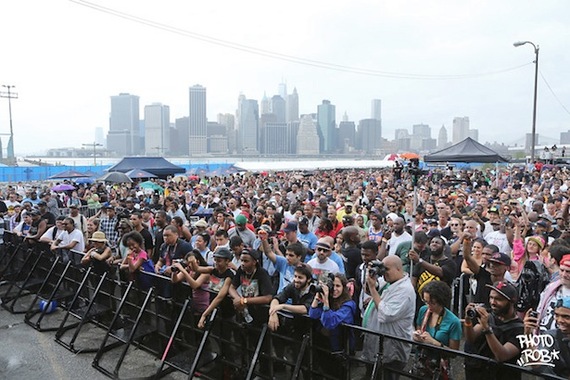 REAL LIFE. REAL NEWS. REAL VOICES.
Help us tell more of the stories that matter from voices that too often remain unheard.