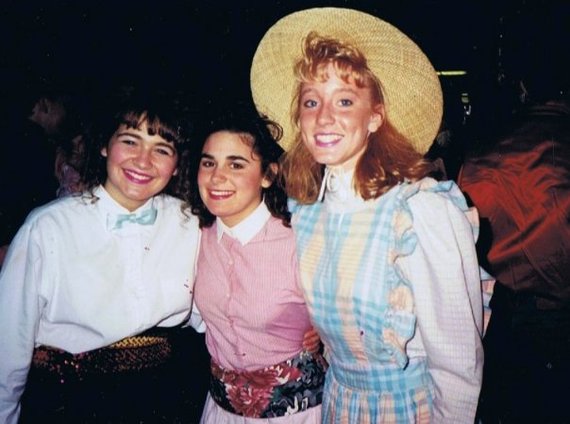 I can still remember my signature line from Hello, Dolly!.
"I'm not too young! I'm 17, and in another year I'll be an old maid," I whined.
When I landed that role of Ermengarde (and later as a chorus gal in Oklahoma) in my high school's production of the famous romcom musical by Jerry Herman and a book by Michael Stewart, my mother made a comment -- an aside, to toss in a bit of theater lingo -- about being typecast. Hmph.
That was a long time ago, and while I haven't been on stage in years, I'm still a theater lover. My parents and I took my two young daughters to The Goodman Theatre in Chicago this summer to see The Jungle Book. It was spectacular, and introducing them to the storied Chicago institution, which of course included a visit to Petterino's for dinner, was a delight. Although getting the song, "Bare Necessities" out of my head did prove challenging.
The Goodman is just one of more than 100 Blue Star Theatres, a collaboration between Theatre Communications Group and Blue Star Families, with leadership support from the MetLife Foundation. Launched in September 2012 with 22 theaters, the program quickly grew to 57 and today there are 108 participating theaters -- each offering discounted or complimentary admission, workshops and educational opportunities to all military personnel and their families, as well as veterans.
"Theater has the power to deepen communal connection and inspire creative expression," said Teresa Eyring, executive director, Theatre Communications Group. "It can provide an invaluable means of integrating military families into our communities, while helping us process the consequences of these long years of war."
Ah yes, these years of war. Actually it's more than a decade now. In fact, the "where were you when the war started?" anniversary question recently popped up on social media but even I didn't weigh in despite knowing the answer. And I would wager that most military folks know where they were too, but we only represent one percent of the population. So Eyring hits the nail on the head when she says that theater is a way to help civilians better understand what it's been like for military families and service members. In that vein, Pulitzer Prize-winning playwright Paula Vogel has developed Don Juan Comes Home From Iraq, a production based on a two-year script development process at Philadelphia's Wilma Theatre that included extensive interviews and workshops with veterans and military.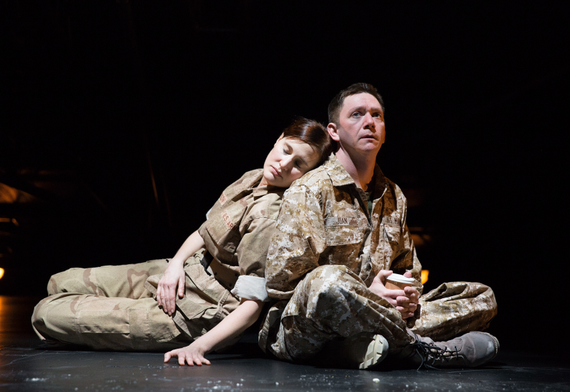 Don Juan Comes Home From Iraq, a project is inspired by Don Juan Returns from the War (written in 1936 by Bertolt Brecht's younger contemporary, Ödön von Horváth), is a tale of one Marine's return home from war and the shocking discovery that the woman he loves is missing. He begins to search for her and in doing so, winds up on an ethereal tour of Philadelphia.
"It's been profoundly moving," says Vogel about the workshops she's conducted with the veterans. The collective stories and personal accounts served as a muse for Vogel who admits that as a civilian it's a challenge for her to accurately portray an experience such as war, but thanks to the honest accounts from vets, she was able to shape this modern day Don Juan.
"I have no right to represent it. But the fact that I want to understand it is my primary charge," says Vogel.
Blue Star Theatres' organizers hope that Vogel's sentiments are shared by more civilians, particularly as the wars wind down and attention on service members and their families begins to wane. There's a sense, says Eyring, that by attending productions like Vogel's, civilians can show their support for service members and dramatically increase their understanding about the war and military service. And historically, theater has always been an avenue that brings communities together often times around war and conflict, but also love and relationships.
"There's so much poetry in theater and it really communicates those experiences," says Eyring.
"Theater is a very effective place for civic engagement," says Eyring. "It always has been and it always will be."
Indeed. The show must go on.
Don Juan Comes Home From Iraq
March 19-April 20, opening night March 26
Wilma Theater
265 S. Broad St.
$35-$66
215-546-7824
www.wilmatheater.org
Links to all the participating Blue Star Theatres:
http://www.tcg.org/advocacy/bluestar/map.cfm
Photo credit 1: Kate Czajkowski & Keith J. Conallen in Don Juan Comes Home from Iraq; photo by Alexander Iziliaev
Photo credit 2: Molly Blake's personal collection from her groundbreaking performance in "Oklahoma."
Related
Popular in the Community