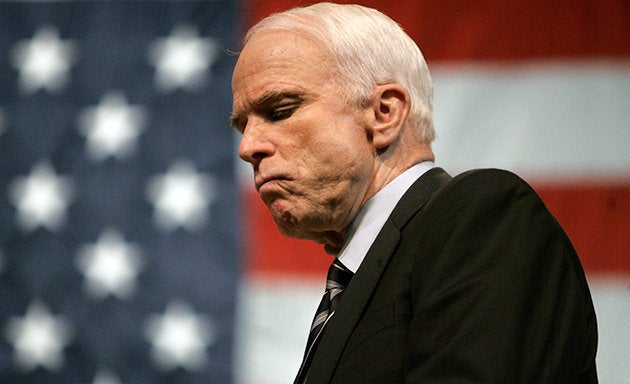 What do we democrats have to say about the mess on Wall Street?
Today Obama said it proves that the Republican economic philosophy has failed, and I heard him mock McCain for calling for a commission because "we know how we got into this mess." Now some people think about things like "economic philosophy" a lot, and many have at least a general notion of how we got into this mess. But even though everybody cares how much money ends up in their pockets, most people are understandably a little fuzzy about all the policies and philosophies and market forces behind our very complex economy. To further confuse the issue, McCain is also saying something about reform, and taking on "fat cats," and accusing Obama of being just as cozy with these Wall Streeters as anyone else. And at this point, slightly more voters trust John McCain to handle the economy than trust Barack Obama.
As it happens, though, not that long ago we had a rare political moment in this country, a moment where the public sat up and took notice of economic policy -- and spoke out and made its voice heard too. When George W. Bush made it to term #2, he decided to try to privatize social security to reward his supporters on Wall Street with a new source of capital, customers, and fees. (Those would be the same people whose firms are now cratering under the weight of the bad debt they recklessly took on while Republican regulators looked the other way.) But as it turned out, we Americans were not about to let our elected representatives turn over our social security taxes to Wall Street financiers to gamble with if it meant losing the guaranteed income that has allowed millions upon millions of American seniors to live out their sunset years with at least a basic measure of dignity.
But while ordinary Americans spoke out, John McCain stood with Bush (hugged him awkwardly in public, even), against the American people. In fact, just six months ago, McCain again let slip his fondness for privatization.
I have been scratching my head why this has not been talked about more, especially since Obama has been having trouble winning votes among seniors. There may well be some good reason I'm missing why it hasn't been a top argument thus far.
But now that you can't look at a newspaper or TV screen without seeing the mayhem on Wall Street, it's time to remind Americans what the world would look like if John McCain was in charge of our economic policy. Plenty of people are losing plenty of their retirement savings as it is. But if we had let Bush and McCain privatize social security, some of those people would be losing a lot more. And a lot of other people with less retirement savings would be hurting even more, because they depend on social security to cover basic needs.
This is something Americans understand: social security is secure, and the stock market is anything but. There are few more personal or dramatic ways to illustrate McCain's terrible judgment than to imagine the nightmare scenario so many Americans would face if McCain and Bush had gotten their way on this -- or if McCain were to get his way as President.
When Wall Street's woes are the top story, this should be our top talking point.
Popular in the Community