My interview with chief Hello Kitty designer and Japanese pop icon, Yuko Yamaguchi, almost ended before it began.
All I asked was: when is a woman too old to wear Hello Kitty?
"Never" said Yamaguchi in a husky voice. Though we had an interpreter, I really didn't need one for that answer. I got the point.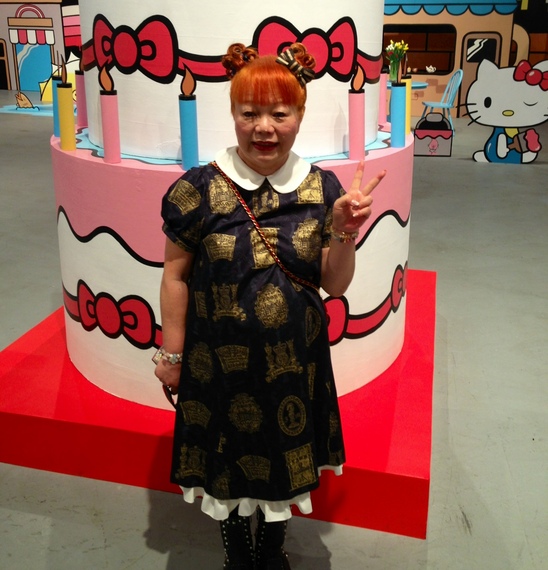 Yamaguchi was in LA to sign autographs during Hello Kitty Con, the first ever fan convention for this international symbol of cuteness.
Asking Yamaguchi about age appropriateness was a little tricky, especially given her age. Maybe that's why she didn't like my question. Was it offensive?
Yamaguchi's age is fiercely protected, but I am guessing she's near 60 because Hello Kitty is 40 and Yamaguchi began illustrating for the Sanrio cartoon straight out of art school. I may burn in Hello Kitty hell for daring to speculate about Mama Kitty's age. Either that, or her publicist will never invite me to a Hello Kitty event again. That would be hell.
I explained through the interpreter, that I worried maybe I was getting too old for Hello Kitty. Keep in mind the woman reassuring me I was fine, has orange hair wrapped into Hello Kitty buns with bows. She's like a Japanese Betsey Johnson.
"Women are never too old to be Hello Kitty fans," explained Yamaguchi "because Hello Kitty represents a break from other responsibilities. Being a fan can be therapeutic."
Is that why this cartoon without a mouth is worth 7 billion dollars a year because she speaks to women of every age?
I clutched my pearl necklace with the Hello Kitty rhinestone clasp and knew by the time on my Hello Kitty watch, that my therapy session, I mean my interview, with the Japanese pop diva was over.
REAL LIFE. REAL NEWS. REAL VOICES.
Help us tell more of the stories that matter from voices that too often remain unheard.