Hello Mr., a magazine that launched in 2013 and views itself as "a community of men who date men starting new conversations about their interests, loves, hopes, and fears," is gearing up for its second annual Valentine's Day event, Hello Love 2015.
Last year's shindig, which we attended in downtown Manhattan, was one of our favorite parties of the year, thanks especially to DJ Louie XIV (imagine being on the dance floor and hearing your favorite pop and R&B songs -- from TLC's "Creep" to Kylie Minogue's "Wow" -- all night long), an open bar and one of the hottest and most diverse groups of queer men we've ever had the pleasure of being in the same room with.
"Hello Mr. is and always has been a community before it became a magazine," Ryan Fitzgibbon, Hello Mr.'s Founder, Publisher and Editor-in-Chief, told The Huffington Post. "I was reminded of that more than ever last year at the inaugural Hello Love party. That's motivation enough for me to make this year's twice as big."
"We've decided to make Valentine's Day 'our thing,'" Fitzgibbon added. "The Hallmark holiday drives people to either couple off or wallow with girlfriends, rom-coms, and Ben & Jerry's. Hello Love is the emergence of a new option: dancing until you've forgotten what a valentine even is."
This year's Hello Love event will take place at Villain, in Williamsburg, Brooklyn, "a renovated 19th century textiles warehouse with two dance floors, a loft space, and 5,000 square feet of let's-get-it-on."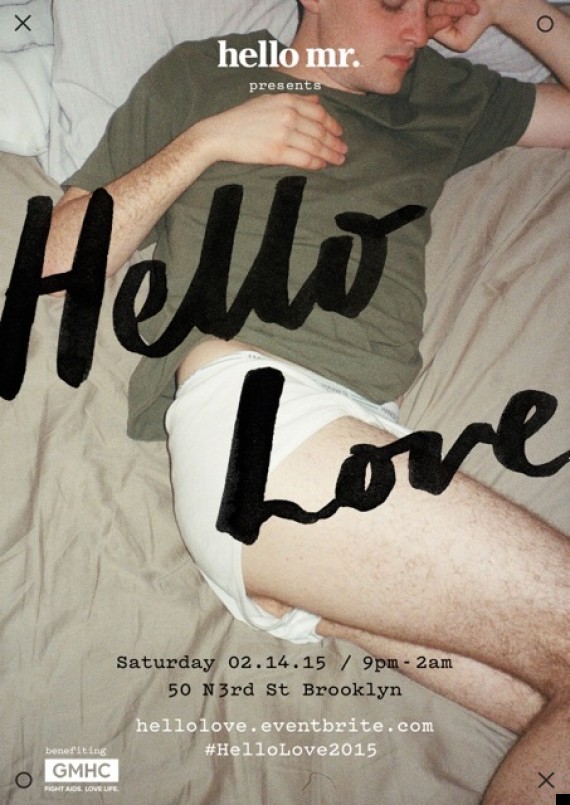 to the party gets you:
An open bar of SVEDKA vodka and whiskey cocktails, and beer
The best dance jams by the one and only DJ Louie XIV, ranging from Top 40 to nostalgic R&B.
A special video installation created and edited by Hello Mr. artists.
Hello Mr. also notes that a portion of the proceeds from the event will be donated to the Gay Men's Health Crisis, the oldest not-for-profit AIDS service organization in U.S.
"I've recently started volunteering with the Gay Men's Health Crisis, because I don't have enough on my plate as it is with Hello Mr.," Fitzgibbon said. "In all seriousness, though, I wanted to feel more impact within the community, so when we started mapping out our Valentine's Day, partnering with GMHC as the charitable organization most made sense for us to give back and, in the process, show guests that their tickets contribute to more than just free drinks and good music."
For more info about Hello Love 2015 and to get your ticket, head here. Because, as Fitzgibbon puts it, "In short, Valentine's Day sucks; let's just fucking dance."
For more on Hello Mr., visit its official website here.
Popular in the Community