When she wasn't giggling, she talked in a rapid-fire, sing-song register. And her voice -- her voice carried a slight raspy edge. We constantly whispered in each other's ears and wrote notes to each other in the middle of class.
Although the courtyard in front of the strict and fear-inspiring English headmistress of our school was not the most popular place, we were there often challenging each other to a game of ping pong. And more often than not, we dared the other girls to squeeze through the metal railings of the fence that separated the courtyard from the playground. This led to many instances of classmates getting their heads stuck in the gaps of the railing. They blushed with anger and frustration but were too scared to yell out and call the attention of the headmistress.
That is what I remember of my times with my dear friend, Nagmeh, back in elementary school in Iran. Hers was the last party I attended in Iran, before we all fled and dispersed to different parts of the world. I have vivid memories of Nagmeh's 11th birthday party. All the girls had gathered in her living room, huddled in a circle. We were thinking of a game to play and Nagmeh's cousin suggested a dance competition -- I guess you could call it a
Persian version of a dance-off! The hot song straight out of the States was Boney M's "Ma Baker" and we all sashayed to the middle of the living room floor. It was apparent even back then that I liked to strut my stuff on the dance floor, and I went home as one of winners.
Three months later I remember listening to Bee Gees's "Staying Alive" in the States and thinking if I will ever see my friends again. We had left Iran in a hurry and thought we would return once things calmed down. But it never did. Iran was in the midst of a revolution, and I lost touch with all my childhood friends.
Imagine that just a few months ago I got a Facebook message from my long-lost childhood friend, Nagmeh. It didn't take long for us to reminisce about our school, our friends, and her last party. We caught up on each other's lives. I found out that she was married with two kids and living in San Diego -- just a three-hour drive from me.
She knew that I was coming out to San Diego for a book event, but alas I was there only for a couple of hours. I needed to catch another speaking engagement in New Orleans the next day and had to fly out of San Diego that afternoon. So Nagmeh and I made plans to see each other at another time, when we could actually sit and talk.

Then came her call the very day I was going to San Diego. "You know it's crazy that you will be here in San Diego and we wont meet up," she said. The rhythm of her talk was still the same even though now, after thirty two years, we were speaking in another language (English). I could even sense that she was smiling through the phone and the thought that she was on the other end made me smile. It was true. It was a shame that wouldn't get a chance to see each other, but other road blocks had presented themselves for the day. Nagmeh had taken off work because her son was sick with strep throat and she had no sitter. So, as disappointed as I was, I didn't want to make things harder for her.
I got to the book fair in time and took a seat with some of the organizers before I was called up to speak. Five minutes before taking the stage, I got a text from her: I am sitting here in the audience! I stood up and looked around, but realized that I wasn't even sure what she looked like as an adult. To tell you the truth, I still imagined her as a feisty eleven-year-old with short hair and round, brown eyes. She had sent a picture of her adult self to my blackberry that morning -- only because I kept insisting that I needed to see who she had grown to become.
I searched around the room for Nagmeh, but she was lost in the sea of faces. I texted her: where are you? It didn't help that the lights were particularly bright by the stage and they were hitting me straight in the eyes. I walked a little to the right. And moments later I saw a person in a red jacket stand up and wave at me. There she was, seated at a table on the left side of the room.
The program was starting shortly but I couldn't wait. I made a bee-line toward her and we held each other tightly. Honestly neither of us would have recognized each other had we walked side-by-side in the street somewhere. Thirty two years is a long time not to see a friend.
We still held on to each other's arms while we looked intently at each other's face. We were two grown women now. I guess I was searching to find my childhood friend in the now adult features. And without me taking notice, I found myself smiling in recognition and saying, "Nagmeh, its those eyes. You have the same eyes that I remember looking into when I was a child." She smiled and looked back. She still held me tight and said, "And your smile. You have the same smile, Angella."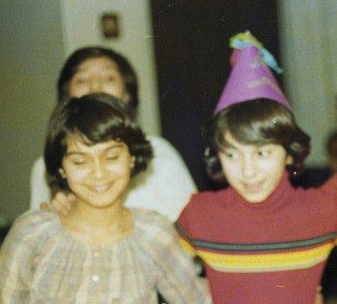 Angella and Nagmeh as young friends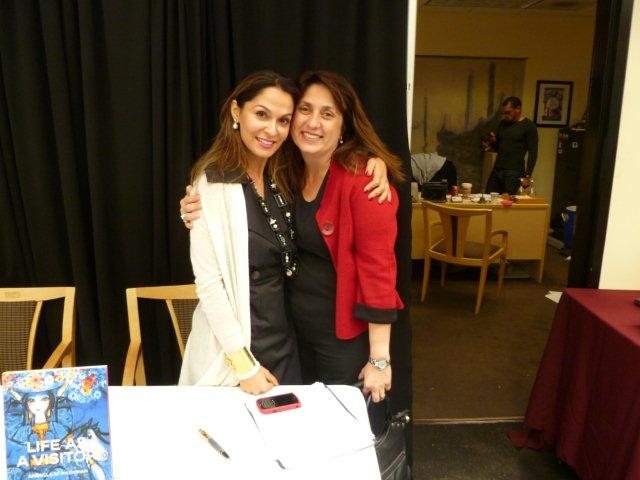 Angella and Nagmeh 2010
Related
Popular in the Community