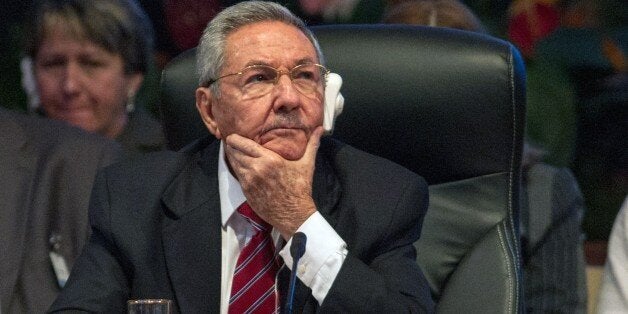 Witnessing the historic rapprochement between the United States and Cuba on December 17, 2014 inspired Cuban artist Tania Bruguera to make her own bold statement. Aware that the world's eyes were now focused on the island, she decided that on December 30 she would set up a podium in Havana's Revolution Plaza and invite fellow artists and civil society leaders to each express their ideal visions for Cuba's future in one minute or less. The event was titled #YoTambienExijo (#ITooDemand).
Predictably, Cuban officials turned down her request for a permit, and just hours before the event was scheduled to begin, they arrested Bruguera and several dissidents and independent journalists who promoted it online. According to Cuban authorities, the permit was denied because the event "[did] not pursue another purpose other than to stand against negotiations that give hope to many human beings, starting with eleven million Cubans. It will be backed by the few local mercenaries of that same policy which President Obama has considered a failure."
The policy they were referring to is embodied in the Helms-Burton Act (also known, ironically, as the LIBERTAD Act), a U.S. law passed in 1996 to "seek international sanctions against the Castro government" and usher in "a democratically-elected government in Cuba." For nearly two decades, the law has failed miserably in accomplishing these objectives, and has instead provided the Castro government with its favorite scapegoat for suppressing dissent, just like it did on December 30.
Senator Marco Rubio, along with other legislators, already promised to do everything possible this year to block efforts to implement the President's new Cuba policy, or revise the Helms-Burton Act in any way. They would be making a huge mistake. The #YoTambienExijo arrests once again showed how the continuation of Helms-Burton only serves to undermine the efforts of Cuba's pro-democracy advocates at building constituencies inside the island. Just as tragic, it makes it more difficult for these leaders to garner the support they need from the international community at this critical stage.
Helms-Burton undermines the efforts of civil society leaders
Days after December 17, a group of Cuba's most prominent civil society leaders issued a joint statement outlining four consensus points that have united the internal opposition and help them speak with one voice as they demand respect for their rights. The statement calls on Havana to unconditionally release all political prisoners; end its repression of dissident groups; abide by the UN's International Declaration of Human Rights; and recognize the legitimacy independence of Cuban civil society both inside the island and abroad. Secretary of State John Kerry was quick to voice his support for these four sensible points.
Yet here's where Helms-Burton undercuts this effort. The law codifies all major economic sanctions toward Cuba and conditions their suspension on Congressional recognition of an "all-or-nothing" set of demands that cannot be met until the Castros abdicate power and a functional democracy takes their place. As such, the law overreaches far beyond what Cuba's opposition leaders are collectively demanding from their own government. Additionally, U.S. financial support of pro-democracy programs inside the island is directly tied to Helms-Burton's regime change mandate. As a result, the law makes it easier (not harder) for Cuban officials to discredit the motives and agendas of the island's dissidents and resist their calls for greater reform.
Helms Burton stifles international support for pro-democracy movement
Cuba's opposition leaders all agree that support from the international community is critical to their efforts in pressuring the Cuban government to embrace greater change. Unfortunately, as The New York Times noted last week, "For decades, Latin American governments have coddled, or appeased, the Castro regime because confronting it would be interpreted as an endorsement of Washington's harshly punitive policy toward the island."
That policy is (you guess it) Helms-Burton, and Latin American leaders have not been the only ones to recoil from its heavy-handed and extraterritorial provisions. The law has almost single-handedly managed to rally the entire world behind a communist dictatorship in its struggle against the world's preeminent democracy -- a remarkable feat by any measure.
By pivoting away from the top-down, Castro-obsessive approach of Helms-Burton, President Obama has made it easier for the international community to come out in support of Cuba's pro-democracy advocates. It remains to be seen if the international community will seize the opportunity, but what is certain is that as long as Helms-Burton remains law, it will continue to work against, instead of toward the advancement of, this goal.
Change won't happen overnight in Cuba, but our new policy approach begins the important process of taking away the Cuban government's preferred excuse for its repressive practices. As the unprecedented news coverage of the #YoTambienExijo arrests revealed, our policy shift has already turned the attention of the international media away from the embargo and toward Cuba's dissidents like never before.
After 50 years of isolation and 20 years of regime change policy, the United States has forged a bold new course on Cuba -- one that shifts away from the bureaucratic failures of the past toward a bottom-up approach focused on empowering everyday Americans and Cubans to serve as agents of change.
By insisting on protecting Helms-Burton, Cuban-American lawmakers who haven't stepped foot in Cuba in over 50 years (if ever) are doing a huge disservice to those whose rights are trampled daily under the pretext the law provides the Castro brothers. Helms-Burton and the rest of our legislative framework toward Cuba is embarrassingly outdated, incoherent, and in desperate need of reform. Congress must explore new ways to incentivize political reforms and respect for human rights in Cuba, and targeted sanctions may very well make sense in service of these goals. But the most irresponsible thing that lawmakers can do is refuse to review the backfiring abomination that is the Helms-Burton Act. Cuban civil society deserves better.
This post is part of a Huffington Post blog series called "90 Miles: Rethinking the Future of U.S.-Cuba Relations." The series puts the spotlight on the emerging relations between two long-standing Western Hemisphere foes and will feature pre-eminent thought leaders from the public and private sectors, academia, the NGO community, and prominent observers from both countries. Read all the other posts in the series here.
If you'd like to contribute your own blog on this topic, send a 500-850-word post to impactblogs@huffingtonpost.com (subject line: "90 Miles").
Related
Popular in the Community