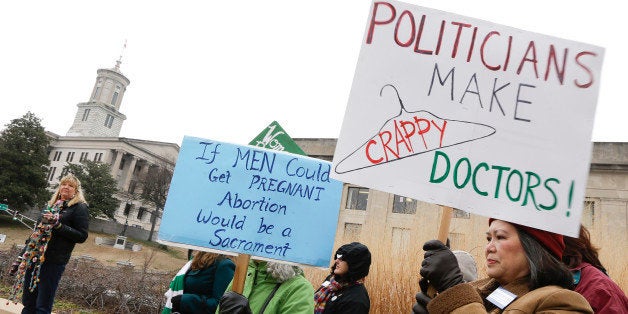 Every January 22, Washington, D.C. sees an influx of marchers who reject a woman's right to abortion access. To protest peacefully in the glow of the Supreme Court and Capitol buildings is an age-old American right. But with a new and very conservative Congress, the anti-choice forces managed to introduce six new bills in just three days that attack Roe v. Wade.
These battles will be played out in Congress with Republicans in charge and it is not inconceivable that legislation involving abortion restrictions could end up on President Obama's desk.
The president, in all likelihood, will be more involved in the abortion debate than at any time in the past six years. He will have to fend off efforts to undermine Roe and protect women's rights.
Just this past December, Congress passed -- and the President signed -- the overall spending bill that contained a provision providing access to abortion services for women Peace Corps volunteers who are raped overseas. This changed an old 1979 rule that had prohibited help to the now two-thirds of Peace Corps volunteers who are women. This is the same kind of assistance available to our military and other federal employees.
The logical next step for President Obama, as The New York Times editorialized in December (for the fourth time since 2011), is to take executive action and properly implement the 1973 Helms Amendment to ensure U.S. support for safe abortion access overseas wherever possible. Ultimately, we want to see the elimination of this wrong-headed provision, which bans U.S. funding for abortion overseas as a "method of family planning" but does not prevent U.S. support in the cases of rape, incest, or life endangerment.
During last night's State of the Union address, the president stated that, "every woman should have access to the health care that she needs." For many women, that health care includes abortion access.
The president can take executive action now and make it clear that it is the policy of the U.S. government to support access to health care that includes abortion for women and girls globally who survive rape or incest, or whose lives are endangered by a pregnancy. He could help prevent the deaths of many of the 47,000 women who perish each year as a result of unsafe abortions. He could send a message to other nations and international health organizations that the United States will be there to help. And, the president has wide-spread support.
In the last year, more than 30 faith-based leaders called on the president to use his executive authority; more than 20 U.S. and international human rights, women's rights, faith-based, and peace and security groups held a rally at the White House to press for action; and, according to a January 2014 poll by Lake Research Partners, the majority of those polled support President Obama taking executive action.
Now is the time for the President to show the courage of his convictions by taking executive action to ensure that U.S. assistance will be available for abortion access for women who survive rape or incest, or whose lives are endangered by a pregnancy. It is the right thing to do and it would send a message to the world that the U.S. stands with women and girls. The time to act is now.
REAL LIFE. REAL NEWS. REAL VOICES.
Help us tell more of the stories that matter from voices that too often remain unheard.