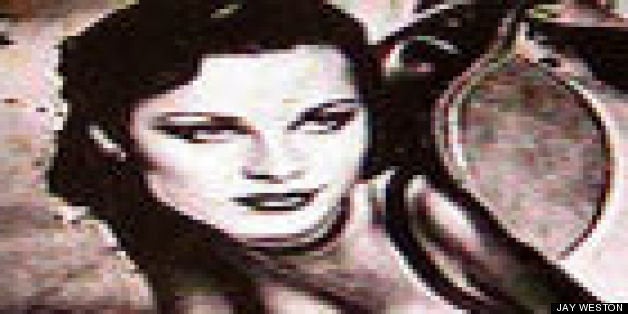 I am a huge fan of Helmut Newton's photography. Not just the erotic nudes, although I certainly appreciate them. But I have always thought and still do that he was one of the genius artists of the last hundred years. He brought a fresh eye and an audacious joy to the fashion photography of my era. I actually had dinner with him and his wife June one evening in 2001 at his winter home, the Chateau Marmont in Hollywood, to discuss his doing some photos of Diana Ross in a film I was producing, "Lady Sings The Blues," but we couldn't work out the dates.
We had been introduced by film director Billy Wilder, his close friend, who directed my film, "Buddy, Buddy." Like most of the world, I was stunned when the 83-year-old Newton had a fatal car crash just outside of that hotel in January, 2004. Thus I was enthused to attend an advance viewing of the Helmut Newton exhibition at the wonderful Annenberg Space for Photography (2000 Avenue of the Stars, Century City, (310) 403-3000). The Annenberg is the only solely photographic space in our fair city, and this intimate environment features state-of-the-art- high definition digital technology as well as traditional prints by some of the world's most renowned photographers. The Newton show will run there until September 8, and I have one word of caution for you...it is not a show for young children (unless you are bringing them up in a different way than I was.) It is the only show I have ever reviewed on HuffPost, which contains about 90 percent content which I can't even illustrate here. But yes, it is a magnificent photo show which every like-minded adult will appreciate and enjoy... women as much if not more than men. Incidentally, all of the photographs were made specifically for this exhibition and are large scale..some reaching nearly six feet in size.
The show features about a hundred photos from his first three iconic books, White Women - Sleepless Nights - Big Nudes, and is the first such Newton show outside of gallery shows here. It was originally organized by Manfred Heiting for the Museum of Fine Arts, Houston.
Newton was a revolutionary, one of the most powerful and influential ever. The protagonists of most of his photos were women: heroic, powerful, fiercely feminine. As Wallis Annenberg, Chairman, President and CEO of the Annenberg Foundation, said:
>Newton was the place where art and fashion and subversion and aspiration all collided. If Newton's work was controversial, I believe it's because he expressed the contradictions within all of us, and particularly within the women he photographed so beautifully: empowerment mixed with vulnerability, sensuality tempered by depravity. Newton deepened our understanding of changing gender roles, of the ways in which beauty creates its own kind of power and corruption. On top of that, his compositions were brilliantly precise, cinematic in their scope and in their storytelling.
That says it all so well.
Model Vibeke Knudsen at Rue Aubriot, Paris, for French Vogue. He reshot this the next night with a nude model beside her.
In addition to the more than 100 prints displayed, there are two films about Newton. Helmut by June is a documentary film shot and directed by June, his wife of 56 years, and goes behind the scenes of several of the photo shoots. It provides an intimate look into his private life and the couple's remarkable relationship. From a photo shoot with Cindy Crawford and Helena Christensen in Saint Tropez to a visit to Billy Wilder's office in Beverly Hills (where I had been many times; you see all of his Oscars on a shelf), it reveals the man behind the many provocative images. And you will be surprised at his humor and playfulness. The other film is one by Arclight Productions commissioned by the Annenberg, a 20-minute shoot called "Provocateur," which also revealed the scope of his genius.
Newton was born Helmut Neustadter in 1920 in Berlin. He purchased his first camera at age 12 and apprenticed with a noted German photographer, When the anti-semitic law were passed in 1935, his father was interned in a concentration camp...and in '38 the family were forced to go to Chile, while the 18-year old Newton went alone to Singapore. He was interned by the British in 1940 and shipped to Australia, and then served in the Australian army, becoming a citizen there in 1945 and changing his name to Newton. He opened a photographic studio in Melbourne and met his wife, June Brown, who became his muse. . She also became a photographer and shot under the pseudonym Alice Springs. During the 1950s Newton shot for British and AustralianVogue and settled in Paris in 1961, where he joined French Vogue. As American Vogue editor Anna Wintour states in the exhibition catalogue, Newton's work went on to be "synonymous with Vogue at its most glamorous and mythic."
The Annenberg Space for Photograohy is open free to the public Wednesdays through Fridays 11 am to 6 pm, Saturdays from 11 am to 9 pm, Sundays from 11 am to 6 pm, with reduced rate validated parking (get them to stamp your ticket. It's $3.50 for three hours weekdays and a buck on weekends.) It will be open on July 4th and Labor Day from 11 am to 6 pm. Incidentally, about parking, you enter the self-parking garage of the 2000 buiding at Constellation Blvd., go to level P3, and I suggest you drive down to the far left there until you see the elevators, then take the elevator or the escalator up to the lobby of that building and walk outside and across the bridge to the museum. It is easy and certainly worth the effort....especially knowing what glorious naked treasures are awaiting you there.
To subscribe to Jay Weston's Restaurant Newsletter ($70 for twelve monthly issues) email him at jayweston@sbcglobal.net.
REAL LIFE. REAL NEWS. REAL VOICES.
Help us tell more of the stories that matter from voices that too often remain unheard.