In The Problem with Little White Girls..., I posed a problem. Millions of mostly unskilled men and women were traveling to developing countries with one mission in mind - to change the world, which isn't problematic in and of itself. The problem lay in how they were, and are, doing it. Time and time again during my work, I've seen how what struggling communities need most is not a hand out, but a hand up. So why, I asked, are we building cheap structures, painting walls, planting trees, and doing other things that locals could, if given the right resources and training, do themselves?
That question resonated with a lot of people, but my answer at the time, that we need to think before we volunteer, was, for many, mostly unsatisfactory. The desire to travel does, after all, go hand-in-hand with the desire to give back for the multitudes of young people signing up for volunteer trips each year.
The problem that I posed one and a half years ago still exists. The constant deluge of emails I've received from students seeking reassurance that their volunteer trip actually would be impactful, reassurance I can rarely give, is proof of that. If people still want to do good while traveling, it seems much more logical to find a way to make that an option, than it is to tell them that it's impossible.
It turns out, that often the best way to help a community, is to invest in it.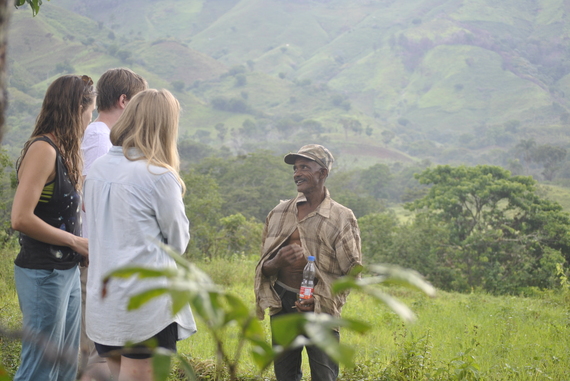 This is where economics come into the conversation. Economics, really? And yes, I know, you really aren't down for a world markets conversation, but it's simple, I promise. If you think about how a community functions, and what it needs to succeed, it all comes back to basic economics. In order for there to be long-term economic growth, there needs to be an equal or greater flow of money into the community, as there is going out of the community. Constructing a school or building a well with volunteers and externally sourced materials doesn't directly do this.
Unfortunately, while those are both valiant projects for general human well-being, they don't take into account the market dynamics of a community. They don't, for example, proactively pump money into the economy by employing local labor or sourcing materials locally. Now, I know that I am making huge generalizations here. There are definitely organizations that are centered around projects like school-building that do hire local labor and source materials locally, but they aren't the norm.
Investing in a community might mean that a project takes longer or that it may cost most than if it was done by a visiting band of short-term volunteers, but the effect will be much deeper.
So now, I want pose a new challenge, a challenge in answer to the problem of voluntourism.
Don't stop traveling, and don't stop giving back to the communities that you travel to, just change how you go about doing it.
For me, this means traveling with Onwards, a non-profit that invests in tourism-based businesses in the Dominican Republic and Haiti. Onwards provides entrepreneurs with the resources and training to start and grow successful businesses, and runs economically-impactful trips for adventurous travelers, while providing the businesses they fund with revenue. This creates a closed loop that fuels local economic growth, protects the entrepreneurs, and offers a real alternative to volunteer travel.
I got involved with Onwards a little over a year ago, joining the Board soon after meeting Jacob Taddy, Onwards' co-founder. What he was building blew my mind. Now, about twelve months later, I'm really excited to share that anyone can take an Onwards trip. Having launched their first fundraising campaign on Tuesday afternoon, Onwards is officially open to the public, inviting conscientious travelers to think twice before going on a volunteer trip, and to chose an Onwards excursion instead.
Onwards isn't perfect. As a small organization, there's a lot of learning and growing to be done, but Onwards is directly addressing the problem of voluntourism, a problem that irked me so much that I couldn't help but speak out about it. To know that now, when someone asks me how they should give back, I can point them in the direction of Onwards and be confident in that suggestion, feels pretty awesome.
Whether you choose to travel with Onwards, or to take them as inspiration for planning a solo excursion, remember to keep in mind that giving back to a community isn't all about leaving a physical monument to your presence behind. Rather, it's about finding a need and addressing it in a way that's thoughtful, long-term, community-minded, and holistic.

Photo Credits: Heather Horak and Jacob Taddy
Calling all HuffPost superfans!
Sign up for membership to become a founding member and help shape HuffPost's next chapter