His case has haunted me. A young Yemeni journalist detained in an Egyptian jail in 2014 for simply trying to stop a fight between two women. He was eventually released. But what he endured during his 35 days of detention has left its mark on him. It shattered him. They call it post-traumatic stress. Depression as well!
He was left without help after his release. He was left without justice. And no one seems to notice his blight. No one seems to understand his psychological wounds not to mention the physical ones.
He is calling from this blog to change this situation for the likes of him. They need help. He is calling for a project that treats and serves young peaceful activists after their release from Arab prisons/detention centers. A project that helps them to bring closure and gives sense to what happened to them.
The Crime of Using a Recording Device!
His name is Feras Shamsan. A journalist and co-founder of an Arab cultural website called Fantime -- one that reports on art, music and culture. Art, he insists, is a universal language, a language that can promote peace.
He is also a co-founder of Yemeni youth initiative entitled 'Safe Streets'. It creates public awareness of the harassment Yemeni women are subjected to when they walk in the streets.
In short, he is a young bright Yemeni intellectual, who is trying to make a difference in his society.
His life changed a year ago. He was in Egypt for a visit and decided to report on the Cairo Book Fare, interview visitors, make a video, and post it on Fantime. That was on February 1st, 2014.
While interviewing a female visitor, she started to criticize former Egyptian defence minister (now President Abdel Fattah Sissi). Another female visitor heard her and started to argue with her -- apparently she was a fan of Sissi.
Feras Shamsan tried to intervene and when he failed he called the security. The Sissi fan turned on him and accused him of being a journalist for Al Jazeera (a crime, in her opinion). The security members took the two of them to the police station and before he knew it, he was accused of "spreading false news and rumors to disturb the public peace and security through the use of a recording device"!
Suddenly the world did not make any sense any more. He tried to explain and it was as if his voice was stifled.
Sandwiched Between Security Apparatus and Criminal Thugs
Shamsan was detained for 35 days. What he endured during these days changed his life.
He was put in a small cell with more than 30 other inmates. Most of these inmates were arrested on criminal charges. Only he and six others were arrested because of their peaceful activism or as in his case on false charges. You can imagine the conditions within this cell.
Shamsan was forced to stand most of the time, was unable to spread his legs, and had to pay the strongest thugs in the cell to be given a space to sleep. Worse, with his other activist inmates he had to fight daily attempts by the thugs to rape the youngest and weakest among them (a 16 years Turkish boy). He had to see one of his co-activists -- a Syrian of Christian faith -- hit and harassed daily by thugs for no reason other than his religious affiliation.
He himself was sandwiched between two forces: members of the Egyptian security apparatus, who interrogated him and threatened him with torture and rape if he did not cooperate; and a brutal power system within the cell ruled by criminal thugs (Feras Shamsan, Interview by Author, via Skype, 18 May, 2014 and 1 February 2015).
Thirty-five days of sheer hell. At the beginning no one noticed what happened to him. And those who noticed ignored his ordeal for fear of the security apparatus. But eventually -- thanks to the coordinated efforts of Yemeni and Egyptian intellectuals and the direct intervention of brave representatives of Egyptian Journalist Syndicate -- he was ultimately released and deported back to Yemen.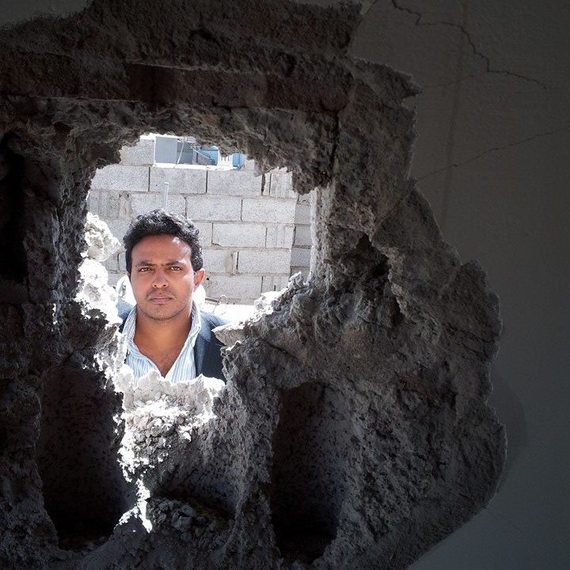 When he arrived in Yemen, he had and still has a damaged back, knee, and a crushed soul.
He was left without help after his release. There is no center or a place that provides medical treatment (psychological and physical) or support for released activists.
He was left without justice. All his demands for an apology and an acknowledgment that he was detained unjustly were left without answer. And no one seems to notice his blight. No one seems to understand his psychological wounds, not to mention the physical ones. Not his family, not the larger society.
He feels outraged -- something should happen. He knows there are many like him: young men and women -- activists demanding change in their MENA region -- arrested for their peaceful work, treated badly, tortured and sometimes raped. When they come out of their detention time, they are left alone... in the cold. They need help. They need professional help. They need a center that provides thereby and assist in curing both their physiological and physical wounds.
This is an initiative of Feras Shamsan. It needs to be realized. We should help. Help him make sense of what happened by helping the likes of him in the MENA region.
Photo of Feras Shamsan -- A Selfie after a Shell hit a house in Sana'a, Yemen
Related
Popular in the Community