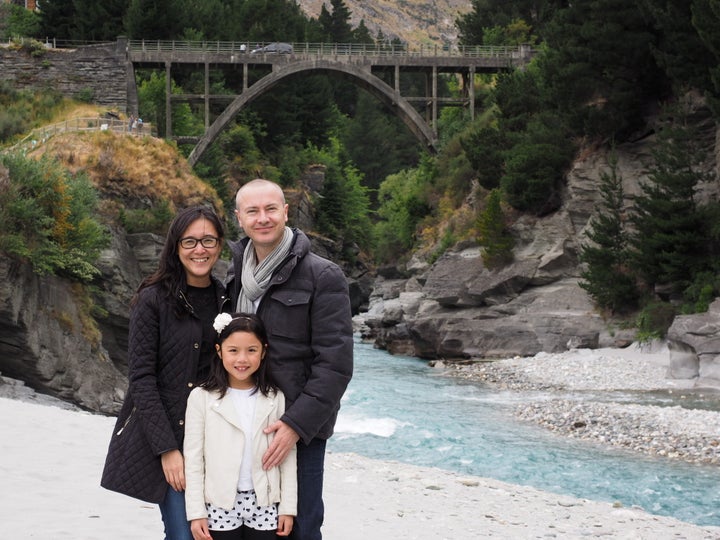 As part of our Blended Family Friday series, HuffPost spotlights a different stepfamily to learn how they've worked to bring their two families together. Our hope is that by telling their stories, we'll bring you closer to blended family bliss in your own life! Want to share your family's story? Email us at divorce@huffingtonpost.com.
Children's book author A.S. Chung knew it would take some time for her partner, Andrew, to adjust to parenting her daughter Hannah. She was happy to show him the ropes, though.
"He was 40 when I introduced him to Hannah, and didn't have any children of his own," Chung told The Huffington Post. "Luckily for us, he was incredibly receptive and understood the role he had to play to create a harmonious blended family home."
Below, Chung, who lives in Australia and documents her travels on the blog Family Globetrotters, tells us more about her family and how she guided Andrew through the highs and low of parenting.
Hi there! Please introduce us to your family.
We're a small blended family of three. There's me, my partner Andrew and my daughter Hannah, who's 8 years old.
Andrew and I have been together for three years but have known each other for 15 years.
What are some of the biggest challenges of blended family life?
The uncertainty of how everything was going to pan out at the start was a little nerve-racking. Throw in the difficulties of finding my co-parenting feet with my ex-husband, Andrew adjusting to being a new parent, and adjusting to a fairly new romantic relationship and it was all a bit daunting.
What was it like for your partner to adapt to his new role as a stepdad? Is there anything you did that helped that process go a little smoother?
Andrew had never been married and or had kids. I understood immediately that for this to work, I had to help him every step of the way and that I could never assume he would know what to do. I simply started with Parenting 101 and slowly led him to understanding the morals and beliefs I wanted my daughter to grow up with. I explained to him that parenting is relentless. He would live, eat and breath parenthood, with Hannah always being top of mind. I also described the good, the bad and the ugly! I wrote about it in a HuffPost blog. There was no sugarcoating some of the difficulties we would inevitably experience.
How do you deal with stress in your household?
Sometimes we don't deal with it very well at all, but on most occasions, we do so with a lot of love. We have become quite adept at preventing some of the stresses we know may occur in a stepfamily and that definitely helps. But in some cases, we take some time alone or engage in a family activity like playing board games or head out somewhere. We jump on trampolines to bounce out some of the negative energy and we laugh a lot. It makes all the difference.
What makes you proudest of your family?
When I forget we're even a blended family at all. When my friends and family tell me that we are so lucky to have found such a wonderful man in Andrew. They'll compliment him on embracing this little family and he'll correct them and say he's the lucky one to have found two beautiful girls to love his crazy ways!
What advice do you have for other families who are struggling to "blend" and find peace in their home?
The parents have to run the household cohesively and in unity. Don't view the other as the stepparent or the children will do the same. And when the going gets tough, I remind myself that I have a second chance and should enjoy the ride. We're blessed with the opportunity to create our own adventures and memories.