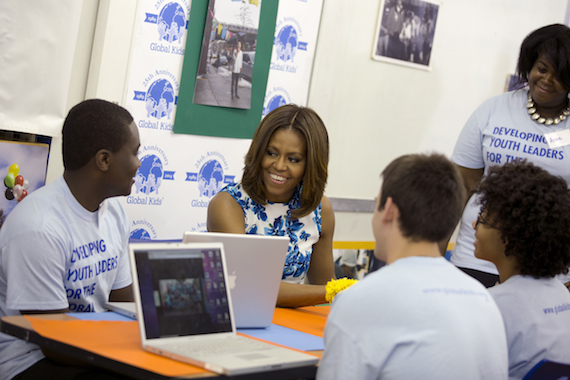 First Lady Michelle Obama with students at the Global Kids headquarters on July 10, 2014, photo courtesy of Julie Hassett-Sutton/Frantic Studio via Global Kids
The question on everyone's lips was "How did you get Michelle Obama to visit your program?" The answer is simple: one of our students asked.
Of course, as the First Lady herself pointed out, that's not so simple a thing to undertake. During her visit, Mrs. Obama emphasized how impressed she was by the boldness of our students' ask, as well as the boldness that our students demonstrate every day in our programs, tackling complicated issues such as global health, poverty, children's rights, sustainability, discrimination, and human rights, issues that challenge even those who have spent their entire careers puzzling over.
Our students, Annie Willis, 17, and Shavonne Campbell, 16, had the opportunity to ask because they represented Global Kids at a National Summer Learning Day event in Washington D.C. last month. Global Kids won an Excellence in Summer Learning award in 2011, and we were proud to have our students speak up for the importance of summer learning again this year. Global Kids is a nonprofit that provides in-school, afterschool and summer programming to over 1,400 students in New York City and Washington D.C. each week. Our programs challenge students to think about and engage with international relations and social justice issues, while teaching them the leadership and technical skills needed to address these complex issues.
Mrs. Obama spoke to our students about her Reach Higher initiative to encourage students to act now for success in the future. Two dozen middle and high school Global Kids students mostly from Brooklyn and Queens demonstrated (among other things) a geo-locative tablet game they had developed and discussed their work as citizen diplomats in Bosnia and climate justice activists in New York City. Their experiences were grounded in a youth-development approach and provided them with the opportunities to shape their own learning. Our program, like many summer and afterschool programs, is all about encouraging our students to aim higher.
Studies show that students fall behind academically in the summer months, and high-quality summer programming is proven to prevent that, and even lead to academic gains. Year-round out-of-school time learning programs can help boost academic achievement, increase high school graduation rates, and give kids the opportunity to develop those skills for college and career readiness. Most importantly, they give youth the time and space to take the lead on hands-on projects seeking to solve challenging problems. In other words, they give students like ours the chance to practice boldly asking tough questions.
Programs like Global Kids give children the chance to participate in activities that they can't experience in a classroom, to use tools they've never seen before, and to go to places they perhaps didn't know existed. These experiences can ignite passions that motivate them to go beyond rote studies to channel their learning and energy towards those things that excite them. Teamwork, communications, perseverance, dedication, self-direction, curiosity, and yes, boldness -- these are the high-level thinking skills that our business leaders say are needed by entrepreneurs, innovators, managers, and other leaders who will keep the United States on the leading edge of the information economy. High-quality summer and afterschool programs encourage young people to be bold, to seek out and influence policymakers like Mrs. Obama -- and New York City Public Schools Chancellor Carmen Fariña, whom a group of Global Kids participants hope to meet with about introducing a climate change curriculum -- and to prepare to take the places of these leaders and change-makers.
The First Lady's visit and celebration of Global Kids should encourage parents and policymakers alike to develop a bolder vision for out-of-school time learning experiences. Following the lead of New York City's Mayor Bill de Blasio, who has just funded 271 new middle school afterschool programs, we need to strengthen our national and statewide commitment to these learning opportunities. We need to develop and finance many different kinds of programs for the many different kinds of kids in this state, whose wide range of interests and talents must be nurtured, enhanced, and celebrated. It is crucial that our legislators give all children the opportunities to take the lead in every field, and to develop the skills and knowledge to act boldly and make change.
So we're being bold and we're asking: President Obama, members of Congress, Governor Cuomo, Senators, Assembly Members, will you come and visit our program or one of the thousands of programs like ours that are making a difference across New York State? Will you commit to increasing funding so all kids in New York can have the opportunity to learn to be bold, to tackle complex problems, and to reach higher?
REAL LIFE. REAL NEWS. REAL VOICES.
Help us tell more of the stories that matter from voices that too often remain unheard.