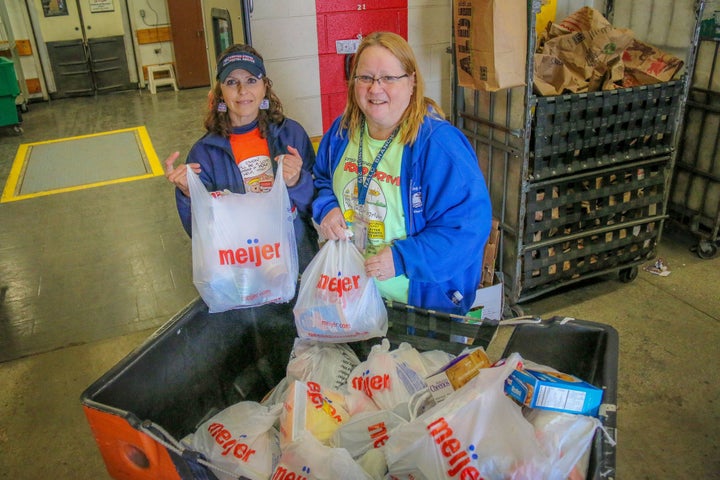 One of our nation's most important but least discussed issues is hunger.
We're all at risk of going hungry and sadly, many of us do. Hunger doesn't discriminate – it affects Americans of all races, ethnicities and ages, and does not care about your gender, religion or political stripe. Today in the United States, an estimated 49 million people, or almost 1 in 6, struggle with "food insecurity," which is another way of saying that someone has no idea where his or her next meal is coming from.
This crisis is a tragic byproduct of an economy that continues to leave large numbers of Americans behind. Too many families still lack full-time jobs that pay a living wage. In fact, as numerous studies have shown, a majority of Americans wouldn't be able to cover an unexpected $500 expense. A sudden illness, injury, or car repair are all that stand in the way of most people having to choose between paying their bills or buying food.
The negative effects of hunger can't be overstated; there are real psychological, health, educational and societal impacts that are well documented, and yet, this issue seldom attracts the attention it deserves. This must change. Our nation's hunger problem is not going away, and will – if left unaddressed – break the soul of this nation.
For 25 years, the National Association of Letter Carriers (NALC) has played a prominent role in our country's effort to address hunger. The NALC's annual Stamp Out Hunger Food Drive is the nation's largest single-day food drive. Over the past quarter-century, letter carriers have collected more than 1.5 billion pounds of food to help replenish food banks, pantries and shelters nationwide.
And for the second year in a row, the United Food and Commercial Workers (UFCW) International Union is proudly joining the effort and lending its expertise on the issue.
The NALC's annual Stamp Out Hunger Food Drive is the nation's largest single-day food drive.
We are committed to alleviating the problem of hunger in America because we see its impact firsthand.
Letter carriers care deeply about improving the quality of life in the communities we serve – and having worked on mail routes for years or even decades, we notice when people lose their jobs or are working fewer hours. Meanwhile, from the grocery store to the food processing plant, UFCW members interact daily with customers, food suppliers and the community, and we see the difficult choices people face when they have trouble feeding their families.
Hunger is a problem that deserves more focus and most importantly, that requires all Americans to work together to solve. So, what can every American who wants to help us "Stamp Out Hunger" do?
First, simply fill a bag with non-perishable food and leave it at your mailbox on Saturday, May 13. (The food drive is held annually on the second Saturday in May.) Your local letter carrier will do double duty that day. In addition to delivering the mail, he or she will pick up donations and take them to local area food banks. UFCW members will help to collect and sort food items at food banks all across the country.
Second, tell your friends. Spread the word. Tweet about it. Share a photo of your filled bag on Facebook. Most of all, ask your friends and family to join you in participating in the Stamp Out Hunger Food Drive.
Our shared goal for this national day of action is simple: To fully restock food banks across the country that are in desperate need of supplies.
There's no reason for anyone to struggle alone to find the next meal. Last year, a record 80 million pounds of food was collected, and we're determined to collect even more this year. So, please join us and millions of other Americans on Saturday, May 13 to help the hungry by leaving a bag of non-perishable food at your mailbox. Every contribution will make a big difference.
By working together, we will not only stamp out hunger, we will build the better America all our families deserve.
Marc Perrone is president of the United Food and Commercial Workers International Union.
Fredric V. Rolando is president of the National Association of Letter Carriers.
Calling all HuffPost superfans!
Sign up for membership to become a founding member and help shape HuffPost's next chapter
BEFORE YOU GO