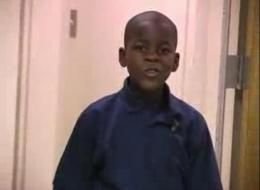 The galleries plan to start saying no this week to those who don't qualify for credentials.

"We're going to have to be very stingy this year," said Mark Abraham, the deputy director of the Senate Press Photographers' Gallery.
All of which is neither here nor there, because there is only one journalist that we actually care about: ace ten-year old reporter Damon Weaver, who famously interviewed Joe Biden, has received crowdfunding support from members of the Miami Heat, and is just, in general, two scoops of ultra-cool, smothered in awesome sauce. Let's remember his appealing appeal to the Obama transition team for access, shall we?
How can anyone say no to that? Nevertheless, Weaver's teacher, Brian Zimmerman, reports that Weaver's efforts have hit a snag:
I just received an email from the Senate Gallery that said they will not be able to give my students and I press credentials for the inauguration ceremony ... An aide from Congressman Alcee Hastings office has been in contact with the Presidential Inaugural Committee's press office. They told him they will not be able to give us press credentials for any of Presidential Inaugural Committee events. I also contacted Barack Obama's Transition Team about our request to have Damon Weaver interview him. They told me the interview will probably not happen.
All of this is happening despite the fact that Weaver has won the prestigious recognition of the Huffington Post, who named him one of the year's Ten Best Media Moments!
Anyway, to the Senate Gallery and the Obama Transition Team, I put the question: What in the world is wrong with you people? Were you all raised in a barn or something? Can you not recognize the genuine allure of having this awesome kid present at the inaugural? His level of maturity and lack of overall insipidity should be held out as a model, not excluded! Someone has to offset the presence of pop-celebrity charlatan preacher Rick Warren!
I intend to stay right here and fight for this lost cause. Should anyone like to press the various gatekeepers, and spur them to allow Damon Weaver to bring some measure of unalloyed delight to our political process, send an email to the Senate Gallery officials, the Presidential Inaugural Committee, and the Obama Transition Team. Si se puede!
UPDATE: I'm getting word that emails for the transition team and the PIC are not working. If I obtain better information on those points of contact, I shall let you know!
Related
Popular in the Community