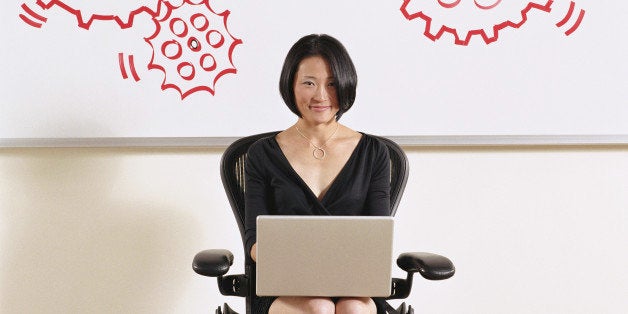 Any entrepreneur will tell you that a motivated, inspired workforce is critical to success. Unfortunately, keeping a workforce inspired -- especially during the post-holiday slump -- can be a daunting challenge.
Two-way communication is key to any successful employer-employee relationship, and especially important to employee motivation. Employees must understand the company's core values, vision and goals. Conversely, employers must also understand the goals of their team members to help employees reach their personal potential while contributing to the company's goals. The new year is a perfect opportunity to bring these things into focus.
The following tips can help motivate employees to be the best versions of themselves in 2014, while constantly striving to reach their own goals and the goals of the company. The best part? The three-step exercise takes less than three hours and costs less than $10 per employee.
Step 1: Challenge employees to set three types of goals for 2014.
First, ask each employee to list the following for 2014: three personal goals, three individual work-related goals and three goals for the company. These submissions should be compiled into a format that all employees can see. At ZinePak, we collected responses in a SurveyMonkey survey and then shared the results with everyone at the company. For large teams, this exercise can be broken down into smaller groups by department.
Step 2: Discuss the goals as a team.
Once all goals have been submitted, bring your team together in a meeting for each employee to share their goal with the group. Begin with the personal and work-related goals. Make sure each goal is SMART: Specific, Measurable, Attainable, Realistic and Time-framed. Discuss what obstacles must be overcome to achieve each goal. For example, if an employee's personal goal is to become a better public speaker, offer to let them begin each weekly staff meeting with a short presentation. If an employee's work-related goal is to become a better web developer, offer to pay for online training courses.
After each employee has shared their personal and individual goals, move on to the company goals. Discuss each goal and note where there is overlap between multiple employees. Which goals align with the company's larger vision? Decide which goals should be priorities for the entire business and, if necessary, which goals are appropriate for smaller departments and groups. If your company doesn't already have a Vision Statement, this exercise is a great first step toward creating one.
Step 3: Have each employee create a "Vision Board" to hang above their desk
After discussing everyone's goals and coming to a consensus on company focus, distribute an 8" x 10" foam board to each employee. Provide various craft supplies, including markers, construction paper, ribbon, stickers and magazines to cut out words, phrases and images. Give employees 90 minutes to create visual representations of their personal, professional and company goals. Each vision board will be unique: Some will be more abstract, and some will be very literal. But, each will be meaningful to the employee who creates it.
At the end of the activity, instruct each employee to display their vision board in their desk area. Provide necessary magnets, hooks, etc. Now, every employee will have a daily reminder of the goals most important to them. Make sure managers check in with employees on a regular basis to discuss the progress of each goal. Consider adding to the vision boards quarterly or twice a year as priorities evolve. It's a great visual reminder that personal, individual and company goals are all intertwined, and that striving for each one will help employees be happier, more engaged and more successful.