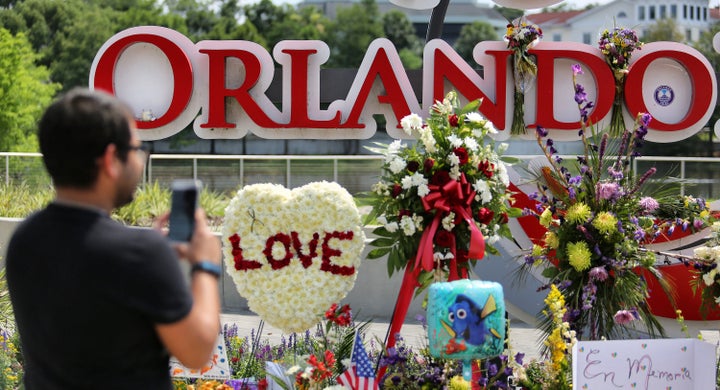 When the names of the victims of the mass shooting in Orlando were read this week at press conferences, vigils and on news broadcasts across the world, it became clear just how profoundly the tragedy had affected the Latino community in particular.
While much has been done to raise money for medical and domestic travel expenses in the wake of Sunday's tragedy, many of the Latino survivors and victims' families continue to face a mounting number of unique challenges, such as dealing with language barriers, obtaining visas and organizing repatriation logistics for the deceased.
In the hours following the shooting, the Hispanic Chamber of Commerce Metro Orlando received a request from the city of Orlando to recruit bilingual certified translators and licensed mental health professionals. "We put out that call to our community and were inundated with the response. We were getting an email every second," Diana Bolívar, the chamber's president, told The Huffington Post.
Still, Bolívar notes, many other immediate needs loomed large -- particularly for legal, medical and financial assistance.
Enter Somos Orlando, a coalition of nonprofits with an accompanying bilingual website launched by the Hispanic Federation to help Latino victims find legal, medical and mental health resources in their own language. The services provided by the volunteer mental health and legal professionals through Somos Orlando are especially invaluable, as undocumented survivors are not eligible for state programs beyond emergency care.
Similarly, Equality Florida is working to connect survivors and their families with resources that may help mitigate or offset the financial burden of medical bills, legal fees, travel costs and the cost of ongoing care to survivors and victims' families. They initiated the primary donor fund, which has now raised more that $4 million.
"Every penny of that is going to the families," Cindy Brown, the Miami development officer at Equality Florida, explained in an interview with The Huffington Post. "That fund will be facilitated with a series of lawyers with the National Center for Victims of Crime in order to specifically address things like travel, burial costs, ongoing medical expenses, mental health treatment for not only people who were shot, but people whose friends died in front of them. There are a lot of needs that are known now and there are even more for years to come."
Those needs include things like ongoing physical therapy and counseling for PTSD.
Then there are pressing legal and immigration needs. In the days since the massacre at Pulse, Sasha Westerman-Keuning, P.A.,co-chair of the LGBTQ Affairs Committee for the South Florida Chapter of the American Immigration Lawyers Association, says she's already received inquiries for legal assistance for family members of victims who are non-U.S. citizens. Some of them need tourist visas or humanitarian parole documents to enter the U.S. to see loved ones in the hospital, or to travel to make burial or transportation arrangements.
Westerman-Keuning says the committee also wants to make sure undocumented survivors of the attack qualify for "certain types of immigration relief." For example, some might need asylum if they've been outed to family back home and it would be too dangerous to return; others might qualify for widow or widower benefits if their immigration status is based on marriage to a citizen; still others might qualify for U visa status as victims of a serious crime in the United States.
"We want to ensure that all victims and their families receive the highest quality legal service from qualified immigration attorneys," Westerman-Keuning said. "This is our small way of being able to give back to the community and support of LBGT brothers and sisters as well as their families in this dire time of need."
Before You Go
Love is love
Popular in the Community