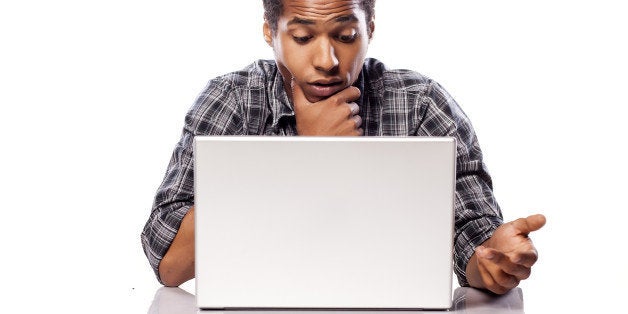 Everyone -- students, parents, high school counselors, teachers and college admissions officers -- were all in agreement last year that the Common Application offered many challenges. As a result, I wrote three HuffPost blogs about the Common App, trying to help users work through many of the confusing parts, lack of directions and out-and-out glitches.
Things seem to be much better this year; but here and there, directions are left out, and there are areas that are not explained as thoroughly as they might be. So let's run through some of the most confusing parts of the new Common App.
But, first things first: before you can do anything on the new Common Application, you need to create an account, generating the usual, all-important Username and Password. After you do that, write down your username and password, put it in your smart phone notes and/or text it to your mother, father or someone you trust to keep it safe and handy.
Once you log in, follow the instructions on the pages, and come back to this blog for how to make your CA (Common Application, not to be confused with the abbreviation for the great state of California) experience smooth and applications complete.
I. Green Checkmarks, Yellow Dots and Red Asterisks, Oh My!
Even after completing the Common App and a number of college supplements, many students don't know about the Application Requirements page, an incredibly useful admissions resource, accessible via the Common App landing page. On this grid you will find college application deadlines, application fees, art and writing supplement info, college testing policies and the number of required recommendations for each school.
To get to this information, go to the homepage of The Common Application website, put your mouse on the top tab, "Member Colleges," click and scroll down to "Application Requirements."
All the information noted above is there for each of the 500+ colleges and universities that accept The Common Application. This is really useful, ordinarily hard-to-find information AND in one place. Imagine how much time it will save you from looking up admissions "stuff" from a thousand and one different sources.
III. Honors Grid: Where Is It? What Goes in It? What Are the Character or Word Limits?
A. Where is it?
To access the Honors Grid:
Click on the Common App tab at the top of the Application
A list of six items will appear on the left hand side. Click on the Education heading, third from the top.
When that section comes up, scroll down to the bottom of the page where there are eight items. Click on the Honors heading, second from the bottom, and Voila! the grid will come up.
B. How many honors can be identified?
There are spaces for up to five honors "related to your academic achievement beginning ninth grade." Try to use all of the spaces.
C. How many words/spaces for each Honor?
Although not stated on the page, there are 100 characters including spaces allotted to identify and describe each Honors title. Make sure that you take full advantage of the space, describing the honor in as much detail as you can within the character limit.
adMISSION POSSIBLE TIP
In case you don't know, the best way of determining the word count for what you write is to use the Microsoft Word Tools function at the top of your screen (where it says, Word, File, Edit, View, Insert, Format, Font, Tools, etc.). Highlight what you want to have counted, go up to Tools and scroll down to word count, and a screen will come up with the word, characters without spaces, and characters with spaces count.
D. What Honors should be included?
Some honors and awards to identify are:
√ National Merit Commended or Semifinalist
√ AP Scholar
√ Selected participant, talent search such as John's Hopkins CTY or Stanford's EPGY
√ Selected Member of an honor society (Sociedad Honoraria Hispanica, French or Latin Honors Society)
√ Cum Laude
√ National Honor Society
√ California Scholarship Federation
√ MVP or awardee, Mock Trial, debate or speech competition
√ Selected participant in a special summer academic program, such as the Marie Wash Sharpe Art Foundation Summer Seminar
√ Award winner in a local, state, regional, or national arts or music competition or fair
√ Award winner, school departmental academic award (if several departments or years, identify as one honor but list all departments and years)
√ Award winner in a local, state, regional, or national science or math or other academic competition, fair, Olympiad
√ Academic Honor Roll
adMISSION POSSIBLE TIP
It is best to identify the most prestigious honors first and the least at the end.
Other parts of the Honors space that you will need to complete are the grade level when you received the award and whether the recognition was school, state/regional, national and/or international. Again, for repeated awards, list the award once and provide all years the award was received.
IV. Activities Grid: Where Is It? Which Activities Should Go in It? What Are the Word/Character Limits?
A. Where is it?
As you sign-in to the Common Application website, you will enter the Common App Dashboard that houses:
My Colleges (lists all of the colleges that you have identified that you want to apply to)
Common App
(gateway to all of the different aspects of the application):
Profile
Family
Education
Testing
Activities
Writing
College Search (the mechanism for you to identify the colleges to which you want to apply)
As you can see, the Activities grid is the fifth item on the Common App menu.
B. How many activities can be identified?
There are ten spaces available to list out your different activities, 9th through 12th grades. Lively, energetic descriptions of activities you love are more likely to help your admissions chances than simply identifying a long list of "whatevers." As with the Honors List, note the most important activities first.
C. How many words/spaces for each activity?
There are 50 characters including spaces to identify each activity and 150 characters including spaces to describe each activity. It's very important that you give as much descriptive information as you can within the character count allowed. Here are some examples:
Example 1:
Position/Leadership description and organization name, if applicable:
Goalkeeper, Varsity Soccer team, Torrey Pines HS
(49 characters with spaces)

Details, honors won, and accomplishments
Have played soccer entire life, high school (Varsity and Letterman since sophomore yr) and club (MVP two years), also indoor soccer during high school
(150 characters with spaces)

Example 2:
Position/Leadership description and organization name, if applicable
Selected Member/Leader, Link Crew, Coronado HS
(46 characters with spaces)

Details, honors won, and accomplishments
Selected by faculty Link Leaders develop programs/activities for new freshmen to help them adapt to high school, make friends & get involved on campus
(150 characters with spaces)
V. The Word Counts for CommonApp Personal Statement and Additional Information Essays Are 650 Words Each -- What About the World/Character Counts for the Various Supplement Essays?
Some supplements identify the word count for their essays, as in USC's 250 word count for their two "Writing Questions." However, USC also has other short questions. For example, "Describe yourself in three words." Applicants are given 25 characters with spaces to enter each word.
USC also has nine other questions such as "Favorite food" and "Best movie of all time." There are 100 characters with spaces for each of those questions. It is important that you use as much of that space as you can to answer the question and also give a detail or two.
The best way of approaching the word/character count issue for the Common App and also its supplements is to write your essays and/or responses in Word, use the Tools Word Count function to see how many words or characters you have and then edit it up or down to meet the count, but also offer a good, detailed answer.
VI. Questions and Answers About the Common Application
A. Instructions & Help Center
When you have a question about the Common App, there are a number of places you can go to get answers. Every page of the CA has a section on the top, right hand side that is titled "Instructions & Help Center." Many user questions are answered there.
B. Support Home: Ask a Question
If you don't find an answer to your question, click on "Instructions & Help Center" and you will be taken to the "Support Home" page that includes these tabs: "Knowledge Base," "Ask a Question," and "Training Resources." Go to the "Ask A Question" tab at the top of the page, follow the directions and write out your question on a Common App Ticket. You should hear back from a CA technical specialist depending on the time of day within a few hours or the next day.
C. Support Home: Knowledge Base
Just so you know, the "Knowledge Base," offers information about such CA application areas as:
My Account/Login
Dashboard
College Search
My Colleges
Payment & Submission
Uploading & Print Review
D. Support Home: Training Resources
Training Resources offers information about current Common App user problems such as "When pasting paragraphs into the essay space paragraph separations may be lost," their resolution status (fixed or reported) and some solutions. That section also lists the individual college supplements that are available and not yet available.
Common App Facebook and Twitter
The Common App also has Facebook and Twitter pages. Some students report finding them very useful.
I hope this blog helps you get through the Common Application without too many problems. Once you have completed the application itself and one supplement, the rest will come much easier.
Related
Popular in the Community