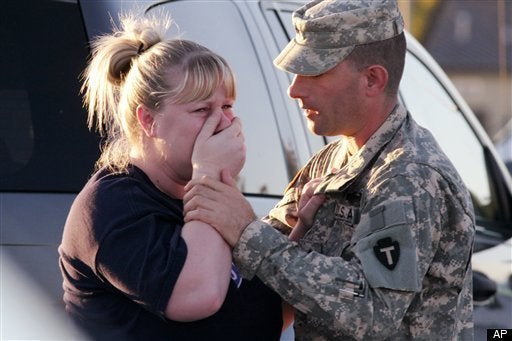 Thirteen people are dead and 31 are wounded after a horrific shooting Thursday at Fort Hood's soldier processing center. The suspected gunman, Major Nidal Malik Hasan, is a psychiatrist who was recently practicing at Darnall Army Medical Center at Fort Hood and previously worked at Walter Reed Army Medical Center.
Here are some ways you can help:
IF YOU'RE IN CENTRAL TEXAS, DONATE BLOOD
Scott & White Memorial Hospital in Temple, Texas, has received 10 adult gunshot victims from Fort Hood, and is urgently seeking blood donations. Contact the hospital at 254-724-4376 and donate to the Scott & White Blood Center in Room 115 next to the McLane Dining Room. The hospital is located at:
2401 S. 31st St.
Temple, TX 76508
The American Red Cross is working to ensure that there is enough blood supply to support the Fort Hood tragedy. The blood drive continues next to the National Guard Armory:
4224 Cobbs Drive
Wacos, TX 76710
HELP VICTIMS AND THEIR FAMILIES RECEIVE FREE GRIEF COUNSELING
TAPS (Tragedy Assistance Program for Survivors), a national nonprofit organization that cares for anyone suffering the loss of a military member, has pledged to provide grief counseling and support to the victims and their families. They will provide peer-based emotional support, grief and trauma resources, seminars, case work assistance, and 24/7 crisis intervention at their Fort Hood branch. You can help TAPS provide these free services by donating to the organization.
SEND YOUR CARDS AND LETTERS OF SUPPORT TO VICTIMS AND THEIR FAMILIES
Ft. Hood Public Affairs Building
1001 RM. W105
Fort Hood, TX 76544
Send notes and stuffed animals for the families and children of soldiers to
Soldiers' Angels, which provides care packages and technology to service members so "no soldier may go unloved."
4408 PanAm Expressway
San Antonio, TX 78218
Check back on their site for other ways to help as soon as they become available.
OBSERVE A MOMENT OF SILENCE
Organized on Twitter, a moment of silence took place for Fort Hood at 1:34 p.m. Central Time to honor those lost in the shooting yesterday. Did you participate in the moment of silence? Tag your tweets #Stoptheviolence and give your thoughts.
DONATE TO FORT HOOD RELIEF FUNDS

The Central Texas- Fort Hood Chapter
Association of the US Army
Attn: Community Response to 11/5
PO Box 10700
Killeen, TX 76547-0700
Impact is researching more ways people can help, and we will continue to post information as it comes in.
Related
Popular in the Community