I feel like every party I go to nowadays, Pinterest is taking it over. Don't get me wrong; it is an awesome website and I use it myself from time to time. In fact, last year I went Pinterest crazy for M's 1st Birthday party. It has to be special and it wasn't special unless Mommy did everything. Ha! Fruit and veggie trays shaped like Sesame Street characters, the handmade chalkboard, a custom-made party hat -- I have to admit it was super cute. And a lot of work. I was five months pregnant and living in my parents' basement as we were transitioning to our new fixer-upper home and working full-time with a 45-minute commute. And then I decided I needed to throw a 1st birthday in which I crafted everything based off of Pinterest ideas. I look back and wonder why I did that to myself. Two words: Mom guilt.
This year, I took a different approach. I wanted to have a party that was as stress-free as possible for me. Because when Mommy is stressed, no one has fun, especially Hubby. So, what does one Mommy looking for the easy way out do to throw a fun birthday party? Outsource. Pinterest-inspired birthday party throwing can be fun. I see the amazing posts on other mom blogs about the coolness they crafted for their kiddos' birthdays. But not for me at this point in my life. This Mommy has minimal time to spend with her kiddos and in the free time I do have, I do not care to craft veggie trays to look like Sesame characters (ahem, anymore). I was pleasantly surprised with the end result of my outsourced birthday party, which made all my mom guilt for not throwing a "Pinterest-inspired party" go away. So, one might ask, what does "outsourcing" a birthday party entail?
1. Invites + thank you's. I really love formal, mailed invitations and I do love making them. I feel like it gets people excited for the event and sets the theme. However, it takes a lot of time to craft invitations. I know because I used to do it as a side job. This was time I no longer have, so I opted to put her invitation on evite.com. And do you know what? It was a hit and so easy to manage the guest list. They even have a Frozen-themed evite which was awesome. For thank-you's, we opted for pre-made Frozen cards. A written thank-you, to me, is still a must.
2. Food. The food on Pinterest for Frozen birthday parties is insane: Olaf's Noses (carrot sticks) and Frozen Hearts (chocolate-covered strawberries), to name a couple. Then, each food item has a little card with the kitchy name displayed. Uh, last time I checked, most kids do not care about Olaf Noses or Frozen Hearts. Kids want pizza. And sugar. So I recruited my friends at Domino's, Dairy Queen and Target Bakery. Done, done, done. I threw in an iceberg salad and my mom brought fruit to appease those healthy friends and family we might have lurking around. End result = happy kids (and adults). I gained about four extra hours life by not having to cook and print off kitchy food cards.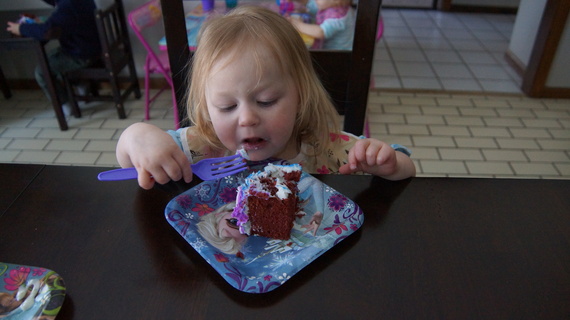 3. Party Favors. Custom water bottles, homemade snowflake cookies, "Do you wanna build a Snowman" packets and homemade Frozen glitter slime (seriously). Not here! Cue Party City for awesome and cheap Frozen-themed cups, stickers and tattoos. I topped it off with mini bubbles from the local Michael's Craft Store. Cool stuff. Cheap. Easy. Probably gained an extra one to two hours of my life to play with my kids from not dealing with crafting party favors.
4. Decorations and Attire. What 2-year-old enjoys a custom made snowball centerpiece or cares about a place card? Maybe your kid is more sophisticated than mine, because M certainly does not care. She had a BLAST coming with me to pick out all her Frozen decorations. It was a fun way for us to hang out and the excitement she had was awesome. Spending hours putting together centerpieces that she couldn't help me make sounded dumb after that shopping trip (not to say when she gets older it could be a fun craft. For now, no). And when it came to attire, I love me a theme, but couldn't bring myself to pay $30+ for a shirt on Etsy with her name and the number "2." She would wear it once and that seemed silly. Instead, we called up the amazing Whimsy Factory and ordered an Elsa-inspired dress that will get plenty of use after the party in our dress-up bin.
5. Entertainment. With this being the first official "kid" party I threw (her 1st birthday did not count because it was mainly adults), I knew I needed activities. I pulled an oldie my own mom told me she did at a birthday party years ago and it seemed fitting for the Frozen party -- making paper crowns (crowns, get it, Queen Elsa and Princess Ana- cool, right?). I bought some poster board, stickers and markers and let people go at it. The kids there were still pretty young, so it ended up being more a craft for adults, but it worked. Plus, it made for some fun picture-taking with the big crowns on the little kids. We also hired a lady to come and play Elsa. I admit, this might be considered a little much, but Hubby and I decided to do it because we thought M would really love it since she is so into the Elsa character. So we did it. And do you know what? She was SO scared! Fail! "Elsa" did a great job despite some difficult conditions and by the end of it, M warmed up enough to give her a hug.
How did M like the "outsourced" party, you ask? I am happy to report she had so much fun, she slept for 14 hours straight that night. So zero mom guilt here! I guess my point in writing this post is that whichever route you decide to take, it should be about the child. As a "new-ish" mom (or even long-time moms might be able to relate), it is hard to not get wrapped up into feeling the need to be perfect with all that social media throws at us and the judgement fellow parents can put on you.
What do you think? The stress to throw kid parties these days seems crazy when you sit back and think about what is really important to a child. Maybe find a happy medium? I'll probably hit up Pinterest for inspiration on my next birthday bash, but you won't see Frozen Hearts on my kitchen table anytime soon.