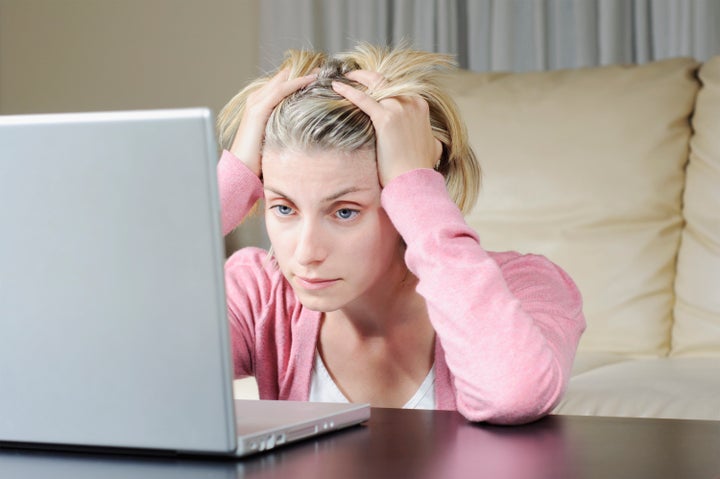 And it's a sentence I gave myself!
I've spent sixteen years of my life orchestrating all the logistics that come with being a working-mom-outside-the-home. Trying to get myself ready and keep the kids moving along. Rushing to put on make-up between making breakfast and packing lunches. Searching for a lost cleat while answering a work email on my phone before dawn. Walking the dog in the rain while running through my plan to tackle my to-do list once I actually arrive and sit down at my office desk. Plotting to take my 5:00 pm conference call in the car so I can just make it to pick my sons up from football and basketball practices. For 16 years, those days of timing and scheduling work/life "balance" challenges drove me crazy. I miss those days.
Two months ago, I excitedly got and accepted the opportunity to take a work-from-home job, and I'm miserable.
After only a few days, the walls in my dining-room-by-night-office-by-day started caving in. Now, six weeks into this arrangement that I thought would be so stress-free, I want to cry. I feel trapped, isolated and unmoored - every single day. (And, sometimes un-showered til noon.) I feel crazed with the lack of structure and death of daytime socializing. My dog, Hank, is the closest "human" I speak to the most every day. I am a work-from-home mom. I want to "scream" help and have someone carry me away from the clutter of the house to an office full of chaos and conversation.
I know some people love this and I thought I would, too! After all, I am an introvert. When I imagined the luck of being able to work alone from home, and not have to chitchat by the water cooler every day, or make small talk in the hall, or smile at someone when I was in a bad mood, I thought remote life would be perfect for me.
But, now, on this sixth Monday home, I would do anything to run into someone saying "How was your weekend?" or commiserate over a deadline.
I miss my co-workers asking me to go for a Starbucks run mid-morning.
I miss my team of people I supervised.
I miss scrounging around the supply closet for Post-It notes.
I miss closing my computer and physically leaving my work space, even when I knew i'd be working and checking email for at least a few minutes later each night.
I miss getting out of the house I share with two sons whom I love dearly, but whose rising dirty laundry piles, sports gear and snack wrappers that I now have to see 24/7 make me want to RUN to an office for a break, visually.
Yes, there are some things I like about being a parent who can work all the time from home. I love being home and being able to bake cookies and see my sixth-grader right after school to ask him about his day while he's still in somewhat of a mood to share. I like that I can grab my son from football practice if it rains instead of making him Uber - or - goodness - walk home. I love the idea of being there for my kids. But I may lose my mind and myself in the process.
I think they'd be just as happy - or close - going back to grabbing Oreos out of the pantry after school and walking in to say hi to the dog instead of to me.
Or maybe I'm just fooling myself, because I feel that I have to make myself a priority right now and save my sanity to be a better person – and a better mom – by getting out of the house for a bit. Parking my laptop at the nearby Starbucks a few hours a day would not be enough. I want to envision a desk waiting for me somewhere else. My desk, where I can go and separate my home life from my work life for eight hours the minute I sit down (to some degree).
I've been able to run my sons to the doctor, bring the forgotten lunch to school, comfort them immediately when they have a bad day.
But I did all this when I worked outside the home for years, too. Earlier this year, I taught my younger son how to make hot dogs over Facetime. I managed to take care of my kids, deal with the dog, pick up the dry cleaning, get to the grocery (OK, with a little help a few times from Peapod delivery), do laundry, dust bust the entryway. Doing all of that is not much easier, more efficient or more fun when I have all day to do it. In fact, it's causing some kind of inertia. I feel overwhelmed and under pressure to do more all the time as I look from left to right or in any room. A dirty floor, a sink full of breakfast dishes, a dwindling down of bottled waters or toilet paper or stuff to make for dinner. I can see it and run to the grocery at lunch. But, I don't want to run to the grocery at lunch. At night, trying to watch television, I see my work stuff over my shoulder, taunting me from the table, saying "don't relax, come to me." 9pm, 1am, 9am, 1pm - it's all waiting. Every minute of every day.
So, I have decided that since it's waiting anyway, it can wait for me to work out of the house and I can think about it all at 6pm. The "witching hour" pressure I thought I felt when I worked outside the home doesn't seem so bad now. I can go back to it. Because I'd rather have that than the pressure I feel looking at all the stuff in the house all day long. I think the work from home world is one big witching hour that never ends. I know it works for some people, but not for me.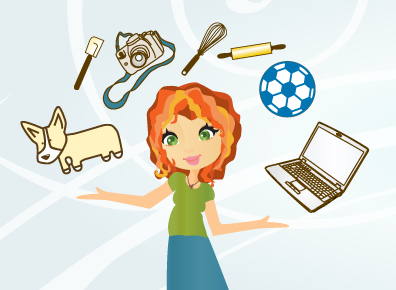 Popular in the Community