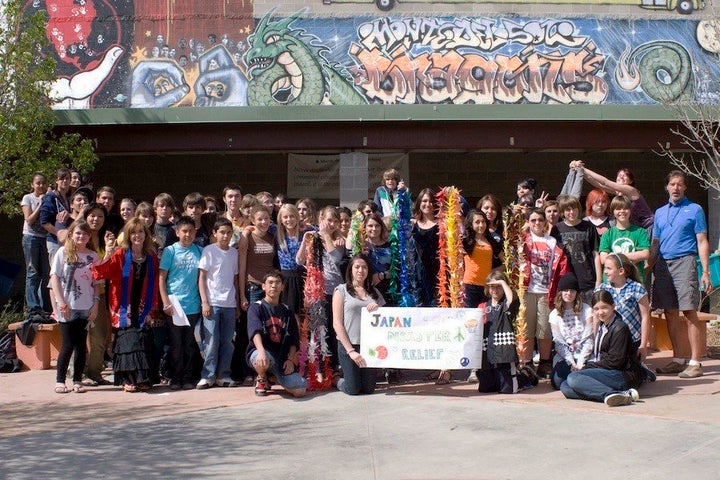 I recently returned from Little Tokyo in Los Angeles, where there was much relief effort going on for Japan. The people of L.A. had come up with everything under the Rising Sun to help Japan. It's beautiful how charity brings people together.
In Little Tokyo, signs hung in every proprietor's window, each with a different version of relief: "Love for Japan," an earthquake relief benefit concert, was being held by local musicians, a "Save Japan" charity market was on at the Higashi Honganji Buddhist Temple and another store had T-shirts that said "Save Japan Now," (all proceeds donated to Red Cross).
"Dine out for Japan Relief" was sponsored by the Japanese Restaurants Association of America, the local chamber of commerce and Rafu Shimpo (a Japanese American newspaper in LA since 1903.) "All donations go to Japan Threw UNICEF" the sign assured us.
Just because you might expect huge support from a place called Little Tokyo doesn't make their efforts any less significant. Money is starting to roll in to Japan.
Gone are the days when stores used to just put out a change jar at the register asking for donations for victims of the latest natural disaster. Now, with the internet, Facebook, Twitter, and the ability to text your donations from your mobile phone, donations are fast and widespread. Anyone can make a difference. And they do.
The relief efforts around the world have been so creative, and so personal.
Little people are doing big things. Maki, living in the U.K., is a potter and wondered what she could do to help Japan. She came up with the "Help Japan 1,000 Birds Project" where she makes little bird chopstick holders. She has already hit her goal of selling 1,000 of these birds. Proceeds go to Japan relief efforts. "Buy Bird, Help Japan" says her website. Cha-ching!
Intrepid Japan bloggers were quick to put together a collection of stories by and for survivors of the earthquake and offer it as an e-book on Amazon.com called 2:46: Aftershocks: Stories from the Japan Earthquake, with all proceeds going to the Japan Red Cross. Author Wendy Nelson Tokunaga, in San Francisco, is donating fifty percent of the April sales on her new e-book Foreign Wife, Japanese Husband: Interviews on Cross-Cultural Relationships, to Japan. Cha-ching!
Shari Osgood-Tafoya who teaches junior and senior high school at Monte del Sol Charter School in Santa Fe, New Mexico, has banded together with local schools and students to make paper cranes and sell them for $1.00 each. They collected $2,565 for Japan. Cha-ching!
Stephen Gifford in Minneapolis, Minnesota writes that at their local anime convention, called Anime Detour, they raised over $36,000 for Japan relief. Big cha-ching!
Mark at "Japan Coast to Coast" (a bicycling endeavor to ride across Japan) started the "Bikes for Tohoku" campaign, collecting donated bicycles and sending them to the region. One two-ton truck of bicycles has already arrived. Mama-chari cha-ching!
Gabi Greve, a German in Japan, has donated her time doing a blog called "After the BIG Earthquake," with a daily update of events as they unfold. She adds a unique twist: haiku. Here is one of her more poignant haiku that appeared on her blog on April 11, one month after the disaster: "tsunami victims -- their souls wash ashore with every wave."
Responding to pleas by a fire department chief in Iwate ken for donations of books and manga, 14-year old Kentaro Oguro in Okayama prefecture decided to send his Draemon manga comic books and My Father's Dragon to the prefecture. Every little effort is a blessing.
The good news: The dogs have been adopted. In the same article, we also learn about the National Disaster Search Dog Foundation where you can donate money to help sponsor the rescue dogs and their ever-so-important jobs of searching for people buried under rubble.
These are just a few of the great things people are doing to help Japan. There are thousands more. The important thing is that no matter how small your effort is, it will make a big difference in Japan.
If you know of others who are doing big things for Japan, let me know -- leave a comment!
Popular in the Community