It's National School Lunch Week in the United States. But school lunches are important to kids everywhere around the world. So let's visit with one of these children in a land far away, the African nation of Mali.
Mariam is a 12-year old from Yelimane village in Mali. She's had a tough life, losing her parents at a young age. She lives now with her grandparents and sister. They are poor in a country ravaged by conflict in recent years.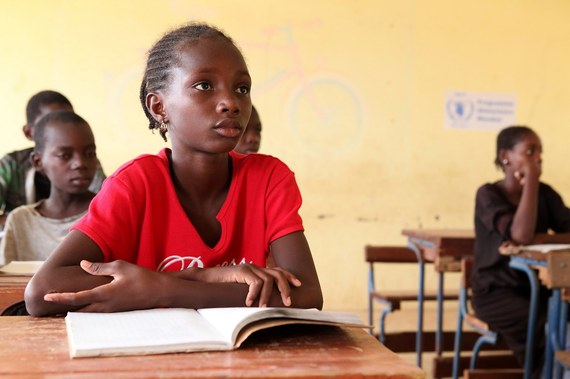 Mariam is from Yelimane village in the Kayes region of Mali, a nation in Africa which has suffered from internal conflict and drought which has led to food shortages. (photo by WFP/Laura Morris)
When Mariam would attend school she would always get a gift: a school lunch from the World Food Programme (WFP). A school lunch may not seem like a gift to many of us. But when you are poor and hungry, it is the best kind.
Mariam told the World Food Programme, "When I have lunch at school, I can better focus in class. At home, it is difficult. There isn't enough food for the whole family."
But then one day the school meals disappeared. This great thing for Mariam and her classmates was suddenly gone.
The World Food Programme ran out of funds and has been forced to suspend school meals this year in Mali. About 180,000 children in 1,000 schools are affected by the cuts.
Silvia Caruso, the WFP Mali country director, says, "This is critical. School meals are often the only nutritious meal a child receives a day, relieving families from further financial stress, motivating parents to send their children to school, and, ultimately, serving as a vehicle for education."
The WFP needs about US 3 million dollars to provide the school lunches in Mali. With hunger emergencies all around the globe, it is harder to find funding from governments and the public. The result is school meals get cut. This is happening in Mali and many other countries where WFP operates in Africa.
Caruso warned last month, "Teachers tell us that if the meals are no longer provided, there is a significant risk that parents will stop sending their children to school; children find it difficult to walk long distances to school or stay in class for a full day on an empty stomach."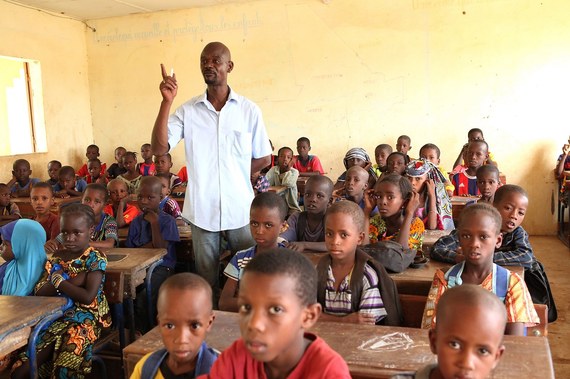 Cheick, the principal of Yarka school in Kayes region, says "If the school meals programme stops this year, many children will stop coming to school." (photo by WFP/Laura Morris)
School meal funding could be increased. The U.S. government has the perfect tool to do it too. It's called the McGovern-Dole Global School lunch program, named after former senators George McGovern and Bob Dole.
In fact, this program is funding the Catholic Relief Services school lunch program in Mali. CRS is feeding about 77,000 children in the Mopti and Koulikoro regions. An additional funding increase to Mcgovern-Dole could include WFP school lunch programs in Mali.
After World War I and II, Congress boosted funding for school lunch programs because of the extreme conditions of those times. With more people forcibly displaced by conflict than anytime since WWII, now would be a good time to increase school meal funding.
This would make all the difference for Mariam and so many other children in Mali that are missing school meals. Girls education improves dramatically when school meals are provided.
Sean Callahan of Catholic Relief Services says, "It is proven that an education for a girl not only increases the possibility for a better livelihood, but also has an impact on their families. An educated woman shares her knowledge and she sees to it that they are well-fed and in good health."
Every child should be able to receive school meals. That is a basic right of all children. The world has enough resources to do this. Is there enough political will and heart to do this?
There must be. We can start in Mali by feeding Mariam and the thousands of other children who are currently not able to get school meals. These children are not asking for much. They are not asking for anything big or expensive. What they ask for can change their life, by giving them food for education.
A great way to get involved with the campaign for school meals in Mali and across the globe is to visit the World Food Program USA.
Popular in the Community