I wasn't the only one who was bowled over earlier this year when Pepsi announced they'd forgo advertising during the SuperBowl, instead donating the millions they would have spent on Bowl ads to charity. (Thousands of charities, in fact, all selected by online voting.) Much has been written about the various good works competing each month for a slice of the Pepsi pie, driven largely by social networking campaigns. The Pepsi Refresh project is indeed refreshing, and has undoubtedly earned the company far more bang for its advertising buck than it would have gained by even the cleverest 30-second SuperBowl spot.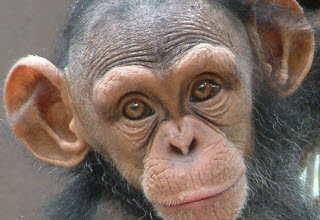 This month's slate of charitable cause "candidates" includes one near and dear to my heart: the Center for Great Apes in Wauchula, Florida, a sanctuary for chimpanzees and orangutans, most show business retirees. The primate equivalent of the Motion Picture Actors Retirement Home, the Center houses more than 40 great apes, from Jason Alexander's orangutan sidekick in Dunston Checks In to Michael Jackson's former pet chimp, Bubbles.
It's also home to Bella and Mowgli, chimp siblings whose extensive list of show biz credits includes a TV special for -- you guessed it -- Pepsi!
Both appeared in a 2003 Pepsi Billion Dollar Giveaway TV special alongside Drew Carey. They also starred in CareerBuilder.com's long-running "Monkey Mail" ad campaign. Mowgli starred in the "Shaggy Dog" remake, and viewers of SuperBowl 2004 saw a spot featuring Bella.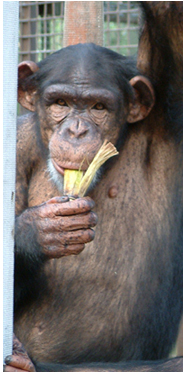 (Bella is pictured right; Bobby Stryker, another of the Center's residents, is above.)
With credits like that, you'd think these apes would be set for life. You'd be wrong. While typically everyone involved with a commercial or TV show -- from actors to producers, prop people to animal trainers -- makes money, it is rare that anything is put aside for the apes' future care. The average performing chimp begins his career around age 2 and is put out to pasture by 7 or 8. Bella is now 13, and brother Mowgli is 11. Since apes live into their 50s, they require decades of care after their show biz careers end. It costs roughly $15,000 per year to care for a single ape, and the Center is currently filled to capacity with 43 residents -- and many more on the waiting list.
Having used apes to entertain and promote its products, it seems fitting to me that Pepsi should direct some of its charitable spending toward caring for these creatures. (Pepsi provides robust retirement benefits for its human employees, after all.) But it's not up to Pepsi, it's up to you!
You can win the Center for Great Apes a $50,000 Pepsi Refresh grant by voting online, every day from now until October 31. Click here to vote.
You can also vote by texting '102943' to 'Pepsi' (73774). A few seconds can make a big difference in the lives of these apes.
Calling all HuffPost superfans!
Sign up for membership to become a founding member and help shape HuffPost's next chapter