I've seen the images of kids' fingers and toes, swollen and blackened with frostbite.
I've watched the videos of children lifted off rubber boats filled with freezing seawater, because winter winds had pushed waves over the sides.
I've read the first-hand accounts of volunteers dressing kids traveling without winter clothes or shoes. Seriously, some kids are walking through winter in flip-flops, shoes too big to be warm, or barefoot.
I've also peered inside my own kids' closets, overflowing with winter clothes that are now too small. We can easily send money overseas, but what about the wealth of gear sitting, unused, in our closets?
Enter Carry Me Home, a nonprofit that supports children fleeing war by shipping supplies to refugees throughout Europe.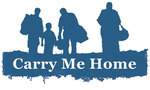 Founder Vedrana Greatorex, a nuclear plant operator from Vermont, was moved to take action when the body of 3 year-old Alan Kurdi washed up on a Turkish beach. Her son sleeps in the same position as Alan was found, and it touched a nerve. Carry Me Home has become her way of helping a crisis that feels close to home, even though it is happening far from Vermont.
Since September 2015, Vedrana and her team have shipped over one ton of desperately needed items to Croatia, Slovenia, Serbia and Greece -- countries that have seen countless families migrate through on their quest to find a safe home.
Carry Me Home has also forged strong relationships with trusted aid organizations that direct their shipments both in terms of what they should ship and how they should organize it.
This last point offers a glimpse into the behind-the-scenes workings of the volunteer relief effort. When I met with Leslie Meral Schick -- Newton, MA resident; organizing partner of Carry Me Home; and soon-to-be volunteer in Greece -- she emphasized how they customize each shipment for how it'll be used.
For example, first-responder volunteers greeting refugees on the beach will bring cars filled with clothing they hope will be sufficient to warm an entire boat's worth of possibly hypothermic people. For these volunteers, Carry Me Home sends pre-packaged outfits labeled by the age of the child it will fit.
To better understand how these outfit packs are used in real time, Leslie directed me to friend Sandra Juliachs, who volunteered in Chios, Greece, late in January 2016 -- a month the island greeted over 11,000 refugees.
She noted they "were wet from at least the waist down. And that was the best-case scenario." While she was there, it could reach 20 F with the wind chill.
"The faster you can dress them," she said, "the better."
So Carry Me Home's outfit packs are shipped in a waterproof bag, organized how you would dress your child if their life depended on it: underwear and socks on top, followed by a shirt, a warm sweater or fleece, two layers of pants, a down jacket, hat, and gloves. Each pack also includes a small toy and a note from the person who packed it.
Their effort sounded fabulous and seductive as I thought about the piles of winter gear I've been longing to send. But I was hesitant. Isn't it more effective to donate money to organizations overseas so they can buy exactly what they need right when they need it?
Not necessarily. Carry Me Home's guiding principle is to not send items that can be purchased in-country for less than it costs to ship.
Leslie walked me through the math: All clothing donations are free, so they pay only the shipping cost and packing materials. An outfit pack ranges in cost from $8.75-$16.32, a baby carrier packed with a scarf for the parent and a toy for baby costs $6.50, and a pair of boots packed with two pairs of socks averages $7.13.
Kostas Tanainis, a restaurant owner in Chios, Greece, spends almost all of his time helping refugees as an independent volunteer. He has received 40 boxes from Carry Me Home and told me via Facebook chat, "We could never make such a nice outfit for that money. Things are very expensive here. The cost of a child's winter coat is around 40 Euros ($44 US)."
Fair enough. But how do you know that your clothes are going to be shipped directly to refugees?
This was a fear Vedrana also felt when she first set up shop. So she has focused on building a network of volunteers who tell her what they need, and a separate network of trusted organizations that can verify that the needs are real.
She also points to the photos she receives when a shipment reaches its destination, which she posts on Carry Me Home's Facebook page. She warns that the shipments are so large that it's unlikely you'll find your own child's hat on the head of its recipient.
I'm still planning to stalk their Facebook page next week, when the shipment that includes my donations will land in Greece. I might not be able to help refugee children in all the ways I wish I could, but knowing that my kids' clothing will help keep them warm creates a tangible connection between our family and theirs.
Sometimes the best we can do is send love in the form of warm wishes and mittens.
HOW YOU CAN HELP
Donate money: Carry Me Home needs money to ship your warm fuzzies! Your tax deductible donations go towards shipping and packing materials. If they exceed their fundraising goal, they will use surplus funds to support refugees with other pressing needs.
Donate your gently used clothing: See their pinned Facebook post for a list of collection sites and their most needed items.
Donate time: It takes many hands to sort and pack. Collection sites in MA and VT need tons of help.
Tell your friends!
Calling all HuffPost superfans!
Sign up for membership to become a founding member and help shape HuffPost's next chapter