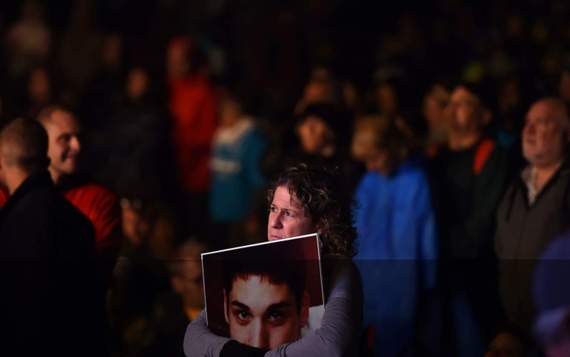 This is me. Kathy Koenigsdorf - attending at a rally in DC last month with my son, Jake.
Isn't he handsome? He was brilliant, too. He's dead now, though. I lost my beautiful boy to heroin two years ago. In fact, according to the DEA report released this month, over 120 Americans die every day from a drug overdose. Overdose is now the nation's leading cause of injury death, even beating out car accidents and firearms.
Are you getting that there is a problem here?
You should know that no one is safe. Everyone is susceptible as medications that used to be prescribed only for terminal cancer patients are now handed out like Tic- Tacs. Aunt Edna gets a Percocet prescription for her oral surgery, the college football star gets four Vicodin an hour from the team doctor for his smashed knee, and a teenager starts popping them at parties with his friends. Before I was even aware, the disease of addiction had him. That's how he became a statistic - part of the 244% increase in heroin overdose deaths from 1999 to 2013.
This needs to change. Now.
You think your amazing parenting skills, your family dinners and your strong work ethic will somehow coat your little darling in anti-drug Teflon. That's what I thought. I didn't know that heroin is everywhere now. In fact, in many places it is easier for a minor to get dope than a six pack.
"Oh not in my school," you say.
"We live in a good neighborhood," you rationalize.
"We keep him from those kinds of kids," you believe.
I know you say these things, because I did. Not knowing that by the time we learn the truth...it is often too late...your kid is a drug addict.
And that's when your personal horror begins, now you enter into the broken treatment system because that is all you can find as you frantically search the Internet for answers.
Which is quite simply, bullshit. Make no mistake. Drug addiction is a terminal disease, your kid has it, and this will be the fight of his life. Over 40 million Americans suffer from the disease of addiction, over half of which are drug-related. Compare this with 27 million with a heart condition, 26 million with diabetes and 19 million with cancer. Yet, 7 in 10 of those suffering from these other diseases are treated while only 1 in 10 with the disease of addiction actually receive care. Addiction is a recognized complex disease of the brain, threatens our society itself, and should be treated within the health care system.
And for those that don't believe it to be a disease....you who believe it to be a choice...watch it destroy your child as I did mine. Watch him cry with helplessness after every relapse. Hating the pain he is causing those he loved. Yet unable to stop, and willing to go to extremes not be high, but to not be sick. That's the life of an opiate addict, you see. It isn't the high. It is avoiding the withdrawal which is like having your insides ripped out.
But there is hope. Like cancer, addicts can and do recover. I've seen it happen, and many of us have dedicated our lives to helping those who want recovery and are willing to go to any length to get it. The simple truth is that in America it is easier to get drugs than it is to get treatment for addiction. That should infuriate each and every one of us. Yet it doesn't.
If you know someone who was robbed or killed, it was quite possibly by an addict trying to get money for drugs. Over 50% of federal prisoners have drug-related convictions, as do over 20% of those in state facilities, with an almost equal amount where drugs are a contributing factor in the arrest. The cost to taxpayers is huge, yet for every dollar we spend on the impact of drugs, only two cents goes to prevention and treatment of the disease. This is not working, folks, and the cost of ignoring the epidemic is borne by every part of our society.
Organizations like our own, the Jake Koenigsdorf Foundation, are part of a grassroots effort across America to try stem the epidemic before is consumes us. Similarly, there are local law enforcement agencies that are taking a stand. Educating children and parents is becoming a priority in some communities, and more resources are becoming available. People are catching on, but too slowly if your child is one of those that dies every few minutes from this disease.
Ten years ago, a mother would not have been recognized for her work in raising up addicts and giving them a new chance at life. This month, L'Oreal Paris did just that. Kathy Koenigsdorf, mother of Jake, was selected out of 6,000 candidates to be one of 10 Women of Worth in the US. Simply for helping others, when no one else will. We ask that you do the same and help us to end this epidemic that is rotting our great country from the inside. We need to face this together.
It is time to focus our resources as a nation on saving ourselves.
Need help with substance abuse or mental health issues? In the U.S., call 800-662-HELP (4357) for the SAMHSA National Helpline.
In 2013, Kathy Koenigsdorf learned firsthand about the devastating effects of drug addition, when her 21-year-old son, Jake, passed away from a heroin overdose. Today, Kathy works tirelessly to raise money for people suffering from addiction who want help but can't afford treatment centers. Not only has the foundation provided treatment resources, it has also formed a support network for mothers (and others) trying to find strength, health, and balance when a loved one has an addiction to drugs or alcohol. Kathy H Koenigsdorf was recognized as a L'Oreal Paris Women of Worth in 2015 for making an extraordinary difference in her community.

This post is part of a series produced by The Huffington Post and L'Oréal Paris to celebrate the tenth anniversary of the Women of Worth program, honoring women making a beautiful difference in the world. The ten 2015 Women of Worth honorees are pursuing their passions to accomplish the extraordinary through philanthropic efforts in their communities. Each received $10,000 for her charitable cause from L'Oréal Paris. To learn more about Women of Worth or to submit a nomination beginning Spring 2016, please visit womenofworth.com.
Calling all HuffPost superfans!
Sign up for membership to become a founding member and help shape HuffPost's next chapter