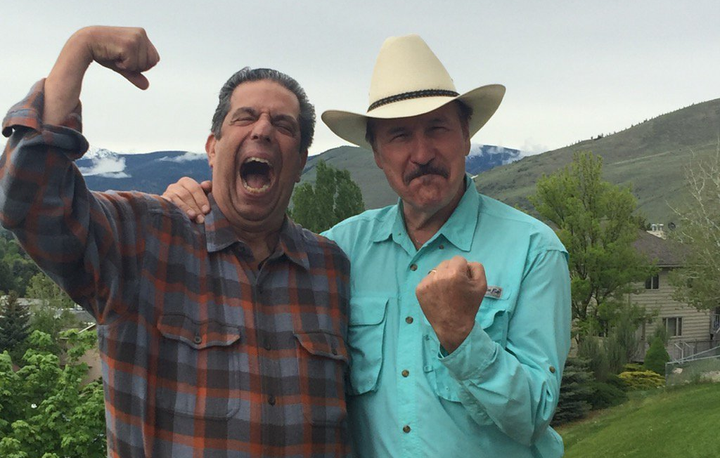 Growing up in New York City with my Roy Rogers wallpaper and Hopalong Cassidy bedspread, I dreamed one day I would see Montana. And Montana doesn't disappoint. From the high drama of Glacier to the rolling majesty of Yellowstone to the resonant ravines of the Little Bighorn that once teemed with braves lurking to ambush Old Yellow Hair, Montana just might be the most beautiful state of the lower 48. It's also got some pretty hardy, independent citizens.
Rob Quist is a Montanan through and through, born and bred. I spent a few days with him last week when I endorsed his candidacy for Congress for Social Security Works PAC. In every moment I spent with Quist, his love of the land and of his fellow Montanans was palpable. Rob Quist cares.
That's why he's running against what he calls the Un-American Health Care Act, the monstrosity that passed the House with a promise to make health care unaffordable for Montanans with preexisting conditions. Overall that's one Montanan out of two. Between the ages of 55 and 64, it's 84 percent of all Americans. And Montana has the sixth oldest-skewing population in the country!
Rob's opponent, Greg Gianforte, said in a private phone call to DC lobbyists that he was "thankful" for the House passage of the Un-American Health Care Act. You bet, since it gives the New Jersey-born zillionaire a tax cut as big as the Big Sky! Then, in public, Gianforte tried to pretend he wasn't sure he would have voted "yea" on that bill he was so "thankful" for. A Big Lie under that Big Sky. Have some respect for the spiritual soul of Montana. It can see right through you.
In one day, I drove over 350 miles from Missoula to Crow Country to do events supporting Rob Quist. It was May 17th, and it snowed all day. Montana can humble you.
Rob was already humble, though. Known to most Montanans from his Mission Mountain Wood Band, he carries a really cozy kind of celebrity. He treated everyone alike at all times, respectfully, warmly. And much to my delight, he knew his policy! He rattled off that the Un-American Health Care Act's first version cut $880 billion out of Medicaid and $117 billion out of Medicare to give Gianforte that tax cut Big as the Big Sky. And that if this abomination ever passed insurance companies could charge Montanans age 50-64 five times as much as younger folk. And that the version that actually passed was even worse than the first, and was passed purposely without a score from the Congressional Budget Office.
Rob Quist knew his stuff. I could only add that more than 7 million veterans nationwide would lose an important tax credit if this bill goes any further, and that PTSD would be reclassified as a preexisting condition, meaning they could lose coverage. And that Montana has an unusually high percentage of veterans. They've served their country well, and deserve better than lip service flag-waving by hypocrites who are voting to undermine their health care.
Like I said, Montanans are a hardy, independent breed who don't care much about party labels and such, but want to know the measure of a man or woman. Rob Quist would bring Montana values to Washington, DC. And it could sure use some.
Montana should send Rob Quist to Congress on May 25th!
REAL LIFE. REAL NEWS. REAL VOICES.
Help us tell more of the stories that matter from voices that too often remain unheard.
BEFORE YOU GO