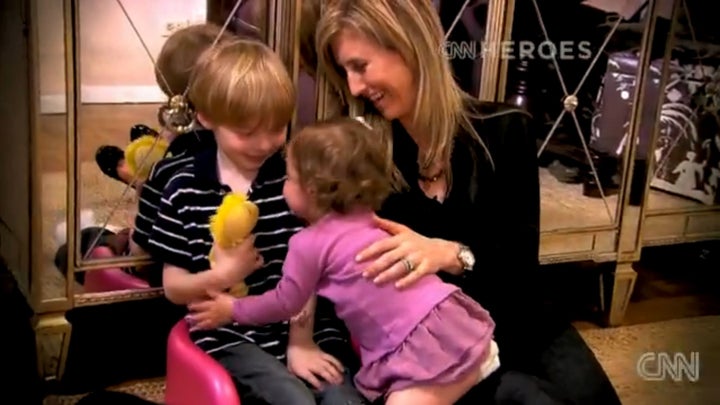 After spending over $40,000 to adopt her first child, Becky Fawcett knew that other qualified families must be struggling to foot the cost to create a family.
"I sat there and thought if...I was told that I was not going to be a mother because I couldn't afford adoption, I don't even know what I would have done," said Fawcett, 40. "I don't know who I would have turned to for help. It just hit me. I knew how lucky we were."
So, she took action. In 2007, she founded Help Us Adopt, a nonprofit that issues financial assistance to families looking to adopt. Twice a year, her organization reviews applications and awards grants directly to the adoption facilities used by approved prospective parents.
At least 43 families have been approved for funds through Fawcett's organization, including single parents and at least one gay couple.
"We're helping all types of families," she told CNN. "We believe in family -- period. We believe in loving children -- period."
WATCH:
Adopting children from foster care can often be of low cost, but if parents are looking to adopt from an independent agency -- or from abroad -- the cost can quickly escalate into the tens of thousands of dollars per child.
And some adoption agencies cut costs when adopting out special needs children, which caused one family profiled by MSNBC to look into it. Steve Kishbaugh, who adopted two children with Down syndrome and one with muscular dystrophy, said:
"When we first decided to adopt, we didn't even really consider special needs children, it just turned out that way. It's been a blessing, it's changed our lives."
Even so, the Kishbaughs spent over $30,000 for their children, forcing them to mortgage their home and max out credit cards in the process.
That's where Help Us Adopt stepped in. The organization approved their application and funded two-thirds of their third child's adoption expenses.
"All the sacrifices are worth it. Everything we've done, I'd do it again in a heartbeat," Kishbaugh told MSNBC.
Popular in the Community